Volvo car production statistics from 1927
Source: Volvo Car Corporation.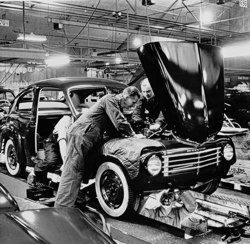 Many of the Volvo car production figures shown, especially for the early years, are of doubtful accuracy. Some give the intended output, while others indicate the number of cars believed to have been built and the remainder represent the true production level.
Numbers built refers to the Model Year. As from 2004 "produced cars" = cars allocated to the market.
Between 14 April 1927 and 31 December 2018 Volvo produced 20,671,906 cars.
Volvo Cars set a new global sales record in 2018, breaking the 600,000 sales milestone for the first time ever since the company was founded in 1927. The company's sales rose 12.4 per cent to 642,253 cars in 2018, compared with the same period the year before.
Volvo Engine Production
Alternate layout with tech facts
ÖV4 to P1900