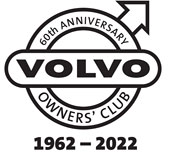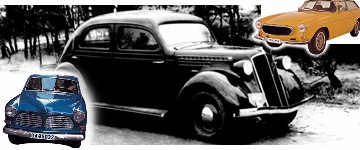 Volvo PV121
History of the Volvo Car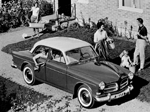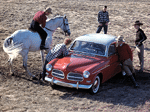 In 1956, a prototype of a new passenger car from Volvo was presented. The car became known as the Amazon in Sweden and the 121 and 122S on the export market. The designation 122S was used for a version with a more powerful engine.
Production began in 1957 and this car was initially regarded as a larger model than the PV444. The fact that the 121/122S was a 4-door model naturally contributed to this.
The styling was modern and this model was the first car from Volvo with a pontoon body. People found the car very attractive. The front was characterised by the two oval air vents. The rear wings were extended and ended with a hint of a fin, a very popular design feature at the time.
The Amazon 121/122S also had a very high safety level with features including a padded upper half of the dashboard, a laminated windscreen and seatbelt attachments both front and rear.
Technical facts:
Prod. years:
1957-1970, 1957-1959
Prod. volume:
54,398 (during 1957-1959)
Body style:
4-door saloon
Engine:
4-cylinder, in-line, overhead valves, 1,583 cc (96 cu. in.), 79.37 x 80 mm, 60 bhp at 4,500 rpm or 85 bhp at 5,500 rpm
Transmission:
3- or 4-speed manual, floor-mounted gear lever
Brakes:
Hydraulic, drums on all wheels
Dimensions:
Total length 440 cm/173.2",
wheelbase 260 cm/102"
---