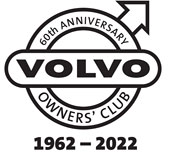 Welcome to the Volvo Owners' Club
Club News
NEW - Halfords tyre offer.
About us.
The Volvo Owners Club has been around since 1962 so we know about the Volvo brand, its heritage and why they earned the reputation for safety and longevity.
Our name, experience and reputation and the Volvo brand are the reasons we have around 3000 members. Although Volvo cars earned the reputation of longevity, it is possibly the experience, dedication and expert advice from the Club and members that has helped preserve the old models that are still often used daily, and now apply for the more recent and newer models.
Times are changing and the technology in cars is very sophisticated. Air conditioning, electronics and turbos are now common in many of the newer models, and their numbers in the Club are growing. The newer and younger members now have these cars that are less than 10 years old and affordable. We even have the more recent models such as the new sporty Volvo S40 and S60, V60 and XC60 range.
Regardless of your choice of Volvo model, we're sure you'll find something for your needs within our Club services today.
And much more.
Membership - new members and renewals.
Our membership is managed by the MG Owners' Club which has a dedicated admin team that handles their own and our membership. As part of the safety measures during this time the team now work from home, so online renewals and new applications will continue to be processed promptly. New members will have their membership number sent to them by email should that be required for any reason. There may be a delay with new membership packs and renewed membership cards arriving as the admin team will only visit the office once a week to send out the documents. This means postal applications may take a little longer.
The office phone number will still be answered as the calls are redirected. Please only call during week days. The membership email address will still be operative and is also copied to two of the club directors so we will be able to deal quickly with enquiries.
2022 Events
March 13th 2022. VOC AGM at Gaydon Motor Museum. 1pm.
March 18-20 2022. Practical Classics Classic Car and Restoration Show at NEC Birmingham. Details HERE. For VOC members ticket discount code CLICK HERE.
June 22-27 2022 Annual National Rally and BKV. Stratford-upon-Avon Racecourse.
November 11-13 2022. Classic Motor Show NEC Birmingham (Club's 60th Anniversary special).
Details of other smaller and more local events can be found on the Events section of our forum or in the Calendar
The Story Of Volvo
Designer of the P1800 Pelle Petterson pays tribute to Sir Roger Moore
Designer of the P1800 Pelle Petterson pays tribute to Sir Roger Moore who passed away one year ago, 23 May 2017. For the first time, he drives the 1967 1800 S that Sir Roger was the registered owner of and was featured in TV series "The Saint".
New Volvo Car Member Discount Offer.

Members of the Volvo Owners' Club can take advantage of the discounts offered by Volvo Car UK in the New Volvo Car purchase scheme. Full details HERE.

Volvo Car Press Releases
Recent press releases from the Volvo Car Corporation.