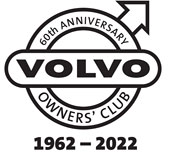 Welcome to the Volvo Owners' Club
Club News
Recent news items and things of interest.
About us.
The Volvo Owners Club has been around since 1962 so we know about the Volvo brand, its heritage and why they earned the reputation for safety and longevity.
Our name, experience and reputation and the Volvo brand are the reasons we have around 3000 members. Although Volvo cars earned the reputation of longevity, it is possibly the experience, dedication and expert advice from the Club and members that has helped preserve the old models that are still often used daily, and now apply for the more recent and newer models.
Times are changing and the technology in cars is very sophisticated. Air conditioning, electronics and turbos are now common in many of the newer models, and their numbers in the Club are growing. The newer and younger members now have these cars that are less than 10 years old and affordable. We even have the more recent models such as the new sporty Volvo S40 and S60, V60 and XC60 range.
Regardless of your choice of Volvo model, we're sure you'll find something for your needs within our Club services today.
And much more.
Membership - new members and renewals.
Our membership is managed by the MG Owners' Club which has a dedicated admin team that handles their own and our membership. Follow the link for details how to join the Volvo Owners' Club.
2023 Events
2024 Events
March 22-24 2024 Practical Classics Classic Car and Restoration Show. NEC Birmingham
April 14th 2024. Annual General Meeting. Motor Museum, Gaydon. VOC members only.
May 19th 2024. Southern Rally. Milestones Museum, Basingstoke. TBC.
June 9th 2024. Volvo Training and Development Centre. Daventry.
June 26th - 1st July 2024. Annual National Rally. Stratford-upon-Avon Racecourse. BKV 30th June. Details later.
September 15th 2024. Great British Car Journey. Ambergate, Derbyshire. Details later.
September 23rd-25th 2024. Silverstone Festival.
November 8th - 10th 2024. NEC Classic Motor Show. Details later.
Fuller details will be published soon.
Details of other smaller and more local events can be found in the Calendar or on the Events section of our forum
The Story Of Volvo
Designer of the P1800 Pelle Petterson pays tribute to Sir Roger Moore
Designer of the P1800 Pelle Petterson pays tribute to Sir Roger Moore who passed away one year ago, 23 May 2017. For the first time, he drives the 1967 1800 S that Sir Roger was the registered owner of and was featured in TV series "The Saint".
Recent press releases from the Volvo Car Corporation.