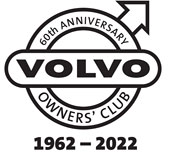 Volvo Owners' Club Privacy Policy
---
Web Site
The Volvo Owners' Club respects all aspects of the privacy of those who visit our website, forum or gallery. We take all the necessary steps to comply with the General Data Protection Regulation (GDPR) 2018.
The website does not use cookies to track your path through the site. However, the server logs do record your visit and the pages you view. This data is kept in the server log for a short period before being automatically deleted. These server logs are read by statistics management tools on the server such as Awstats and Webalizer and these will show us the number of visits to the site and which pages are most viewed. These statistics are retained by the server for a maximum of 3 years and allow us to track trends and to enable us to adapt the website for better visitor experience.
The statistics do not record any personal data other than IP addresses.
Membership
Our membership is managed by the MG Owners' Club and with them we have taken all steps to comply with data protection regulations.
Forum and Gallery
When registering on the forum or gallery your username and password are recorded in a database. The password is encrypted and cannot be viewed. Also recorded are your IP address and email address. The only other data recorded is anything you enter yourself into your profile. A record of your last visit is also recorded. No personal data is recorded.
When contacting other persons using the forum tools you do so understanding that you are controlling your own data used in that communication.
The Volvo Owners' Club does:
ensure all data that is kept is secure
ensure that any data kept complies with the data protection regulations
The Volvo Owners' Club does not:
share data with any third party
use any data for marketing activities
---
The Volvo Owners' Club Limited
Registered in England and Wales
Company Number: 1068098
VAT Number: 351224295
Company Registered Address: 86 Springfield, Hartland, Devon, EX39 6BG
---