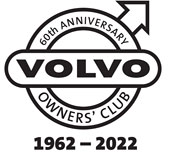 Club Members Pages
You have chosen to access some pages that are for current members of the Volvo Owners Club. The page you require is password protected. The username and password needed to access these pages are at the bottom on page 3 of the the current issue of the club magazine, Volvo Driver.
Once you have these two access words you can proceed to the page you want from the list below. Click on the page you want and then enter the access words when prompted. They must be exactly as shown in the magazine
These are the members pages and discount offers that require the username and password from page 3 of the current Driver magazine to access them.
Contact Us. Special VOC members-only form that allows you to email any of the club officials
New Volvo Car Discount Scheme Through Volvo Car UK
Practical Classics Classic Car Restoration Show NEC 18-20 March 2022 ticket discount code.
Memorandum and Articles of Association
Halfords 10% Discount Voucher. Cannot be used for online purchases. Print or keep on your phone and produce at each purchase.
Hamilton Classic Discount Offer.
Motul products. Discounts on all Motul oil's and other products with their Club Motul. The club gets commission on all sales too.
Volvo Workshop. Volvo workshop manuals, wiring diagrams, service bulletins, parts catalogues, and other service and maintenance documents.
---