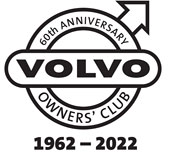 How to re-register your Volvo car with the DVLA under the V765 scheme.
Many Volvo cars are either not registered at the DVLA in Swansea, or incorrectly registered. These are usually older or imported cars. Before any vehicle can be used on a public road it has to be correctly registered and then MOT'd, insured and taxed, unless exemptions apply to that vehicle.
The DVLA has a scheme with car clubs to deal with this and we in the Volvo Owners' Club are authorised by them to make the enquires and obtain and complete the relevant paperwork. A physical examination of the vehicle may be required.
This is an extract from the DVLA documentation:
V765 Scheme
How to register your vehicle under its original registration number:
Applications must be submitted on form V765 and signed by the keeper of the vehicle agreeing to the terms and conditions of the V765 scheme. A V55/5 should also be filled in and a recent photograph of the vehicle confirming it as a complete entity must be included. A FEE IS NOT APPLICABLE as the vehicle is being re-registered and is not applying for first registration.
The application must have a V765 form signed, stamped and approved by the relevant vehicle owners/enthusiasts club (for their make/type), shown on the 'List of Vehicle Owners Clubs' (V765/1). The club may charge a fee to process the application.
Evidence MUST be presented with the application to link the registration number to the vehicle. Acceptable forms of evidence include:
The original old style logbook (RF60/VE60).
Archive/Library records displaying the registration number and the chassis number authorised by the archivist clearly defining where the material was taken from.
Other pre 1983 documentary evidence linking the chassis and the registration number to the vehicle.
Fuller information can be found here on the DVLA web site
To start an enquiry then please use our Contact Us form and select the "V765 Enquiry" option at the bottom of the "Enquiry Type" drop-down menu.
---