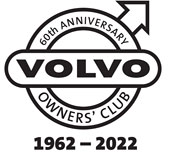 Volvo Owners Club Legal Statements
---
Disclaimer
Advertisments and articles are not specifically endorsed by the Volvo Owners Club and it does not accept responsibility for the products advertised or the information therein. Advertisments are only accepted on condition the advertiser warrants that they do not contravene the Code of Advertising Practice, or any other law.
The contents of these pages are not endorsed by the Volvo Car Corporation in any country, and the Club is not in any way associated with them. But we extent our thanks for being allowed to use certain information and photographs supplied by them. The use of Volvo information and photographs applies only to the Volvo Owners Club, and should not be reused without permission from the Volvo Car Corporation.
The Volvo Owners Club gives help and advice in good faith, but accepts no responsibilities. We do not accept any liability for injury or damage caused by any person following any procedure found on this web site. It is an individual responsibility to take any precautions that may be required.
Copyright exists for much of the content of this site. However, as we wish to share our enjoyment with others, we ask that if you wish to use anything from this site, other than material credited to the Volvo Car Corporation, you contact us first, and quote the source of the material in your page.
---
Volvo Gallery
The Volvo Owners Club does not accept responsibility for any inappropriate or offensive photographs or comments that may be posted on the gallery, but we will remove them as soon as possible and take any reasonable steps to deal with any complaint arising from any such incident.
---
The Volvo Owners Club Limited
Registered in England and Wales
Company Number: 1068098
VAT Number: 351224295
Company Registered Address: 86 Springfield, Hartland, Devon, EX39 6BG
---