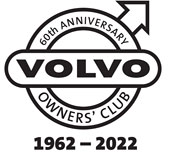 Club News
Classic Motor Show, NEC Birmingham, November.

Join us at the UK's biggest and best Classic Motor Show Lancaster Insurance Classic Motor Show, with discovery+, Friday 11 - Sunday 13 November 2022, NEC Birmingham.
Save by booking tickets in advance at www.necclassicmotorshow.com
Club members save £4 off single-day adult tickets or £2 off other ticket types by quoting the club code published on the show advert in the club magazine and available in the members-only section of our website.
Book tickets by 20 October to help your club earn additional benefits, club ticket discounts available until 10 November.
Changes to the UK Highway Code.
In case you missed all the publicity about these changes to the Highway Code and the way we use the roads then DOWNLOAD THIS PDF.
Club Motul.

New discount offer for members.
Members of the Volvo Owners' Club now have membership to Club Motul and get discounts on all their oil and other products. Members can follow THIS LINK to find out more. The Club also gets a commission on sales, so you help us when you help yourself to discounts.
Tracker devices discount.
The Volvo Owners' Club has partnered with Matrix Telematics who offer two tracker devices to members. Check this out in the August club magazine or on our members section at THIS LINK.
Volvo Owners' Club YouTube Channel.
We have our own YouTube channel with videos of our events at the NEC Classic Car shows and our annual club National Rally.
E10 petrol is here.
The Federation of British Historic Vehicle Clubs has released a bulletin about E10 petrol being introduced in the UK on 1st September 2021. Read the bulletin HERE.
This from Volvo on E10: "E10 petrol is cleared for use in all Volvo cars with petrol engines introduced to the market since 1976 based upon servicing and other conditions according to the equipment and material with which the vehicle was originally equipped. E10 petrol is not cleared for a limited number of S/V40 models with petrol engines produced in the mid-1990s with engine type 1.8 GDI."
Volvo Owners Club Insurance Scheme.
The club insurance scheme with Chris Knott Insurance will continue and staff will be making every effort to deal with enquiries, claims and renewals.
2022 Events
July 31. Norhern BKV, Weatherby Racecourse. Details HERE
August 26 - 28. Silverstone Classics. Multi club event.
September 4th . Glemham Hall, Suffolk. Multi club event. Details to follow
September 11th. Swavesey, Cambridgeshire. Detalis to follow.
September 25th. Volvo Training and UK Heritage Site, Daventry. This is a ticketed event. Details to follow.
November 11-13. Classic Motor Show NEC Birmingham (Club's 60th Anniversary special).
2023 Events
Practical Classics Classic Car and Restoration Show, 24-26 March 2023.
Details of other smaller and more local events can be found on the Events section of our forum or in the Calendar