Technical Information Page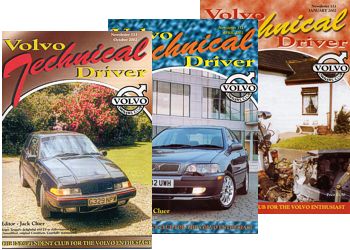 Club Technical Magazine
Club members used to receive three Technical Driver magazines each year, between issues of Volvo Driver magazine. Technical Driver contained technical advice and tips, and letters from members who have carried out work on their own Volvos, and their experiences with their repairs. These issues are now archived on this web site.
The technical pages are now incorporated in the regular Volvo Driver club magazine.
Getting technical help
The first step is to go to the web site Search page and search there for any document that may help answer your enquiry.
The other option is to use our very active FORUM.
Current members of the Volvo Owners Club can contact the Register Keeper for their model of car. You can find their contact details in the club magazine, or email them from our MEMBERS CONTACT FORM. To access this you will need the password and username from the current issue of the club magazine Driver. We cannot guarantee to be able answer all questions especially for the newer generation cars that have complex electronic systems.
Articles on this web site and other web sites of technical interest
1999 engine changes
A very good summary of the technical changes (and related benefits) made to the N series engine late in 1999.
200/700 Series Injection Relay problems
40 Series (S40/V40) headlamp bulb problem
6 CD Changer Installation. 850 Estate (PDF)
700/900 Series: Cracks in crossmembers and chafing battery leads
850 Repair and Maintenance Documents.
850 and early 70 Series Technical Service Bulletins
850 ABS EBD valve problem, and ABS wiring problems
850GLT Engine. Technical Document by Volvo. (PDF)
850GLT Chassis. Technical Document by Volvo. (PDF)
850/70 models - Engine cutting out when slowing down
Air-Fuel ratios.
Article by TME engineer Marco Alsterfalk.
Aquamist.
Article on how Aquamist helps with engine tuning.
Auxilliary Spotlamps (PDF).
Fitting instructions.
Bicycle holder (PDF).
Roof mounted fitting instructions.
Body vibrations in cars 1999-2004
Brake upgrade for the 850 and 70 Series
B200F exhaust system with catalytic converter
C70 Convertible soft top roof damage. Cause and cure.
Castrol Classic Oils. An article from 1999 by Castrol Oil on their oil for pre 1980 cars
Castrol Classic Oil With ZDDP Anti-Wear Additive. An article from 2008 by Castrol Oil on their Classic Oils
CD Box (PDF).
Fitting instructions.