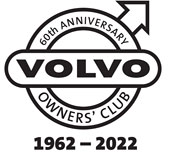 850 T-5 / T-5R / V70/ S70 / C70 T5 Brakes. He who dares, stops!
Phil Wright founded the VOC performance section - he is responsible for developing interest in the Volvo performance car in the VOC by providing support and organising events to encourage interest in the faster Volvos. Phil has an 850 T5-R which he has completely stripped out and race prepared to compete on the track. Phil contributed this article a couple of years ago for the VOC "Technical Driver" magazine, on an aspect of performance that we all should be interested in - stopping! IC
For those of you who don't know me my key area of interest is performance / modified cars. Volvo make some very high performance cars, and as a reflection of this there are increasing numbers of VOC members who own these models, which is why the performance section has come about. The original 850 T-5R touring car models are now affordable to a new generation of drivers – and I was lucky enough to pick one up in the summer of 2000. The excellent power and handling characteristics of the car lend it well to spirited driving when conditions are appropriate, but as I have discovered, along with many others – the OE front brakes can be subject to fade – which can in turn be dangerous, so, here's a quick run down of what I found out along the way!
The OE 280mm Vented front discs are subject to a lot of abuse when trying to pull up an almost 2 ton car capable of 150MPH, and when the UK's Police forces first equipped their patrol officers with 850s, they very quickly found that under heavy braking the cars were not performing as well as expected. This was rectified by Volvo, who offered a bigger front brake disc (302mm) and up rated pads. The callipers were also a different part number, but to all intents and purposes appear to be the same calliper, on a spacer bracket. Some private cars responded to a recall and later models including the V70 were fitted with the 302mm front discs. This means that there are two sizes of front brakes that can be found on these cars. My T-5R had the 280mm fronts fitted, and it became clear that before any kind of adventure, they would have to be upgraded. Whether you want improved wear characteristics in road use, or intend to heavily track day the car, there is an upgrade option for you.
First Option:
"Hardened / Grooved / Cross-Drilled discs, OEM size with fast road pads to suit"
This option is very cost effective, particularly if you use the car for heavy commuting and find that warped discs are a way of life, and also that your pads are outliving your discs. Hardened discs are pre-tempered to stop them warping due to heat applied during braking cycles. Grooves provide additional cooling, as well as "de-glazing" the pads – keeping them ready for use. Cross Drilling provides an escape route for the hot gases that have to escape during braking , although grooves are preferred because cross drilled pads can, at very high temperatures be more prone to cracking than grooved equivalents. Black Diamond discs have had good revues, as have Ferrodo Pads. While this option will not improve your overall braking power, it will provide more stable long term braking ability over the OE discs and pads.
Second Option:
"Police Upgrade kit from Volvo – Larger front discs, and harder pads"
According to Volvo, this 850/70 series 302 option is only available to those with the more modern 16" Perfo Alloys as the older 16" Columba alloys will not accommodate the discs. The upgrade requires 2 new saddles to accommodate the callipers, two 302 discs, two sets of pads, and new front hoses. Larger discs do a better job, although at 302mm there is still room to be had – and this kit will pull the car up quicker, but at nearly ¾ the price of a monster brakes conversion, you have to seriously consider which option you want to take. The kit does of course keep the car entirely OEM – which for the concourse members among you is also an important consideration.
Third Option:
"Monster Brakes Conversion – what can we say – it does what it says on the tin!"
Several manufacturers make "monster" brake conversion kits for the 850 and 70 series. One of the more cost effective, and very well recommended is the AP racing kit, comprising 325mm Cross Drilled/Vented discs, AP 4 pot callipers, Fast-Road use pads and steel braided hoses. In fact this kit is one of the most comprehensive out-of-the-box solutions I have ever seen, including every nut & bolt, thread lock, spacer shims, and even uprated DOT 5.1 Brake Fluid. Once you get into this kind of hardware you have serious stopping power. I have been very impressed with the kit, both with how easily it went on, and how effective it is in use. With the higher boiling point of the new fluid, and much larger pad surface area, fade has become a distant memory. The callipers look stunning nestling inside the 17" "Volans" wheels and the discs finally fill the enormous space inside the wheels. The discs are mounted on an aluminium bell, which helps to provide some flex which keeps them from warping. The kit is about £1400 + VAT – so an investment for the real die-hard enthusiast, but from my experience – very well worth it from a safety point of view.
Other Options:
"Steel Braided Hoses – DOT 5.1 Brake Fluid"
Even if your planning to stick with your OE brakes, you can improve the feel of the pedal by replacing the brake hoses at the wheels with braided versions. These stop the hose expanding under pressure, which translates to a more responsive braking action. The same is true of your fluid – brake fluid is Hydroscopic (it absorbs water from its surroundings), and if you have had yours in the system for some time it will be more spongy than it was previously. Also – better brake fluids have higher boiling points and are less likely to boil under pressure. This point is not just relevant to the spirited outing either, how many people have towed a caravan down a 1:4 winding road in an auto?? – if you have you'll know what I'm talking about!
In Summary
I have enjoyed every minute of motoring in my Volvo, and thanks to AP Racing, I can stop it as quickly as I can start it. The good thing about these cars is that all areas of the performance (stopping included) can be improved, and you don't have to spend thousands to do it. You can, if you chose spend a lot of money on specialist hardware, but remember, little things that cost tens of pounds can improve your brakes, and your safety and confidence in the car too. Happy Stopping!
Phil Wright
Useful Suppliers:

Kalmar Union (Specialist Volvo Parts – speak to Don) 07973 428954
Circuit Supplies (Performance Brakes Specialist – speak to Tim) 01525 385888
---