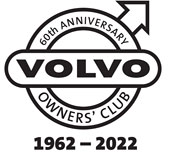 Volvo S60. 2000-
History of the Volvo Car
A Volvo has always been a comfortable and safe car. Since the introduction fo the Volv S60 there is a compact sedan with a coupé look in Volvo's product range that carries the torch from the Amazon Sport of the sixties but with performance levels well in line with the most powerful cars of the 21st century.
Volvo S60 is not just an outstanding touring car or a flexible family car. It is also a competitive racing car, something it has proved in both the STCC (Swedish Touring Car Championship) and the ETCC (European Touring Car Championship).
Introduced in year 2000 Volvo S60 appeared in an updated version during 2004. This includes a new rounder shape of the front end with new grille and bumper as well as new lights front and rear, a more powerful engine for T5 and a six speed manual transmission. The advanced electronically controlled chassis system FOUR-C is made available for Volvo S60.
In the area of safety, BLIS, was introduced. A system to detect objects in the blind angle with a small camera close to the outer rear view mirrors. A warning light close to the rear view mirror tells the driver that there is something hidden.
Technical facts:
Prod. years:
2000 - Still in production
Prod. volume:
Body style:
4-door saloon car
Engine:
5-cyl in-line DOHC, 1.984, 2.435, 2.521 cc or Turbo Diesel 2.401 cc
Transmission:
5-speed or 6-speed manual, 5-speed automatic
Brakes:
Hydraulic, all-round disc brakes
Dimensions:
Overall length 458 cm, wheelbase 272 cm
---