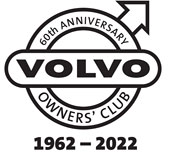 Volvo C30. 2006-2012
History of the Volvo Car
With the C30, Volvo made its debut in the segment for two-door premium cars. The sporty design, with two doors, four individual seats, and a glass tailgate, gave a young and dynamic group of customers "a Volvo of their own".
The car offered buyers a contemporary look with a proud heritage, as the Volvo C30 displayed clear elements of other classic Volvo models with a sporty pedigree, such as the Volvo 1800 ES. Anyone who recalls the acclaimed Volvo SCC (Safety Concept Car) will recognise the exclusive and convenient glass tailgate.
The grille of the C30 had a unique pattern with the enlarged iron mark in the centre. Viewed from the side, the pronounced wheel housings and the sloping roof gave the C30 a fast silhouette that is further enhanced by the markedly boat-shaped side windows. This look was created through the narrowing roof and the wide shoulders. The shoulders at the rear were powerfully rounded and accentuated by both the horseshoe-shaped lighting pattern of the tail lamps and the glass tailgate.
Interior-wise, the C30 offered room for four adults thanks to the two separate seats in the rear, with generous head- and legroom.
Thanks to its small size, the Volvo C30 was very nimble to handle, even in limited space. A very torsionally rigid body, a wide track and a relatively long wheelbase all helped to give the C30 responsive and stable driving characteristics.
The C30 was also a successful race car for Volvo, with the company competing both in the Swedish Touring Car Championship (STCC) and the World Touring Car Championship (WTCC) with a C30 prepared by Volvo Polestar Racing.
Technical facts:
Prod. years:
2006 - 2012
Prod. volume:
209,674
Body style:
3-door hatchback
Engine:
4-cylinder in line DOHC, 1,999 cc ; 5-cylinder in line DOHC, 2,521 cc; 4-cylinder in line SOHC turbo diesel, 1,560 cc; 5-cylinder in line DOHC turbo diesel, 1984 cc
Transmission:
5- or 6-speed manual, 6-speed automatic
Brakes:
Hydraulic disc brakes all round
Dimensions:
Overall length 427 cm, wheelbase 264 cm
---