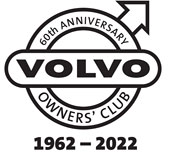 Volvo S80 Generation 1. 1998 - 2006
History of the Volvo Car
In brief
With the 850, Volvo had become not only a manufacturer of safe and comfortable cars, but also of high-performance cars with excellent handling characteristics. With the S80 of 1998, Volvo went a step further, and introduced its first high-performance luxury saloon.
Volvo S80 was (and is) unique in some aspects. For the first time in recent years, an in-line six cylinder engine was installed transversely, combining the unique characteristics of this type of engine with generous interior accommodation resulting from a transverse engine.
Initially available with 204 and 272 hp, the (electronically limited) top speed of the most powerful version made this among the fastest saloon cars in the world. Later, other engines were made available for customers with more modest performance demands. For the economical driver, diesel engines are the natural choice, such as Volvo's new diesel engines, introduced in 2001/2002, with power outputs of 130 or 163 hp.
It goes without saying that the S80 is extremely safe, incorporating all Volvo's passive safety innovations together with excellent active safety.
The comfort level is in balance with perfect ergonomics, a quiet interior and audio/video equipment such as optional GPS navigation system, as well as features like an optional refrigerator for cool beverages while on the road.
Early 2003 a further re-fined Volvo S80 was launched. Both exterior and interior got a re-newel. The advanced FOUR-C chassis system, first introduced for the R-versions of Volvo S60 and V70 was now also offered for S80, as well as the AWD system.
In Depth
Launch
The Volvo S80 was launched in spring 1998 as Volvo's large new premium sedan. It was the first model of the new generation to showcase Volvo's more curvaceous design and large, instantly recognizable tail lamps. The Volvo S80 was fitted with a unique powertrain featuring a transversely installed six-cylinder in-line engine. The Volvo S80 also heralded the introduction of advanced new safety solutions such as inflatable curtains and built-in protection against neck injuries.
Business project manager: Lars Erik Lundin
Design
Four-door sedan.
The Volvo S80 is a classic sedan model with rounded contours and with a windscreen and rear screen with pronounced curvature. The tail section has an abrupt vertical cut-off and the tail lamps are large and wave-shaped. This feature was launched with the S80 model and has become one of Volvo's most important design symbols over the years.
The V-shaped bonnet and pronounced haunches are classic Volvo features that have been further enhanced in the Volvo S80.
Five persons enjoy generous space and exceptional seating comfort in the Volvo S80. One of the reasons for the spacious passenger compartment is Volvo's modern powertrain concept based on transversely installed in-line engines.
The design of the interior changed radically with the Volvo S80, from strict, straight lines to rounded shapes and smooth, flowing transitions, for instance between the dashboard and door panels.
The rear seat split-folds. The front passenger seat backrest can also fold flat.
The top model in the range is the exclusive Volvo S80 Executive, which features equipment and comfort of exceptional standard.
Safety
Volvo Cars adopts a holistic view of safety that encompasses both Preventive and Protective safety.
Preventive safety is closely linked to the car's driving properties. The body of the Volvo S80 features immense torsional rigidity and the car has a sturdy chassis, a combination that results in consistent, predictable behaviour on the road (see also under "Powertrain and Chassis").
Volvo Cars has developed various information systems designed to help the driver while on the move. One such system is IDIS (Intelligent Driver Information System) which for instance delays incoming phone calls in complex traffic situations that require the driver's undivided attention.
Protective safety in the Volvo S80 is structured around a network consisting of exterior and interior safety systems that interact with one another to reduce the risk of occupant injury in a collision.
The exterior systems have the task of distributing and absorbing incoming collision forces so that the passenger compartment remains as intact and undamaged as possible. The body is therefore built in the form of a metal cage where all the components interact with one another to ensure controlled deformation.
The interior safety systems aim to keep the passengers securely in place and also to reduce the risk of serious injury. In order to provide the most effective protection possible, Volvo Cars has developed a number of in-house systems, such as WHIPS (Whiplash Protection System), SIPS (Side Impact Protection System) and IC (Inflatable Curtain). All are fitted as standard in the Volvo S80. What is more, all five seats are equipped with three-point inertia-reel seat belts, belt pre-tensioners and head restraints. The highest possible safety requires that all the car's occupants always use their seat belts.
Powertrain and chassis
The Volvo S80 comes with a range of five- and six-cylinder engines. All are installed transversely in accordance with Volvo's modern powertrain concept. They are designed for smooth operation and low vibration allied to high torque across a wide rev range. The T6 engine is a high-performance engine with twin turbochargers.
The engine range also includes diesel engines.
The chassis, with spring struts at the front and Multilink axle at the rear, is set up for stable, reassuring driving manners and alert steering response. The Multilink rear axle is an independent rear suspension system featuring a number of links and it is designed to offer a good combination of controlled wheel movements and high ride comfort. Some of these links have the task of providing a certain degree of anti-skid steering effect. A long wheelbase and wide track, together with a very torsionally rigid body, contribute to the predictable, controlled driving manners.
Volvo's advanced DSTC (Dynamic Stability and Traction Control) stability-enhancing system is fitted as standard. DSTC cuts in and helps stabilise the car if it registers any tendency to skid.
An active chassis with advanced Four-C technology is available as an option. With this system, the chassis settings are adjusted automatically to suit the current driving conditions, thus improving both handling and ride comfort. Two alternative chassis settings are programmed into the system. At the touch of a button, the driver can thus alter the car's behaviour to suit driving conditions and personal taste.
The Volvo S80 2.5T AWD has Volvo's electronically controlled All-Wheel Drive system with Instant Traction, for fast and effective distribution of traction even when moving off on a slippery surface.
The environment
The Volvo S80 is designed and equipped to impact as little as possible on the global environment and to offer a clean and healthy interior climate.
Petrol engines with low internal friction, efficient combustion and advanced exhaust filtration technology result in low emissions. Energy-efficient diesel engines produce low carbon dioxide emissions.
The engines in the Volvo S80 can be optionally specified with a catalytic radiator coating known as PremAir®. This system converts harmful ground-level ozone into pure oxygen as the car drives. Its benefits are greatest in dense city traffic and in strong sunlight.
Volvo's IAQS (Interior Air Quality System) effectively reduces the amount of particles, pollen, gases and certain unpleasant odours in the air entering the cabin. All the textiles and leather upholsteries are certified according to ÖKO-TEX 100, an international standard that ensures that the interior trim is free from allergy-producing and hazardous substances.
Production
The Volvo S80 is made at the Volvo Cars Torslanda factory in Göteborg, Sweden. 2004 saw production of 30,573 S80 cars.

Sales
In 2004, a total of 32,985 Volvo S80s were sold. Most of the cars were sold in:
The USA 13,396 cars
Britain 2,256 cars
Sweden 2,030 cars
China 1,981 cars
Germany 1,938 cars

Sales in previous years:
2003 38,644 cars
Technical specifications
Drive Front-wheel drive. All-Wheel Drive available as an alternative on the Volvo S80 2.5T.
Chassis Front suspension with MacPherson spring struts. Independent Multilink rear axle.
DSTC (Dynamic Stability and Traction Control) is standard.
Active chassis with Four-C as an option – with two alternative chassis settings.

Dimensions mm:
Length 4850
Width 1833
Height 1454
Track, front/rear 1570/1548 (with 16" wheels)
Wheelbase 2791
Aerodynamic coefficient, Cd 0.28
Frontal area m2 2.25

Engines Petrol
Configuration Displacement cc Power kW/hp Torque Nm
T6 I6 2922 200/272 380
2.9 I6 2922 144/196 280
2.5T I5 2521 154/210 320
2.0T I5 1984 132/180 240
2.4 I5 2435 125/170 225
2.4 I5 2435 103/140 220

Turbodiesel
Configuration Displacement cc Power kW/hp Torque Nm
D5 I5 2401 120/163 340
2.4D I5 2401 96/130 280
Technical facts:
Prod. years:
1998 - 2006
Prod. volume:
388,595
Body style:
4-door sedan car
Engine:
5-cyl in-line DOHC, 1.984, 2.435, 2.521 cc, 6-cyl in-line 2783 cc, 2922 cc, or DI Turbo Diesel 5-cyl in-line 2.401 cc, V8 4.4 litre
Transmission:
5-speed, 4- or 5-speed automatic, 6-speed geartronic
Brakes:
Hydraulic, all-round disc brakes
Dimensions:
Overall length 482 cm, wheelbase 279 cm
---