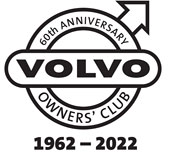 Volvo S60, Generation I (2000 – 2009)
By the end of summer 2000 it was time for the launch of S60, a sporty, compact executive saloon, with definite influences from coupé styling. It had a dynamic, sporting charisma, but was at the same time a spacious and practical five-seater saloon.
The S60 was a strongly driver-centered car, lending itself to an active, sporty driving style, though without compromising its underlying safety and reassuring drivability.
It was launched with a generous choice of engine options; all five cylinder petrol units, delivering between 140 and 250 hp, with automatic or manual gearboxes. The 163 hp D5 diesel turbo was added in 2001, the same year as an AWD version came along.
The ultimate S60, the 300 hp/400 Nm R-version, was launched in 2002 featuring the advanced Four-C chassis with three different chassis settings, Comfort, Sport and Advanced, controlled by three buttons in the dashboard.
The production of the first generation Volvo S60 continued until model year 2009, when an all-new version was launched.
Model Specifications
Body: 4-door sports saloon
Engines: 5-cylinder in-line petrol, 2.0 – 2.5 litres, 140 – 300 hp. 5-cylinder in-line turbo diesel, 2.4 litres, 126 – 185 hp. 5-cylinder in-line Bi-Fuel CNG/LPG, 2.4 litres, 140 hp.
Transmission: 5/6 speed manual, 5/6 speed automatic
Dimensions: wheelbase (cm) 272, length 458, width 180, height 143
Number produced: 581, 947 between 2000 and 2009
Volvo S60 (2008 – 2018)
A few days before Christmas 2008, Volvo Cars treated the automotive world to an early unwrapping of a the Volvo S60 Concept, providing a glimpse of what the all-new Volvo S60 was going to look like when it arrived in 2010.
The second generation of the successful sports sedan made an entry into one of the automotive world's toughest segments backed by an extrovert attitude never before seen in Volvo showrooms. The engine range consisted of five petrol and three diesel engine versions.
2015 saw the launch the S60 Cross Country. It shared much with its sibling the S60, but with added styling, increased ride height and the rugged looks of an all-roader.
A third generation S60 came in 2018, based upon the new SPA architecture.
---