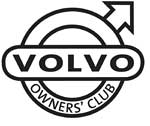 Six new Volvo cars at the Motor Show. T4 pricing. The V10 engine
The pages linked from here are extracts from earlier copies of the club magazine Volvo Driver. The pages are left here for historic reference. More information on news from the Volvo Car Corporation are on our Volvo Press pages.
Winter 1997
Power and Practicality from Volvo's super six
No fewer than six new cars will make their debut on the Volvo stand (D8) at the London Motor Show - including the world premiere of the V40 2.0T light pressure turbo. They combine to form the most exciting show line-up of all at Earls Court 1997. The beautiful Volvo C70 Convertible is joined by the S40 T4 CD, S40 1.6, V40 2.0T, S70 R, and V70 XC to make the Volvo stand the central focus for the very latest in automotive technology, passive and active safety, engineering and environmental care. The V40 2.0T is the latest version of this exciting family of cars. Its top speed of 136mph and zero to 60 mph time of tinder eight seconds are combined with outstanding torque and traction which add to the already high levels of driver appeal. The V40 range is already enticing new customers with its styling and practicality; the 2.0T adds yet another dimension to this exciting range. The 1.6 engined S40 joined the line-up as an exciting and effective entry level car, with high equipment levels and all Volvo's traditional values to provide a value for money packag.
The new Volvo V70 XC (for Cross Country) is both stylish and practical, with an increased ride height and permanent four wheel drive via a viscous coupling offering outstanding traction for both on-road and most normal off-road situations. The 2.5 litre, five cylinder 193bhp engine is powerful and extremely flexible, ideal for towing anything from boats to horseboxes as well as day-to-day driving. With the XC, heavy and fuel-in efficient 4x4s suddenly look redundant. The Volvo S70 R, in addition to boasting a 250bhp 2.3 litre turbocharged engine with a maximum speed of 155mph and a sub-seven seconds time to 60mph, also comes with Volvo's revolutionary Road and Traffic Information system (RTI) which integrates both navigation and traffic information in one unit. But for sheer poetry in motion, the highlight of the Volvo presence at Earls Court is the beautiful and seductive C70 Convertible. Like its Coupe sibling, the Convertible is powered by a 240bhp 2.3 litre five-cylinder engine which propels it to a maximum speed of 155mph. Its handling is peerless yet its ride is smooth and comfortable. It boasts a host of standard luxury items that make it a practical acquisition as well.
No other Volvo has ever been as desirable yet its inherent values are shared throughout the product range. From the S40 1.6, through to the new V40 2.0T and the amazing C70 Convertible flagship, Volvo's London Motor Show stand reinforces Volvo's position as the car manufacturer for the 21st century. Volvo's alternative fuel vehicle, the V70 Bi-Fuel will be uniquely displayed on a filling station of the future organised by the Energy Saving Trust - Powershift. Volvo's V70 Bi-Fuel runs on both compressed natural gas and petrol and offers cleaner emissions than any production car on sale in the UK.
Take 'T' with Volvo - for added fun

A rear spoiler, special wheels and a lower, more purposeful stance will immediately distinguish the new Volvo V40 and S40 T4 when it reaches UK showrooms. This 200 bhp turbocharged addition to the V40 and S40 family is powered by a 1.9 litre turbocharged engine driven through Volvo's own S-speed manual transmission. In addition, the car is fitted with Dynamic Stability Assistance (DSA), a Volvo developed traction control system that maintains full directional stability and maximum road grip. Performance for this sparkling addition to the V40 and S40 family is impressive: nought to 60 mph in just over seven seconds and a top speed of over 145 mph, figures that emulate the performance of the T4's track cousin the successful S40 BTCC racer. The combined fuel consumption figure of 29.72 miles per gallon shows that, once again, Volvo has achieved the balance of first class sporting performance with more than acceptable fuel economy.
On-the-road prices (including 12 months road fund licence and all delivery charges) are as follows:
S40 T4 £20,125
V40 T4 £20,875
S40 T4 SE £21,425
V40 T4 SE £22,175
S40 T4 CD £23,875
V40 T4 CD £24,625
Standard equipment includes Volvo's patented Side Impact Protection System (SIPS), driver's airbag, five sets of three-point seatbelts, central locking with immobiliser, electrically operated windows and door mirrors, RDS radio cassette with six speakers, split folding rear seat and height adjustable driver's seat and steering column. Sporty, stylish and with a strong and powerful stance, the Volvo T4 is a car developed for today's driving conditions. As well as offering a performance that many larger engined cars will fail to meet, it maintains Volvo's pre-eminent position in the fields of safety and environmental care.
The new Volvo V10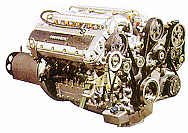 This new luxury car from Volvo, the replacement for the S90 range, will be arriving next year (1998) with a new 325bhp Cosworth engine. The engine is a 4.3 litre unit made entirely of aluminium and it weighs under 200kg. It is mated to a five speed automatic gearbox and gives the car a top speed of 250kph (155mph). There are five prototypes of the new car all made by hand at Torslanda in Sweden which are being tested at night on a test track at Hallerad under the utmost secrecy and two 850's have been fitted with the new engine to test it out in traffic conditions. The car will be bigger than current Volvos, longer, wider and with a large wheelbase and apparently the luggage space is quoted as enormous. "Teknikens varld" reports that the code name for the new flagship Volvo is the P2X. When will it arrive we don't know but V10 power sounds exciting doesn't it? Now I wonder how the engine would perform in a Williams or McClaren with Damon or Michael driving?
---