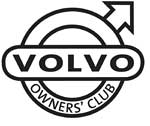 A niche on four wheels. Volvo 850 AWD
The pages linked from here are extracts from earlier copies of the club magazine Volvo Driver. The pages are left here for historic reference. More information on news from the Volvo Car Corporation are on our Volvo Press pages.
Autumn 1996
THE FIRST EVER Volvo all-wheel-drive production car the 850 AWD arrived in the UK in July adding to a range that has helped Volvo claim over 45 per cent of the country's family estate market. Designed to appeal to the leisure-seeking motorist the 850 AWD is Volvo's answer for the driver who wants four-wheel drive but is fed up or doesn't want the size weight and height of off-road 4x4 vehicles that make multi-storey car parks impassable long distance cruising tiresome and safety : questionable. Although the company expects to sell just 200 models in its first year to motorists who tend to divide their time between towing boats and horse boxes holidaying in the Alps and cycling up mountains it believes the AWD will extend the appeal of the 850 range further.
Volvo's 850 Product Manager Matthew Parkin said: "The car is all about lifestyle. Although few 850 AWD drivers will take the car off road. it can easily make light work of towing, poor road surfaces and winter weather. Above all the 850 AWD offers the best balance between comfort driving dynamics performance and manoeuvrability a concept that will attract owners of rival makes of 4x4 and potential Volvo owners."
Advantages of the 850 AWD over traditional four-wheel drive vehicles include a more aerodynamic body improved fuel consumption significantly lower running costs and superior on road performance including far less body roll. Competing against car derived 4x4s such as the Subaru Legacy and Audi A6 Quattro the 850 AWD enjoys considerable advantages over these competitors. It offers better ground clearance higher engine torque from the new light pressure turbo - developed at a wider range of engine speeds providing greater engine flexibility for towing - a large load capacity and safety features such as integrated rear child seat and side impact protection airbags fitted as standard. The new 850 AWD uses an ingenious system of permanent four-wheel drive that at motorway speeds gives 95 per cent of the power to the front wheels and only 5 per cent to the rear. When more traction is needed - for instance when towing off- road, taking corners in the wet or hill starts - the power instantly and automatically transfers to the wheels with the most grip. The driver doesn't need to engage any levers or press any buttons. The five-speed gearbox is linked to a 'Viscodrive' viscous coupling which distributes the power to the front and rear axle instantaneously as required by the driving condition. The 850 AWD's new 193 bhp 2.5-litre 20-valve light pressure turbo engine offers a rapid response fast acceleration (0-62 mph in 8.5 seconds) and high top speed (137 mph). It is virtually impossible to detect when the turbo is working since there is no sudden power surge just lots of acceleration for safe overtaking and comfortable cruising. Only available as an estate with one specification level the 850 AWD's distinguishing features include front fog lights 16" Pursus wheels roof rails and an increased ride height of 14mm. Specification trim includes self levelling suspension, TRACS, air-conditioning, load net, roof rails, trip computer, leather steering wheel and metallic paint. External colours available include Black Stone, Nautic Blue, Regent Red, Dark Olive and Autumn Gold. The new 850 AWD goes on sale in July priced £27 400.
Volvo focus on key models for 400 Series
VOLVO HAS LAUNCHED two new special versions of the 400 series heralding an updated slim-line range for the successful hatchback and saloon. Style and comfort characterise the Special Series LE cars which sport metallic paint with matching bumpers and Canis alloy wheels. The interior boasts co-ordinated plush velour a upholstery a six speaker radio/cassette player with RDS split, rear backrest for easy loading and height adjustable front seats. Meanwhile drivers who are looking for sporting performance and an added touch of luxury will appreciate the 440 and 460 GS Special Series. With prices starting from under £13,000 these cars come fully equipped with stylish Pictor alloy wheels, metallic paint and a rear spoiler, whilst passengers are treated to an interior combining plush/leather upholstery and air conditioning (petrol models only) as standard.
---