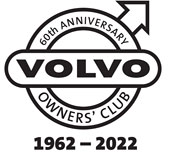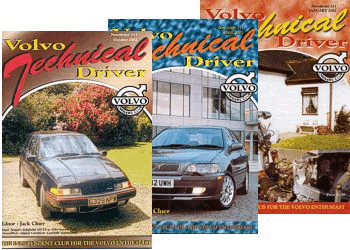 Volvo Owners Club Technical Driver Contents
Back issues of the popular club technical magazine, formally named "Newsletter" then renamed "Technical Driver", are now available on this web site. They are all in PDF file format, and also available in a compressed zip file for quicker download.
This is only a guide to the contents of each issue, and some articles may apply to other models of Volvo car.
---
CONTENTS- Issue 83
740 engine problems
740 Weber carburettor conversion
Diesels
Cleaning wheels
Number plates
240 crankcase breather, ventilation
200 bulkhead water leaks
120 rear suspension, trailing arm
Mirror glass replacement
Crankcase ventilation
360 article
Starting problems on wet days
66 CVT tips, crankshaft pulley removal
1800 tips
Catalytic converters
760 supplementary instruments
200 Webber conversion
244GLE article
PV Amazon 1800 identification plates
Brake fluid
Batteries

CONTENTS - Issue 84
120 overdrive
164 heater
200 front tyre wear
740 engine problems
164 rear suspension springs
340 rear wiper motor
480 heater problems
Stainless steel exhausts
Fuse box problems
Brake squeal
120 rear suspension
240 problems
343 article
120 gear change problem
Nissan diesel engine conversion
Corrosion problems
120 electrical problems
245 engine rebuild, Kenlowe fan and hot start issues
Dog guards
Overdrive tips
244 fuel problems
Tyre regulations

CONTENTS - Issue 85
140 clutch
264 cold start problems
Lifetime care
140 rear suspension
740 brakes and half shaft
Cleaning windscreens
740 article
244 engine management
760 air conditioning
Wet, damp start tips
760 fuel gauge fault
440 TV advertisement
Electric windows
240 fuel pump
240 prop shaft centre bearing
140 760 article from New Zealand
240 relays and condenser issues
120 engine types
200 water leaks

CONTENTS - Issue 86
200 magnetic fuel ionisers, final drive ratios, injection system, fuse box issues
480 headlamp flashing problem
1800 fuel injection
240 fuel pump relays
240 seat problem
240 360 740 oil leaks
Fuse corrosion
122 steering problem
Jacks and axle stands
245 misfire
240 crankcase ventilation
120 140 164 radius arm, suspension
240 bonnet hinge
264 overheating and cam wear
122 article
Kenlowe fans and Mobelec ignition
1800 article
CVT tips

CONTENTS - Issue 87
Monte Carlo
340 throttle cable
Seat repair
Catalytic converter
340 brake hose, wiper blade tip
120 alternator conversion
66 CVT 340 electrical issues
1800 Bosch 'D' Jetronic problems
Electrical tips
760 turbo diesel start problems
Clutch wear
740 maintenance, coolant change
Insurance, car modifications
Auto gearboxes, two footed braking
200 central locking problems
Flame trap problems
760 front suspension defect
740 hesitation
700 900 battery warning
Electrical issues - condensers
1800 article

CONTENTS - Issue 88
200 windscreen water leaks
Catalytic converters
Auto gearboxes - left foot braking
740 Pierburg 2B5 carburettor problem
245 MacPherson strut failure
244 overdrive
244 fuel injection problem
340 erratic running
340 5 speed gearbox conversion
Tailgate wiring
240 erratic running, fuel injection
480 water leaks
Fuses
760 engine overhaul
Caravan stabiliser bars
1800 article

CONTENTS - Issue 89
Hose problems
Car radios
120 alternator conversion
Catalytic converters
Lamda Sond
360 problems
340 CVT tips
MacPherson struts
760 front suspension
Water pump change
360 brakes
480 lighting faults
Bosch K Jetronic fuel injection

CONTENTS - Issue 90
Lamda Sond
144 restoration
740 pinking
Parts prices
Fuel pump relays
Exhaust emissions
Water pump change
240 gearbox conversion
Electric aerials
740 diesel conversion
CVT pneumatic connections
CVT, principles
Maintenance tips
345 article
480 idle problem
340 headlamp wiper arm removal

CONTENTS - Issue 91
Pinking
66 article
700 900 Diesels
Workshop tips
240 timing belt
Flame traps
Pinking, decoke and unleaded petrol
Starter motor 760 760 starting problem
360 carburettor problem
240 overdrive
200 Weber conversion
PV tips
760 dim-dip
Relays
RAC Classic run article
New vehicle licencing proposals

CONTENTS - Issue 92
Competition article
Emergency start procedure
Car cleaning
Prop shaft
300 electric windows
Electric aerials
120 brake master cylinder
High mileage cars
740 tailgate problems
Article on owning a Volvo
240 pinking
940 tailgate trim
Pinking
Solenoid problems
740 rear axle, differential oil leaks

CONTENTS - Issue 93
300 electric window fault
B230 crankcase bolt removal
340 clock time problem
Cooling fans, viscous or electric
200 power failure, start problem
740 Isuzu turbo diesel conversion
480 aerial problem
480 exhaust problems
740 fuel pump
240 crankcase ventilation
Rally article
260 cooling and start problems
260 decoke
240 starting problems
200 700 fuel injection system
PV rally article
740 coolant loss
340 light switch bulb replacement
Camshaft oil seal

CONTENTS - Issue 94
200 700 900 electric window problem
Repairing plastic
240 towing, water leaks, engine mounts, water in oil, pinking
Fuel catalysers
Plastic padding
Modern fuel in Classic cars
740 light relays
Super unleaded fuel
Castrol Classic Oil article
360 cam sprocket
Basic fault locating, auxiliary circuits
245 cam belts

CONTENTS - Issue 95
340 exhausts
Article on engine oil
740 noises
Tyres
740 headlamp wiper motor
Preparing your car for the winter
Pinking and Continental fuel
245 brake judder
Volvo Assistance
Bosch LH Jetronic fuel injection
480 clutch
850 servicing
Fuel catalysers
740 turbo diesel conversion

CONTENTS - Issue 96
MOT, brakes, vehicle repairs,
300 Catalytic converters
240 idle and judder problems
480 idle problem
440 water in fuel
700 900 rattles
Pinking
200 poor starting
740 pinking
PV 544 Zenith carburettor and exhaust manifold problems
480 voltage drop, starting problems
120 140 1800 steering and handbrake
200 transmission vibration
262 article
Fuses, pinking, fuel pumps, fuel consumption, volt meter
Tow bar conversion
700 tailgate trim
760, buying second hand

CONTENTS - Issue 97
740 versus the S40
MOT
700 900 load cover repair
850 fuel cap lock fault
Engine washing and degreasing
740 diesel conversion
Electrical volt drop and starting problems
740 carburettor overhaul
PV 544 transmission vibration
Test drive
Diesel conversion insurance
760 erratic idle
Flasher units on older models, using newer versions
240 steering problem
Fuel catalysers

CONTENTS - Issue 98
Air conditioning R12 to R134a
PV competition report
740 cracked hoses
Strobe timing lights
144 modifications
240 handling problems
Amazon prep for rally
Car compasses
460 starter motor wiring
945 cruise control
340 carb air leaks and brake servo hose
200 700 diesel conversion
400 clutch
460 turbo pinking

CONTENTS - Issue 99
End of leaded petrol
Cylinder head mods for unleaded
940 heat deflector plate
240 handling
Electric fan problems
Kenlowe fan
Preparing Amazon for rally
240 water loss
PV 544 rally prep
Electronic immobiliser
760 240 Castrol Magnatec, handling, tyres
700 900 cassette holder

CONTENTS - Issue 100
245 brake problem
240 injector seals, poor idle
740 fuel pump relay
740 overheating gearbox
240 headlamp renovation
Catalysts
Steering issues
740 hot start
Concours prep
360 performance tuning
Amazon noises
480 water leaks
850 cracking and pulsing
700 900 battery leads
850 tyres
440 pinking

CONTENTS - Issue 101
Alloy wheels
850 70 tailgate corrosion
480 Moonroof roof problem
340 air cleaner problem
480 and Turbo flashing headlights
480 pop up headlight problem
Fuel pump relays, diodes, constant air temperature devices, 6 to 12 volt conversions
Fuel catalysts
480 and Turbo leaking rear lights
460 tuning
120 140 spark plugs
740 clutch problem
760 smoking turbo
LPG article
700 leaking fuel filter and failed switch indicator bulbs
740 Nissan diesel conversion
120 starter button modification

CONTENTS - Issue 102
120 heater control valve
480 lack of power
240 rusting floors and high wattage bulbs
Tow bar socket changes 1998 to 1999
760 high level rear light
740 ECU vacuum fault
240 tyres and brake pads
66 CVT 340 cylinder heads
LPG and diesel conversions, handling, tyres, camshaft gears, brake hoses
120 12 volt conversion
240 gearbox conversion from auto to 4 speed with overdrive
221 120 electric fan
240 indicator lamp colouring
Unleaded fuel in Volvos

CONTENTS - Issue 103
221 120 140 1800 temperature gauge fault
480 electric windows
120 ignition switch, locks
Dim dip and running lights
700 injector seals, lights, relays
120 speedometer accuracy
Fuel catalysts, constant air temperature devices
Handling, brakes, tyres, camshaft gears, track rod ends, gaiters
Wheels, dampers, polyurethane bushes
440 starter motor solenoid
480 timing belt, auxiliary drive belt
340 air cleaner fixing problem
140 160 brakes
850 intermittent non start problem
120 1800 push button starter switch
200 brake pressure loss

CONTENTS - Issue 104
164 rebuild
Non start problem on multi valve engines, headlight bulb.
Article by USA member Joe Galant
740 inhibitor switch, screen washer fault
850 service light reset
Propshafts
700 screen washer fluid leakage
940 coolant loss
120 care
240 rear facing seats into a 145
Rustproofing your Volvo
Brake system overhaul
850 glove box fault
Lumenition rotor problem
900 steering column bush fault
850 70 self levelling suspension
760 air conditioning, water pumps, starters
740 hot start problems, Pierburg carburettor

CONTENTS - Issue 105
Article by USA member Joe Galant
Unleaded fuel, LRP
Caravan care
Volvo paint codes
850 tailgate trim, top engine bush, fault codes
760 engine and transmission oil cross contamination
850 glove box
200 carburettor and handling
740 poor running and fuel consumption
760 coolant loss, auto gearbox relay, air conditioning, injector seals
PV 544 article v Rambler American
Laplander C202
Fuel issues and running on

CONTENTS - Issue 106
Report by USA member Joe Galant
960 non start problem
240 carburettor problems
740 Pierburg carburettor, brake disc wear
Caravan care
740 radiator problems, water and oil cross contamination
140 overdrive conversion
240 handling, carburettor, gearboxes
760 diagnostics
Tyres
940 coolant loss
Electrical problems, fault tracing
850 non start problem
360 idle problem
200 rear suspension, towing
940 Turbo oil consumption

CONTENTS - Issue 107
740 steering replacement
240 clutch pedal
200 fuel injection pump
900 700 heater control valves
940 fuel cut-off
Tips for PV Amazon 1800 140 164 200 700
300 windscreen wipers
740 auto kick down problem
360 fuel filler tube
Plugs and batteries
PV competition preparation
1800 indicator and overdrive switch
Air conditioning
LPG dual fuel
850 70 glove box

CONTENTS - Issue 108
Battery shorting
760 Tool kit
360 poor performance
760 340 fog lamps and idle solenoid
940 heater control valve
140 240 door replacement
66 340 CVT clutch
740 electric windows
740 additional cooling
SU carburettors
Seat webbing 120 140 1800 240

CONTENTS - Issue 109
Bosch K Jetronic fuel injection
Turbo troubles
340 points and condenser
240 heater control valve
360 poor performance
940 fuel cut off
140 240 tailgate wiring
240 owner's experiences
480 earth problems
Remote servo 120 1800
340 CVT cutting out and fuse 10
340 Living With article
V40 second rear foglight
244 mileometer (odometer) repair
740 fuel starvation
200 700 900 steering lock fault
240 LPG conversion
Tools

CONTENTS - Issue 110
V70 LPG dual fuel
440 460 renew rear disc pads
440 460 headlight beam alignment
J Type overdrive
200 article
340 tips
Vacuum gauge
300 front suspension
B18 B20 B30 oil pump fitting
440 460 jacking point
700 Weber carburettor conversion

CONTENTS - Issue 111
240 760 head bolts and wipers
1800 poor starting
Fuses
Tool kit
900 sun roof
360 poor performance
480 speedo fault
240 water leaks
V8 Volvo
145 heater control valve
240 clutch cylinder
850 tappets and fuel consumption
240 relay
850 auto gearbox control fault
460 high revs
340 headlamp
340 Renix unit
66 340 CVT clutch
700 900 water leaks

CONTENTS - Issue 112
Wheel alignment
Fog lamps
245 article
740 cutting out - fuel filter blockage
480 turbo
544 brake calliper
240 front suspension
200 700 injection relays
240 buying second hand
Car polishes
Nivomat self levelling suspension
440 cambelt cover bolt
LPG for turbo engines
Amazon trim tips
240 water leaks
164 740 V8 conversions
140 240 tailgate wiper mod
Competition preparation
400 electronic heater control

CONTENTS - Issue 113
Performance tuning
300 seat repair
940 cat and water leaks
Water pumps B21 B23 B19 B200 B230
340 tips
240 740 stainless steel exhausts
Steering
Prop shafts
940 crank key
740 body repair
850 tips
960 gearbox
240 gearbox exchange
Injection relays
850 T5 T5R brakes upgrade
240 roof rack to fit 940
---