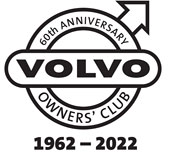 Volvo S80
Personal Security
Anti-theft lock system
Without the right key, the Volvo S80 cannot be started. An electronic immobiliser prevents it. Outside, there is only one lock cylinder - on the driver's door. The cylinder rotates, making it extremely difficult to break in. The same lock is used on the ignition. And, in the unlikely event a thief gains access, the doors will not open from inside.
Advanced alarm
The remote controlled alarm system has sensors in the doors, bonnet and tailgate. It is fitted with sensors that react to interior movement or a change in vehicle height. An optional inclination sensor detects if the car is jacked up or hitched to a tow vehicle.
Theft-proof side windows
Optional laminated side windows, difficult to shatter from outside, make a thief s access even harder. Approach lighting Press the button on the remote control and the interior lights, parking lights, tail lights and the ground lights on the outside rear-view door mirrors (optional) all light up. Approach lighting can also be activated from inside the car.
Home safe lighting
When leaving your car, by flashing the high beam light once, both the low beam light and parking lights are illuminated for thirty seconds, for safe arrival at your door.
Roadholding
Anti-skid system
Any skid is disconcerting and potentially highly dangerous. Dynamic Stability and Traction Control (DSTC) (optional) automatically counteracts a skid before you even notice it. The system compares the car's direction of travel with steering wheel movements. If the comparison shows a risk of skidding, the brakes are independently applied to each wheel to ensure you retain control. (DSTC will be available with the six-cylinder engines towards the end of 1998.)
ABS brakes and Electronic Brake Distribution
The Volvo S80 has ABS anti-lock disc brakes to reduce both stopping distances and the risk of skidding in emergency braking. Electronic Brake Distribution (EBD) distributes the braking power between the front and rear wheels for optimum effect, even when the car is heavily laden.
Also available:
Speed-sensitive power steering (standard with the T6 SE and available for the 2.9 litre engine as an option)

Load compensating suspension for constant ground clearance (optional)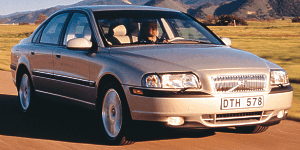 First car with fully integrated GSM phone
The Volvo S80 is the first car model to be equipped with a fully-integrated GSM telephone. This integrated phone is one of the new features to result from Volvo's systematic development of technology to produce smooth and safe interplay between man and machine. When this phone was developed, the aim was to minimise the risk of being distracted when making or answering a phone call. All the phone buttons have been built into the left-hand section of the centre console, within easy reach of the driver. To enhance the level of comfort and safety still further, control buttons for "send" and "stop" have also been built into the steering wheel. Using these buttons, the driver can also operate the phone menu functions, to select pre-programmed numbers, for example.
Information on display
Information from the phone, about the call in progress. for example, is presented on a display on the dashboard.
A hands-free function has been integrated in the car in discreet and elegant fashion
The microphone is concealed in the interior rearview mirror and the incoming sound can be heard via a loudspeaker in the driver's head restraint. This means that several people in the car can hear and take part in the call
When a call is in progress, the volume of the sound system is automatically reduced. It is increased again once the call is over.
For private conversations, there is a handset which is built into the centre armrest and is easily accessible from both the front and rear seats

Choices
S80 Standard Equipment
Safety

Driver's Airbag

Three-point Inertia-reel Seat Belts on all 5 seats

Seat Belt Pre-tensioners (front and rear)

SIPS (Side Impact Protection System)

SIPS Airbags

IC - Inflatable Curtain

Side Marker Bumper Illumination

High Level LED Brake Light

Head Restraints on all five seats

WHIPS - Whiplash Protection System

ABS (Anti-lock Brakes) with EBD (Electronic Brake Distribution)

STC (Stability and Traction Control - on 2.9 and T6 SE)

Headlamp Levelling System

Exterior Temperature Gauge

Day Running Lights

Tinted Windows

Interior

Birka Upholstery
Fantasy Metallic Interior Trim

Air Conditioning
Pollen Filter

Height and Reach Adjustable Steering Column

Power Steering (Speed Sensitive Steering on T6 SE)

Illuminated Ignition Lock

Height Adjustable Driver and Passenger Seats

Electrically Adjustable and Heated Door Mirrors

Electric Front and Rear Windows

Ashtray/Lighter (Front and Rear)

Coin Holder

Asymmetric Split Folding Rear Seat (60%/40%)

Illuminated Passenger Vanity Mirror

Front and Rear Reading Lamps

HU-401 RDS Radio Cassette with 8 Speakers (and Auto Sound Control) - Radio Antenna/ Amplifier in rear bumper

Luggage Restraint System

Security

Remote Control Central Locking - Including Fuel Flap

Deadlocking System

Immobiliser

Mass Movement Sensor

Anti-theft Alarm

Home Safe and Approach Lighting

Lockable Wheelnuts (with Alloy Wheels)


Exterior

Colour Co-ordinated Bumpers and Door Mirrors

Grey/Chrome Side Moulding

Grey Sill Covers with Stainless Steel Step Covers

Dynamic Chassis

15" Steel Wheels 205/65R1 5V Tyres (2.4/TDI)

16" Steel Wheels 215/55R1 6W Tyres (2.9)

17" Arrakis Alloy Wheels 225/50R1 7W Tyres (T6 SE)

Tempa Spare Wheel (T6 SE only)

Mudflaps (Front)

Steel Spare Wheel
Additional Packs
Different equipment and design packs let you refine your Volvo S80 still further. Each pack contains a specially selected collection of options. You can add one or more packs to any Volvo S80 or SE variant. The Volvo S80 SE already includes the Comfort, Audio Upgrade and Design packs (dependent on engine). If you wish to choose items individually, turn to the back of the brochure for full details of optional equipment.
Comfort Pack

Electronic Climate Control (ECC)

Information Centre

Cruise Control

Autodimming Rear View Mirror

Illuminated Driver Vanity Mirror

Front Fog Lights





Luxury Design Pack

Leather-faced Seats

Walnut Wood Effect Interior Trim

Leather Steering Wheel

16" Miram Alloy Wheels 215/55R16 Tyres

Premium Pack

Electric Driver's Seat (with memory)

Electric Folding Door Mirrors

Ground Light in Door Mirrors




Design Packs

Design packs combine styling options to let you personalise your car. The T6 SE already includes exclusive design options.

Design Packs for 2.4, 2.9 and TDI engines.
Choose from Wasa upholstery with 15" alloy wheels. Or select the sumptuous luxury of leather-faced upholstery combined with elegant 16" alloy wheels. In each case, your choice is enhanced by ecologically sound wood effect trim.

Winter Pack

Heated Front Seats

Headlamp Wash/Wipe

Luxury Floor Mats




Audio Upgrade

Upgrade to HU-601 RDS Radio/Cassette/Single Slot CD Player (and Auto Sound Control) with 8 Speakers

Steering Wheel Remote Control




Prestige Design Pack

(not available for the 2.9)

Wasa Upholstery

Walnut Wood Effect Interior Trim

Leather Steering Wheel

15" Rhea Alloy Wheels 205/65R15 Tyres
Engine and Transmissions
First with transverse six-cylinder engine
Volvo is the first car manufacturer in modem time to succeed in fitting an in-line, six-cylinder engine transversely in the engine bay. The Volvo S80 will be available with two transverse, six cylinder engines, with a twin turbo, the T6, with performance on a par with that of a V8, as the most powerful alternative.
The engine programme in the Volvo S80 is based on two different concepts - six cylinders for total comfort and five cylinders for fuel economy and smooth driving. Both concepts are transverse, in-line engines, in true Volvo spirit. Reduced weight, less friction between the moving parts of the engine, an improved cylinder head, continuously variable valve timing and a sophisticated engine management system have helped to enhance performance and improve driving characteristics and fuel economy.
In 1998, the Volvo S80 will be introduced with a number of engines:
Volvo S80 T6. A new 2.8-litre engine, which offers extremely high performance (272 bhp, 380 Nm) and a speedy response, as a result of the double turbochargers. Its performance is on a par with that of a four-litre V8 engine, but this engine offers the kind of smooth, pleasant operation which is typical of an in-line, six-cylinder. Fuel consumption: 10.9 litres/1 00 km in mixed driving conditions
Volvo S80 2.9. A six-cylinder, 2.9-litre, normally-aspirated engine (204 bhp, 280 Nm,) which combines power and smooth, vibration-free operation with top-class engine efficiency. Fuel consumption: 9.7 litres/100 km
At the end of 1998, the Volvo S80 engine programme will be supplemented by:
Volvo S80 2.4 (170 bhp), a five-cylinder, 2.4-litre engine (170 bhp, 230 Nm), a new and more efficient generation of the established engine concept in the Volvo SM/V70. Fuel consumption: 9.2 litres/100 km
Volvo S80 2.4 (140 bhp), a fuel-efficient, five-cylinder engine developing (140 bhp, 230 Nm) with fuel consumption of around 8.6 litres/100 km in mixed driving conditions.
Volvo S80 TDI. a five-cylinder, 2.5-litre turbodiesel (140 bhp, 290 Nm) with direct injection and performance on a par with that of a petrol engine. Fuel consumption: 6.5 litres/100 km.
A development of bi-fuel technology, without any reduction in load capacity, space or comfort.
The Volvo S80 offers a choice of five Powerful, highly efficient petrol and diesel engines. Ample power is available across a wide range of engine speeds, resulting in effortless response and excellent flexibility in any driving situation. Transverse mounting ensures good balance and greater interior space.
Five cylinder engines
Three five-cylinder engines are available ranging from 140 bhp to 170 bhp. In each, as the power distribution is spread across a wide operating range, driving is relaxed, with acceleration brisk and rapid even at lower speeds. The smooth, quiet running 2.5 litre 140 bhp turbo diesel uses direct injection technology. In addition to offering good acceleration (0-62mph in 11 seconds) it also promises highly competitive fuel economy.
Six cylinder engines
Where even more power and refinement are required, there are two in-line six-cylinder engines to consider. A 2.9 litre 204 bhp engine guarantees smooth capable cruising and swift, safe overtaking.
T6
First Volvo gave you the T5, and then T4. Now Volvo proudly presents T6, the most powerful engine Volvo have ever produced. Available only in SE specification at launch, this 2.8 litre, six cylinder twin-turbo engine harnesses an exhilarating 272 bhp that can take you from 0-62 mph in a mere 7.2 seconds. But as you'd expect from Volvo, power is never provided without control, and the T6 comes with Stability and Traction Control (STC) as standard.
Transmissions
For most engines, a choice of five speed manual or four speed automatic transmissions is available. For the T6 engine, the Geartronic transmission offers two gearboxes in one: an intelligent automatic that 'learns' your driving style, and manual for active driving pleasure. The T6 SE is only available with Geartronic at launch.
Control is essential for safe driving enjoyment. The superior roadholding characteristics of the Volvo S80 let you enjoy every journey to the full.
Chassis and suspension
If a car is to feel stable, the chassis and body must not flex. It must be rigid. The Volvo S80 uses a supremely strong, torsionally stiff body and chassis. Independent front suspension and multilink rear suspension maintain practically constant wheel angles and track width. The Dynamic suspension system keeps the car level under braking and acceleration. Together, these elements combine to produce controlled, balanced handling and first-class comfort.
Traction control
Traction is a wheel's ability to grip. On a slippery surface, a driven wheel is liable to spin. Volvo Stability and Traction Control (STC) prevents wheelspin by instantly mediating the engine torque delivered to a wheel if it starts to slip. STC makes pulling away easy. It also enhances lateral stability in corners and reduces understeer when accelerating out of them. At low speeds, STC uses the ABS braking system on driven wheels. At higher speeds, the engine torque is reduced. (STC, standard with the T6 SE and 2.9 litre engines)
---