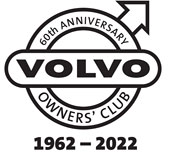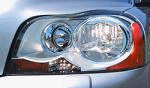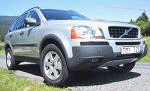 Volvo XC90 Road Test
17 August 2002
There are a few excellent four-wheel drive cars, like the Subaru Legacy, that ride at normal car height and handle like a normal car. There are lots of jacked-up, Jeep-like 4x4s that carry their passengers half a metre higher, and cannot quite manage to defy gravitational forces on corners. And now there is the Volvo XC90, which is essentially a jacked-up estate car.
It's not much longer than a Lexus RX300 or BMW X5. Just 4.8 metres exactly (15' 9") But, amazingly, manages to contain three rows of seats with more than half a metre of luggage space behind them and reasonable legroom for everyone. "How did they do that?" you wonder. Then the designer, Peter Horbury, explains that using transverse straight 5 and straight 6 rather then 'V' engines allowed the cab to "move forward" giving a lot more space inside.
They've been very clever with those seats. All have their own three point lap/diagonal safety belt. The middle row slide backwards and forwards individually, so the child seat in the centre can be pulled forward and the child in it gets a much better view of what lies ahead. Just as smart, the cushions of the rearmost seats slide away under the luggage platform, then the backs fold flat, individually increasing luggage capacity at the expense of seatspace. And, with the centre row also folded down you get a flat but high loadspace 1.89 metres long. You can even fold the front passenger seat flat to gain a loadspace 2.91 metres long, alongside a driver plus two passengers sitting tandem-style.
It's a handsome car. Big, tough looking, but not in the least aggressive. The deformable front is actually very friendly to any pedestrians who happen to walk out in front of it as there is plenty of space underneath to cushion them. There is a massively strong front box section crossmember. But there's also a special skid plate designed to meet the impact zone of a conventional car so anything the XC90 hits deforms progressively instead of being smashed to bits. After all, this is a Volvo.
The World gets a choice of three all-aluminium engines: Volvo's new 2,401cc 163bhp (120kW) 5-cylinder diesel; the 2,922cc 272bhp (200kW) 6-cylinder twin-turbo petrol from the S80 T6; and a revised 2,521cc 210bhp (154kW) 5-cylinder light pressure petrol. The UK will get the first two engines, but other markets may get all three.
Transmissions are still in transition. At launch, the diesel and 210bhp petrol came with a 5-speed Geartronic automatic which allows you to select the ratios yourself. The 272bhp T6 came with a 4-speed autobox and an ECU chipped to limit power in 1st and 2nd to avoid transmission damage. Soon this box will be replaced by a new, tougher 6-speed auto, and by mid 2003 the diesel will have the option of a 6-speed manual.
Climb behind the wheel of the diesel, adjust the steering wheel and seat to suit yourself, then get going and it's all very civilised. You can waft along fairly serenely with no hint of diesel clatter, then call upon a lower gear and the engine's strong 320Nm torque to pull you rapidly up the steepest of inclines. It really is very pleasant, and has that Mercedes SL quality of actually making you feel like cruising rather than pedal to the metal. Yet it's no slouch and 180kph on the motorway felt like no more than 120kph in a normal car. Close cross-examination of Volvo's engine man, Sivert Hiljemark, led to the info that though this is a belt-cam diesel and the belt drives the water pump, the old Audi pump bearing problem was sorted years ago and the belt really should last 120,000km. There's also no need to simmer the turbo after a long upward incline. Though only oil cooled, the oil is itself cooled by engine coolant via a special heat transfer case.
Probably because of the way it is chipped, the T6 didn't feel anything like 272bhp. It's still a lot quicker than the diesel, but because you don't feel the need to drive XC90s fast, most drivers won't regret plumping for the more eco friendly oil burner.
The mountainous roads above Lake Geneva gave us plenty of opportunity to check out the power and handling and, by virtue of gyro stabilisers and the low centre of gravity of the engines and axles, both XC90s took corners surprisingly well.
That wasn't enough for Volvo, though. Despite immense strength in the front of the car and especially the A pillars, we were still required to test the Roll Stability Control by driving the car through an Elk avoidance test. This means jinking sharp left, then sharp right without braking through cones at up to 75kph. Of course at the slightest hint of the car getting out of line, wheels are individually automatically braked and the car never even felt like a wheel had left the ground, it's that stable.
At around £30k in the UK the XC90 is up against luxurious SUVs such as the Lexus RX300 Harrier, the Jeep Grand Cherokee, the Mercedes ML, the more expensive BMW X5 and more car-like equivalents, such as the Subaru Legacy Outback 3.0 and the Audi Allroad. It's not really fighting the LandRover Discovery because it's much smaller, much more car-like and much better to drive. But it will steal sales from 7 seater 4x4s like the Landcruiser Colorado and Mitsubishi Shogun.
Just as much as the practicality, the honest good looks are going to sell this car. It's quietly tough; strong, yet gentle; not in the least garish or 'look at me'. And that's just perfect for the sort of people who are going to buy it.

PRICE/AVAILABILITY
XC90 D5 S 6-speed manual: £28,400 (E 46,263)
XC90 D5 S 5-speed Geartronic: £29,650
XC90 D5 SE 6-speed manual: £30,400 (E 49,522)
XC90 D5 SE 5-speed Geartronic: £31,650
XC90 T6 S 4-speed Geartronic: £31,640 (E 51,541)
XC90 T6 SE 4-speed Geartronic: £33,640 (E 54,800)
Standard Spec Includes: Dual stage driver and front passenger airbags;
Side impact protection;
Side airbags;
Head curtain airbags;
Front seat whiplash protection;
ABS with EBD; Roll Stability Control;
Dynamic Stability and Traction Control with Emergency Brake Assist;
Seven three-point seatbelts;
Head restraints on all seats; Integrated second row booster cushion;
ISOFIXD child seat preparation;
Anti-theft alarm;
Deadlocking system;
Remote central locking;
Immobiliser with key transponder;
Mass Movement Sensor;
Daytime running lights;
Headlamp levelling system;
High level LED third brake-light;
Home safe and approach lighting (lights stay on for a short time after you leave the car to guide you to your door);
Rain sensing wipers;
Rear wash wipe;
Load compensating suspension;
Cargo load cover;
Power steering;
Electronic Climate Control with Air Quality System;
B pillar ventilation;
Pollen filter;
Outside temperature gauge;
Information centre,
Cruise control;
Leather steering wheel;
Illuminated ignition lock;
Electric front and rear windows;
Electrically adjustable and heated door mirrors;
Siljan textile and vinyl upholstery;
3 individual sliding and folding 2nd row seats;
Two asymmetrically split folding 3rd row seats;
Forward folding passenger seat;
Removable front centre armrest and cubbies;
Height adjustable driver and passenger seats;
Autodimming rear view mirror;
Height and reach adjustable steering wheel;
Single CD radio 4x40W with 8 speakers;
Piano black trim;
Geartronic transmission (T6);
Luggage area 12v socket;
Cupholders in tunnel console;
Front and Rear reading lamps;
Illuminated driver and passenger vanity mirrors;
First Aid kit;
17" Neptune alloy wheels with 235/65 R17 tyres;
Front fog lights;
Locking wheel nuts;
Rear park assist; Roof rails;
Tempra space saver emergency wheel;
Tow bar preparation.
Extra on SE: Electric drivers seat and mirror memory; leather faced upholstery; 6 CD multiplayer; Wood trim; 18" Atlantis alloy wheels with 235/60 R18 tyres.
Some from long list of optional extras:
Delete passenger airbag: no charge
Headlamp cleaning system: £75 (E122)
Laminated side windows: £125 (E204)
Infra Red reflective glass windscreen and front windows: £150 (E244)
Electric glass tilt/slide sunroof: £700 (E1,140)
Air conditioning for 3rd row of seats: £370 (E603)
Leather faced seats (on S): £940 (E1,531)
Aluminium trim: £250 (E407)
Premium Digital Surround Sound System: £250 (E407)
Mini disc player: £275 (E448)
RTI Navigation System with Europe DVD: £2,500 (E4,073)
Dual Band Integrated GSM Telephone: £900 (E1,466)
Detachable towbar with 7 pin electrics: £510 (E831)
Detachable towbar with 13 pin electrics: £610 (E831)
Solid black paint: £250 (E407)
Metallic/Pearlescent paint: £500 (E814)
Roof protection ribs: £173 (E282)
Surfboard carrier: £39 (E64)
Roofboxes: £270 - £370 (E440 – E603)
Roof Rack Basket: £80 (E130)
Tailgate table: £115 (E187)
Cooler/Hot Box (Eskie): £95 (E155)
Available UK November 2002.
Prices of all models includes a 3 year 60,000 mile manufacturer warranty, 3 year paint warranty, 8 year body warranty and 12 months pan European RAC breakdown and recovery cover.
ENGINES/TRANSMISSIONS
D5 diesel 6-speed manual (2,401cc): 120kW (163bhp) at 4,000rpm; 340Nm torque at 1,750-3,000rpm.
D5 diesel 5-speed Geartronic (2,401cc): 120kW (163bhp) at 4,000rpm; 340Nm torque at 1,750-3,000rpm.
2.5T petrol 6-speed manual (2,521cc): 154kW (210bhp) at 5,000rpm; 320Nm torque at 1,500-4,500rpm.
2.5T petrol 5-speed Geartronic (2,521cc): 154kW (210bhp) at 5,000rpm; 320Nm torque at 1,500-4,500rpm.
2.9T6 petrol 4-speed Geartronic (2,922cc): 200kW (272bhp) at 5,100rpm; 380Nm torque at 1,800-5,000rpm.
DIMENSIONS
Length: 4,800 mm (15' 9")
Width: 1,900mm (6' 3")
Height: 1,740mm (5' 11")
Luggage capacity 7 seats up: 249 litres
Luggage capacity 5 seats up: 613litres
Kerb weight: 1,982 – 2,0460 kg
Maximum trailer weight: 2,250kg
PERFORMANCE, FUEL CONSUMPTION AND CO2 EMISSIONS
D5 diesel 6-speed manual: 0-60 NA seconds; top speed NA mph; combined economy: NA; CO2 emissions: 199 g/km. IG 15E
D5 diesel 5-speed Geartronic: 0-60 11.9 seconds; top speed 185kph (116 mph); combined litres per 100km 9.2 (31.0 mpg); CO2 emissions: 242g/km (BIK 33%). IG 15
2.5T petrol 6-speed manual: 0-60 NA seconds; top speed NA mph; combined mpg: NA; CO2 emissions: NA g/km. IG NA
2.5T petrol 5-speed Geartronic: 0-60 9.5 seconds; top speed 210kph (131 mph); combined economy NA; CO2 emissions: NA g/km. IG NA
2.9T6 petrol 4-speed Geartronic: 0-60 8.9 seconds; top speed 210kph (131mph limited); combined litres/100km: 13.4 (21.9 mpg); CO2 emissions: 309g/km (BIK 35%). IG 16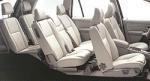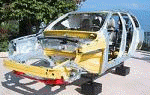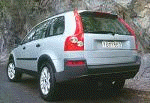 ---