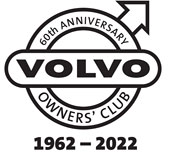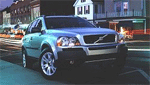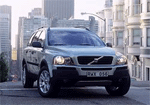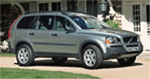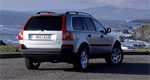 Volvo XC90 D5 SE Road Test
August 2003
Volvo's entry into the premium off-roader market created a huge amount of advance interest. Global advance orders for the XC90 had reached 15,000 by the end of last year, and some readers were already asking CARkeys for an opinion months before we'd got near the thing. Since then, we've investigated the car through Malcolm Baylis's launch report and Graeme Giles's description of a snow-driving exercise in Sweden. But for me the D5 SE was the first version I'd tried on home ground.
It was impressive from the very start. The electrically controlled driver's seat (one of the few significant extras, other than larger alloy wheels, to distinguish this car from the £2000 cheaper S model) is sufficiently adjustable to let you choose a suitable driving position, and in fact the interior is generally very well done. It's comfortable, well appointed, attractive looking and seats up to seven passengers if you use the third row of seats. Of those seven, only four can be full-sized adults if everyone is to travel in a relaxed manner. The central seat in the middle row is for occasional use only, and there isn't enough legroom at the extreme rear for those seats to be suitable for anyone in their teens, but as a method of school transport the XC90 seems to make a lot of sense.
With the back row of seats in place, luggage room is very limited, but if you reduce the passenger potential to five you release a lot of extra capacity. Opening the tailgate reveals a very high sill floor which at first appears make loading difficult, though in fact there is another door (if that's not too grand a term - it's only a few inches high) which, when lowered, eases the problem considerably. Since there's a lot of transmission under there, of course, you still have to haul any luggage a long way above ground level.
No Getting Away From The Size
From the driver's point of view, the main problem with this car and all the others in its class is that it is very bulky. Even within that class, the Volvo is particularly tall, so it has lots of potential for being awkward to drive. The engineers have done a splendid job of counteracting this, not only through a very Swedish attention to safety matters (I particularly like the fact that the roof is strengthened just in case all the electronic devices preventing a rollover are defeated by physical events) but also by some excellent chassis work which means the XC90 handles and rides about as well as it could be expected to in the circumstances. It's not sporty by any means, but it behaves well even on difficult country roads. I had no opportunity to do a long motorway run in the test car, but I suspect it would have been a very relaxed cruiser.
That's despite the fact that the D5 uses the five-cylinder common rail turbo diesel engine rather than the six-cylinder petrol one. Five-cylinder diesels generally sound better than fours in any case, and such clatter as there is has been well suppressed here. There is almost no situation, even a cold start, in which this car sounds in any way agricultural.
A maximum power output of 163bhp suggests reasonably strong performance, and indeed the D5 is spritely enough in most circumstances except overtaking, when you need to have a clear view and be prepared to bury the throttle pedal in the carpet. Closer inspection of the figures shows why - 163bhp does not become available until 4000rpm, which is quite a long way up the range and far higher than you would use in normal driving.
Still, the story is more or less the same among diesel-engined rivals, and experience suggests that few of those will be able to beat the XC90's fuel economy. An official combined consumption figure of 31mpg is if anything a little pessimistic if our test is anything to go by.
Auto Or Nothing
Both the pace and the thirst would be improved if we'd had a manual transmission, but at the moment there isn't one. The five-speed Geartronic (just a normal auto with a manual over-ride in the unlikely event that you need it) is the only option right now, and rather a fine unit it is too, with a smooth shift and no tendency to jump around between possible ratios at awkward moments. If you're completely allergic to automatics, never fear - a manual will be along before the end of 2003.
Costing just over £32,000 in this form, the XC90 is up against some major players, notably the BMW X5, the Mercedes M-Class and the Volkswagen Touareg (though not the mechanically similar but vastly more expensive Porsche Cayenne). It doesn't equate to anything from Land Rover - no wonder, since that would involve a clash within Ford's Premier Automotive Group - and the likes of the Jeep Grand Cherokee and the Kia Sorento are not particularly close rivals, either.
Against its closest opposition, the XC90 puts up a very good fight indeed, and for me it emerges as the best of the lot, though by only a small margin. I'd also say, feeling on more solid ground now, that no other Volvo performs the task it has been given quite as well as this one does.
Price: £32,400
Capacity: 2401cc
Power: 163bhp
0-62mph: 12.3 seconds
Maximum speed: 115mph
Economy: 37.7mpg extra urban, 31.0mpg combined
CO2 emissions: 242g/km
Insurance: Group 15
Volvo figures.
Copyright PDR Online
---