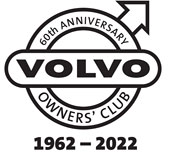 Volvo V70R AWD Road Test
Just another drive in the country, no off-roading planned, no need for mud tyres, high ground clearance and high driving position ... just the necessity to travel safely and precisely all year round. No need for towing capacity, no requirement for "green laning", this four-wheel-drive Estate offers travel any-time-of-the-year ability.
Cornering hard the fat tyres squirm as the forces build. Faster and faster it goes through the tight bend raising dust and piercing the silence with a howl as the turbo hits maximum boost. An estate car with Ferrari bullying performance with the grip provided by a four-wheel-drive system with multi link rear axle and automatic self levelling suspension and a limited slip rear differential. There's nothing lacking in the go department here, 250bhp from its turbocharged 2.3 litre, five cylinder engine, a top speed of 152mph and 0-60 figure of a respectable 6.5 seconds all driving through a five speed manual gearbox. Peak torque is 3300lb ft between 2,700rpm and 5,100 rpm giving acres of effortless mid-range overtaking power and plenty of flexibility. These figures are all the more impressive when you consider you're moving a 15.5 foot long vehicle with huge load carrying capability. Whether on motorway, or open road this car covers large distances rapidly and comfortably, propelling its occupants with abundant ease, and was quite at home at speed limit speeds as it was when dawdling on narrow country lanes. On average it returned 27 mpg, a respectable figure for a "performance" car carrying so much equipment.
When you think about it , when it comes to road performance 4x4 vehicles don't score highly, and generally Estate cars are seen as load and/or people movers. So what about a Volvo Estate that combines hell-for-leather performance with school run practicality? Here you have it, the V70R awd. "V" denotes it's an estate, "70" is the model series, "R" is the same as BMW's "M" indicating motorsport, and "awd" for all-wheel-drive. This latter function relies on a familiar viscous coupling already used by Volkswagen, Ford and Fiat four wheel drive systems. Normally the front wheels are driven, but if they start to spin the coupling directs drive to the rear.
The system is simple, no levers or switches and only applies four-wheel-drive when it is needed. Therefore a system adequate to cope with treacherous road conditions including snow and ice covered tarmac and also able to extricate you from the field at the local Gymkhana. However, this Volvo won't take you over rough terrain like a conventional 4x4 will, since it's not designed to do so.
This car is comfortable. It oozes all those creature comforts that make long journeys a pleasure. Electric heated seats, electrically adjusted front seats, climate control, air conditioning, cruise control, CD player, 200watt stereo speaker system in fact electric everything and all in easy reach ! Interior trim is a sumptuous mix of Leather and quilted Alcantara with a warm and cosy wrap around feeling. Both passenger and driver's seat have electric adjustment controls, and the driver's has three memory positions. There's convenient storage area under the glove box, and the front doors offer a good amount of space for smaller more fiddly items. There's a retractible double cup holder between the front seats build into the centre armrest which stores the CDs. A useful feature is a pouch underneath at the front of each seat, and the two storage areas built into the backs of the front seats. The patterned aluminium dashboard and blue backed instruments confer an exclusive and sporting feel to the cabin and set it aside from other "normal" Volvos.
Granted you haven't got the physical presence of a Range Rover or Toyota Land Cruiser, and you haven't got the rugged outdoor looks of those models either, however, you have all that performance coupled with a huge amount of space and legendary Volvo safety features including Driver's air bag and side air bags for driver and front passenger. The rear seat includes a built in centr Child Seat complete with it's own safety restraint and "booster" cushion. The rear seats split and fold down, and there is a retractable safety net built into the rear of the back seats. This can also be used when the rear seats are folded fully down, offering protection immediately behind the driver and passenger seats. The spare wheel is of the space-saver type and is contained in the boot compartment. Here there are handy storage areas under the rear floor accessed by a couple of large hinged and carpeted panels.
Servicing and spares should be no problem with a well established UK nationwide dealership network and the warranty is 60,000 miles or three years with servicing at 10,000 mile intervals averaging £120.00 a go. An optional five year unlimited mileage warranty is available from Volvo for approximately £500. Priced at around £37,000 this Volvo is far from cheap, however, it's a viable alternative to the more conventional off-roader in that price range so long as you do not wish to drive it off-road. The build quality is also good, every panel fits, interior trim is finished to a high standard and everything is well fastened in, no squeaks or rattles here. The complete package is a quality product.
Of course you may well be commenting that some of us don't require all that road performance, or leather trim and all that equipment, and you could say this is a school run wagon with attitude. However, you do get a car with positive road manners, a good range of built in safety features and tremendous load carrying abilities. Of course, if you don't want the perfomance you can buy the less powerful 193 BHP V70AWD or V70XC, the latter offering more ground clearance and a more rugged "off-road" stance, but still no low-range gears. Anyhow, let's face it, most standard 4x4s spend the majority of their time on the tarmac and for some people the off-road equation doesn't exist, or they have a "toy" for off road adventures. If you're in either of these categories the Volvo V70R AWD may be the car for you.
---