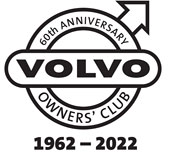 Volvo PV444 PV445 PV544 P210 Duett Information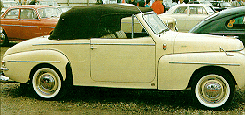 A selection of reports taken from back-issues of the Club's magazine, '
'.
To keep up to date with these reports join the Club and receive the magazine. Joining will also allow access to the back-catalogue of magazines on this web site.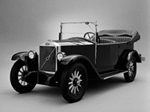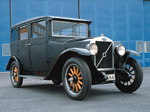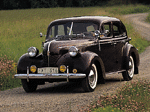 I am still hearing from new PV Register Members. I had a telephone call from Alan Gray from Paisley in Scotland who is just starting restoring a PV, also Neil Wilson is preparing the ex John Handley PV for Historic rallying. We look forward to seeing them in the near future. I have been checking the condition and "run out" on the 4 and half inch Amazon Estate wheels that I use on my PV for stage rallying. To date I have two usable ones, five that would probably just do "at a pinch" and five that are only really usable as a spare wheel. I like to use steel wheels but I feel one must not compromise safety. What is the answer I wonder? Later Volvo steel wheels are on different centres and are, in any case, 14 inch in diameter. It is possible to get Minilite replica wheels-but on a PV they are probably at bit wide and would need some spacers, I think, at the front, also they would presumably give more stress to the suspension. Any thoughts from Members please. Whilst helping my local motor club, Bath Motor Club with the start from Bath of the Norwich Union Classic Car Run, I noticed in the programme that John and Margaret Skipper were competing. Also in the programme there was a picture of PV Register Member Rupert Elmore's PV starting from Brooklands. I hope they and any other members competing had a good day.
---
I was speaking to Dennis Leworthy this evening about something that I have been trying to get organised for the Volvo Owners Club and during the course of the conversation it was mentioned to me that I should have been sending Register reports to yourself for the Driver magazine. Apologies! This is obviously the reason why there have been no Register reports in the last few Driver editions. However, to get back to my original point. I have been trying to instigate a little competitive activity into the VOC and, to this end, I have, in consultation with some of the Members and also Jack Cluer and Dennis Leworthy, approached a motor club for an invitation to compete at a Hill Climb next May, at Wiscombe Park in Devon. Wiscombe Park is a splendid venue. It is set in the grounds of a country house close to Honiton and is a tarmac road climbing quite steeply for 1000 yards and includes lots of corners and two hairpin bends. I envisaged it originally for the older models, I suppose because I rally and compete in my PV544 but, in truth, any model could enter. There would be no expense to the Club other than getting affiliation to the RAC Motor Sports Association" which I think Dennis Leworthy is arranging" other than some awards which I think it would nice if the VOC could provide for the Volvo class. I envisage that our members would run in the various classes for which they were eligible but in order for the Volvo cars to compete for their own awards - we could arrange a system that the winners would be the drivers with best percentage improvement over their respective practice times.
As members might be aware from my jottings about PV's, I use my PV544 for some Historic Motor Sport. Not seriously, you understand, but for some fun and, I suppose, to try to recapture some lost youth. I find it rewarding to compete with an old car and if, as sometimes happens, someone says to me that they like to see the old cars competing or they like my PV, that makes it all worth while to me. I wonder if there are any other members in the Club who feel like me and would like to use their car for some competition use. I know that quite a number of you already do because I see them at various events. My PV gets used principally for rallying but I also use it for occasional Sprint or Hill Climb event. These type of events have a road going class. If we could get enough people interested it might be possible to organise a Volvo class, much as the MG, Triumph and Reliant Scimitar people do. There perhaps could be a handicap system to even out the performance of different cars. Again perhaps we could run a Volvo Owners team in selected events. If enough people are interested perhaps a competition register could be formed. I am willing to collect the details together, so drop me a line or give me a call, if you would like to get involved. My address and telephone number are printed in the Volvo Owners Club Driver magazine.
---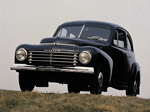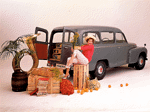 ---