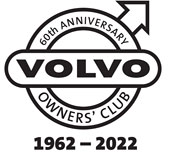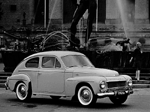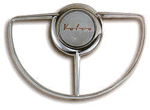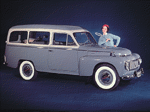 By Keith Wilson
It may surprise you to know, as it surprised me, that no less than 530,467 Volvo PV variants were produced between 1944 and 1969. The vast majority were the two door saloons, 440,000 in fact. There was also an estate car and a van. They were all in left hand drive form as the importers for this country never sold them in England. In 1924 the decision by Gustaf Larson and Assar Gabrielsson, two friends who had previously worked for the Swedish SKF bearing company, was made to produce cars in volume production. They were initially backed by SKF. The Volvo name had been registered as an SKF trade name, but was not used by the new company until 1926. The name Volvo is from the Latin meaning "I rotate". The PV was designed as a tough, go anywhere vehicle, well up to the demands of hard Scandinavian winters and loose surfaced roads. Volvo always seem to have been influenced by North American styling and that can be seen very clearly when you look at a PV. It resembles certain American pre war cars made by Ford and Chevrolet. The front suspension owes something to the US also. The high saloon body with its fast back styling certainly gives plenty of headroom but is a little on the narrow side. It has some limitations due to the very small, high rear window and rear vision at the best restricted. I have lost count of the many times I have reversed into things with my PV and that is the latest PV544 with the "large" rear window. The car, to my mind, absolutely oozes character and surprises people with it's turn of speed. It looks absolutely perfect in a Swedish setting, with red coloured houses among the lakes and trees of a Scandinavia.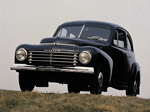 The PV came in various versions, starting with a 3 speed 1414cc engine and split front and rear screens in 1944. This gave a top speed of 76 mph on 44bEp and cost the equivalent of £480, which was expensive. It was always expensive in England and probably explained why it was never imported. The 1583cc version still with 3 speeds but 70bhp with one Zenith carburettor arrived in 1956 and was followed in 1957 with twin SU version in 1957 that gave 85bhp and was good for 90mph. When the MOTOR magazine tested this version in 1957 they found it would do 95mph and despite only 3 speeds had prodigious acceleration. They found that they could take an excellent photograph of the engine by standing on the roof of the car. Volvo's were always strong! The PV was faster than an Alfa Giulietta then despite the Alfa's twin cam engine. The PV progressed to 1800cc and four speeds with larger front and rear screen from 1961 until production ceased on the saloon, and was in this form a genuine 100mph car. The PV Duett continued in production until 1969. If you have not already fallen for the charms of the Volvo PV - things to look out for when purchasing one are not that many really. The youngest PV will now be thirty years old, so even a car as solidly built as a PV will have some rust. In my experience the things to look for are, the front chassis outriggers particularly on the part that supports the radiator and anti roll bar, door bottoms, rear inner wings and the area of boot floor at the very back of the car. The floor can also be rusty. My car needed lots of welding and reinforcing on the front outriggers. It has also had four new wings. these were not too expensive, I seem to recall £160 each for the front and £120 each for the rear, although these prices may be out of date now. The mechanical parts are well nigh bulletproof. The later B18 engine and gearbox came in the Amazon but the rear axle is different being a M27, fitted to the PV and, I think, the very early Amazon models. Axle ratios are 4.1 for later cars and 4.56 for the earlier ones. All mechanical parts seem to be available, although some axle parts are difficult but trim and chrome parts are very tricky to obtain.
Gunnar Andersson was a young man in the motor trade in Sweden, who enjoyed rallying and racing and wanted to use a Swedish car. When Volvo manufactured the twin carte B16 PV in 1957 he realised that here was the car for the job. He rallied his own car that year and was third in the very tough Greek Acropolis rally. AB Volvo realised the potential of the car and from 1958 Gunnar Andersson was employed by Volvo to drive their cars for them. He was European Rally Champion the year after in 1958. Before that, however, the PV had excelled in rallies like the Liege-Rome-Liege or Marathon de la Route as it was called. The Liege was a thinly disguised road race around Europe, even as far as Bulgaria in later years. A rally that lasted up to four days non stop. The Liege was run by a Belgian, Maurice Garot. His formula to get a result was simple, the car had to comply with the law and have four wheels - it made scrutineering that much simpler! Protests were not expected or encouraged. The average speed was set at what seemed a modest 31mph, but you had to average that speed or you would find the controls would have closed before you arrived at them, and you were out of the rally. There was, of course, no time for any repairs or servicing. Cars were even started three at a time from each control. M Garot's idea was to have two finishers - one to be first and one to be last. It could never happen now but in the marvelous traffic free days, what an adventure! In 1957 Volvo was the only team with a 100 per cent finishing record - four cars started and finished. In the days before disc brakes, the only real weakness of the PV was its brakes. I well recall a motor club talk by Peter Harper, who was at the time driving the works Sunbeam Rapiers, wherein he said the Sunbeams used to send one of their team of cars out at a furious pace to try to draw the Volvo PV along to try to ruin their brakes, this being their best hope of beating them.
The PV went from strength to strength, winning our own RAC rally, in probably the fastest Volvo driver Tom Trana's hands in 1963 and 1964. It was a bit outdated as a rally car by then but in the correct hands was still a winner on rough, tough, loose surface events. The best PV story of all I think is of Joginder and his brother Jashwant Singh's 1965 East Coronation Safari win. Volvo had taken four cars to Kenya in 1964 for tracks. It was accepted as the hardest event in the calendar. The cars arrived too late that year and could not be tested under African conditions and for a variety of reasons they all failed to finish. Volvo did not take all the cars back to Sweden with them but left one for Joginder Singh to rally in Africa for the rest of the year. During this time he modified the PV and strengthened it where necessary and lowered the axle ratio. The car had covered 42,000 miles mostly under rally conditions. Joginder's intention was to enter the 1965 Safari Rally. The story has a fairy tale ending, they won by 100 minutes. You can perhaps imagine the headlines in the papers - "Safari won in a second hand car." Joginder won again, but not in a Volvo, in 1974 and 1976 just to show that the driver had a fair bit to do with the result. Any of you lucky enough to attend a PV Register meeting a few years ago at the Shuttleworth Trust in Bedfordshire would have been able to see Joginder and his beloved PV (KHT 184) now immaculate in its original white paint.
I just wonder if any of the old works cars are still in existence and just what modifications the factory used in those no holds barred Group 6 events like the Alwpine and Liege. The 1961 Homologation papers show four wheel disc brakes as well as the Joginder Singh inspired four damper front suspension set up. Did they ever use two twin choke Weber or Solex carburettors as offered by the Volvo R Sport in any events? It would not surprise me and I would love to know. I list below the production records and model changes - these taken and other material from Andrew Whyte s book the "Volvo 1800 and Family."
PV Production Dates and Changes to Specifications
1944 Announcement in September at Volvo Show, Stockholm
1947 Specification for production; 2 door saloon; push rod ohv 4 cylinder engine; 6.4:1 compression ratio; 40bhp at 3800rpm; single Carter carburettor; 6 volt electrical system; 3 speed manual gearbox; Wagner hydraulic brakes coil springs all round; independent front suspension; Delco telescopic shock absorbers; one piece propeller shaft; Spicer rear axle; Ross worm and nut steering gear later changed to Gemmer cam and roller); four bar radiator grille
1949 New 2 piece propeller shaft (PV445) and ENV hypoid rear axle introduced. Trafficators to pillars
1950 New drive away chassis (PV445) introduced for special bodywork, with deeper five bar grille
1951 Improved design instrument panel, steering wheel and bumpers; early models had flasher unit mounted centrally on roof, later moved to roof sides
1952 15inch wheels replaced 16inch; more colours added to range black only originally
1953 Better heater and door locks, PV445 Duett estate car introduced.
1955 Restyled included slightly bigger (but still split) windscreen, single pane rear window, rear lamps raised from wings to body. Spare wheel placed now vertically in boot instead of under floor.
1956 More power from 7.3:1 cr, single Zenith carburettor (51bhp at 4500rpm) and 7.8:1 cr, twin SU carburettor (70bhp at 5500rpm) alternative engine, mouth organ type grille; plated wing strips now standard; rear lamps/ indicators in wings.
1957 Larger 1583cc engine; 7.5:1 single Zenith carburettor (60bhp at 4500rpm) and 8.2:1 twin SU carburettor (85bhp at 5500rpm) alternative engine; designated B16A B16B respectively; 4 speed gearbox (alternative 3 speed) tidier grille
1958 Saloon renamed PV544. Single one piece curved windscreen; bigger rear window; little change to grille (from last series PV444); revised rear lamps/indicators; new instrumentation; handbrake lever moved from beneath dash to between seat; more rear seat room.
1959 Seat belts optional (later standard). Laminated screens had been fitted since 1944.
1960 Estate car and commercial chassis (PV445) updated with latest saloon windscreen; welded chassis /floorpan. Designated P210.
1961 Larger 1778( c power unit; with 5 main bearings; 8.5:1 cr single Zenith carburettor (75bhp at 4500rpm) and twin SU carburettor (9obhp at 5000rpm) alternative engine; these designated B18A and B18D respectively; 12 volt electrical system.
1962 B18A engine for estate car
1964 Disc brakes among features now offered for competition purposes. Ventilated wheels for better brake cooling. Life long radiator blind deleted.
1965 Last PV544 built (October)
1969 Last P210 estate car produced (February) - almost 25 years after original PV444 series. End of PV series
Production Details of the Volvo PV Series
| Model | Quantity | Between |
| --- | --- | --- |
| PV444 (A to E) 1414cc (&5 mm bore) divided front & rear screens | 68954 | 1944 - 1954 |
| PV444 (H & K) similar, with larger screens (now single at rear) | 62964 | 1954 & 1957 |
| PV444 (L) 1583cc (79.37 Bore) final version of saloon | 64087 | 1957 & 1958 |
| PV445 (A to G) 1414cc rolling chassis | 3582 | 1950 & 1960 |
| PV445 (L to11M) 1583cc rolling chassis | 448 | 1958 & 1960 |
| PV445 (DH to SL) 1414cc pick-up | 8155 | 1953 & 1960 |
| PV445 (LL to 06M) 1583cc pick-up | 4239 | 1957 & 1960 |
| PV445 (PH to GP) 1414cc estate | 2996 | 1953 & 1957 |
| PV445 (LP to 07M) 1583cc estate | 6130 | 1957 & 1960 |
| PV445 (DS to GS) 1414cc van | 1469 | 1953 & 1957 |
| PV445 (LS to 05M) 1583cc van | 2390 | 1957 & 1960 |
| PV544 (A & B) 1583cc one piece curved screen | 134095 | 1958 & 1961 |
| PV544 (C & G) 1778cc (84.14 bore) | 109900 | 1961 & 1965 |
| PV210 (A & B) 1583cc estate, van, etc | 20043 | 1960 & 1962 |
| PV210 (C & P) 1778cc estate, van, etc | 41015 | 1962 & 1969 |
---
Volvo P210 production, engine and gearbox information.
| Chassis Name | Model Year | Model Name | Production ID | Ch. Nr. From | Nr. Built | Engine | Gearbox |
| --- | --- | --- | --- | --- | --- | --- | --- |
| Volvo 210 | 1961 | 210 | A | --- | --- | B18A | M40 |
| Volvo 210 | 1962 | 210 | B | 51935 | 2565 | B18A | M40 |
| Volvo 210 | 1963 | 210 | C | 54500 | 6300 | B18A | M40 |
| Volvo 210 | 1964 | 210 | D | 60800 | 7550 | B18A | M40 |
| Volvo 210 | 1965 | 210 | E | 68350 | 7900 | B18A | M40 |
| Volvo 210 | 1966 | 210 | F | 76250 | 7150 | B18A | M40 |
| Volvo 210 | 1967 | 210 | M | 83400 | 7700 | B18A | M40 |
| Volvo 210 | 1968 | 210 | P | 91100 | 4400 | B18A | M40 |
| Volvo 210 | 1969 | 210 | S | 95500 | 20 | B18A | M40 |
Total P210 cars built: 95520
---
Volvo PV444 production, engine and gearbox information
| Chassis Name | Model Year | Model Name | Production ID | Ch. Nr. From | Nr. Built | Engine | Gearbox |
| --- | --- | --- | --- | --- | --- | --- | --- |
| Volvo 444 | 1947 | Standard | A | 1 | 12505 | B4B | M3, M4 |
| Volvo 444 | 1948 | Standard | A | --- | --- | B4B | M3, M4 |
| Volvo 444 | 1949 | Standard, Special | A | --- | --- | B4B | M3, M4 |
| Volvo 444 | 1950 | Standard, Special | A | --- | --- | B4B | M3, M4 |
| Volvo 444 | 1951 | Standard, Special | B | 12505 | 7500 | B4B | M3, M4 |
| Volvo 444 | 1952 | Standard, Special | C | 20005 | 8000 | B4B | M3, M4 |
| Volvo 444 | 1953 | Standard, Special | D | 28005 | 9000 | B4B | M3, M4 |
| Volvo 444 | 1954 | Standard, Special | E | 37005 | 31950 | B4B | M3, M4 |
| Volvo 444 | 1955 | Standard, Special | H | 68955 | 29046 | B4B, B14A | M3, M4 |
| Volvo 444 | 1956 | Standard, Special | K | 98000 | 33918 | B4B, B14A | M3, M4 |
| Volvo 444 | 1957 | Standard, Special | L | 131919 | 64087 | B16A, B16B | M3, M4 |
| Volvo 444 | 1958 | Standard, Special | L | --- | --- | B16A, B16B | M3, M4 |
Total PV444 cars built: 196005
---
Volvo PV544 production, engine and gearbox information
| Chassis Name | Model Year | Model Name | Production ID | Ch. Nr. From | Nr. Built | Engine | Gearbox |
| --- | --- | --- | --- | --- | --- | --- | --- |
| Volvo 544 | 1959 | Standard, Sport | A | 196006 | 99494 | B16A, B16B | M3, M4 |
| Volvo 544 | 1960 | Standard, Sport | A | --- | --- | B16A, B16B | M3, M4 |
| Volvo 544 | 1961 | Standard, Sport | B | 295000 | 34600 | B16A, B16B | M30, M40 |
| Volvo 544 | 1962 | Standard, Sport | C | 330100 | 37900 | B18A, B18D | M30, M40 |
| Volvo 544 | 1963 | Standard, Sport | D | 368000 | 27100 | B18A, B18D | M30, M40 |
| Volvo 544 | 1964 | Standard, Sport | E | 395100 | 24200 | B18A, B18D | M30, M40 |
| Volvo 544 | 1965 | Standard, Sport | F | 419300 | 17300 | B18A, B18D | M30, M40 |
| Volvo 544 | 1966 | Standard, Sport | G | 436600 | 3400 | B18A, B18D | M30, M40 |
Total PV544 cars produced: 243995