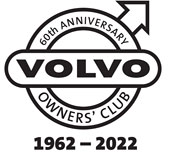 Profile on the Volvo 120 Amazon
By John Smith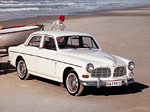 This introduction is intended to give a brief introduction to the Volvo 120 Series known generally as the 'Amazon'. Half a million were built by Volvo between 1956-1970 and gained a well-earned reputation for toughness and longevity. Many would argue that the 120 series really made Volvo's name in world markets. When introduced the car caused some surprises for a relatively small-engined car with a performance matching and in some cases exceeding some sports cars.
Brief production history:
September 1956: 121 four-door saloon introduced. Fitted with a 60bhp B16A engine, two-tone colour scheme. In early 1957 the car goes on sale at 12,600 kroner. In December the 5,000th car is completed.
March 1958: 122s introduced. B18B engine with twin SU carburettors, 85bEp and four-speed gearbox. In August front three-point seat belts are introduced as standard.
November: First 122's imported to UK. £399 (including purchase tax).
August 1961: New engine fittedB18. The single carte version B18A (a Zenith) produces 75bhp. The B 18D with twin SU carburettors, 90bhp at 5,000rpm, 12volt electrics are introduced and an uprated front suspension. The 122s with the more powerful engine is fitted with front disc brakes.
October 1961: Two-door saloon introduced.
February 1962: 220 estate car introduced in Sweden.
February 1963: 100,000th car built.
August 1963: Automatic introduced fitted with a three-speed Borg Warner box. The two-door saloon is available in twin carte form.
August 1964: 1965 models announced, fitted with an orthopaedic seat design with adjustable lumbar support.
August 1966: 123GT introduced. Two-door fitted with the B18B from the P1800, 115bhp with four-speed gearbox and overdrive, rev counter, fog and spotlights, wing mirrors, a P1800 type steering wheel along with new wheel trims are the differences. The 121 saloon is fitted with a Stromberg carte which increases the power to 85bhp. The 122's B18D is increased to 100bhp from 95.
August 1967: Divided steering column designed to collapse on impact.
December: Production of four-door saloon discontinued in favour of the new 140.
August 1968: The B20 (1998cc) introduced, B20A single carte, 90bhp and the twin carte B20B 118bhp.
August 1969: The estate discontinued. The remaining range is only two-door saloons with either engine option. Front seat headrests and rear seat belts fitted.
July 1970: Production ends.
Totals: Four-door saloons 234,208; two-door saloons 359,918; estates 73,197.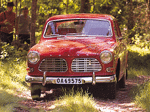 There is a great deal of confusion over the numbering system adopted by Volvo for the 120 series. Four-door saloons are designated P120, two-door saloons as P130's and estates as P220. However, one sees a two-door badged as a 121 and can be badged as a 122's. The badging is generally an indication of the engine originally fitted ie 121 indicates a single carte engine, 122's twin, the 'S' for sport. Later cars are often called 131, 132 and 133 but are not badged as that, using the existing numbering system, 121, 122's etc. The exception is the 123GT. To establish what a particular example is one is advised to consult the TYPE number. This is found in the engine compartment on the 'box' which holds the brake master cylinder or in later cars the servo linkage. The number is a five figure number. The first three are the main clues.
The first 1 = Saloon, 2 = Estate,
the second 2 = four-door or estate,
3 = two-door saloon.
The third figure relates to the engine.
1 = B16A or B 1 8A or B20A,
2 = B16B or B18B,
3 = B18B or B20B.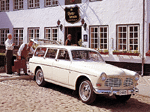 Having given a basic history of the car and the various models, a few words on finding a worthwhile example. what to look for, spares availability and hints on maintaining the vehicle. The 120 series has a justified reputation for strength and reliability. Parts availability is good and there are a number of specialised suppliers who offer a wide range of alternative parts and secondhand spares. The cars are not immune to rust but cope with it far better than most of their contemporaries. The most common areas are the front wings which are easily replaced, rear wheel arches and on saloons the spare wheel well. Doors can suffer from rot in the lower regions and spare doors are becoming scarce. Obviously if one finds a badly rusted car, especially in the floor pan, one should seriously consider the cost of repair. Bonnets and boot lids are generally rot free. Interiors, replacement material is scarce but the average car does not usually suffer from poor interiors as the original is very durable. Note that rubber mats were fitted as original; carpets suffer in the Swedish winter. Mechanical problems are usually down to lack of servicing. Engines will last 150,000 miles before major work is required, especially if the oil has been changed regularly along with the oil filter. The early B16 engine is somewhat rare and the spares for it are becoming very difficult to obtain. The later B18 and B20's do not have this problem. The transmission is a very robust affair, gearboxes are almost unbreakable, any judder is probably worn engine and gearbox rubbers. On the early saloons the rear support arms are pressed steel and can rust; replacements are available and reasonably priced. Service the car at the recommended intervals ie change the engine oil at 3,000 miles and the filter at 6,000 miles. Whilst on the subject of servicing, the only special tool required is the rear brake puller. The drums can be extremely difficult to remove and I make it an annual event to remove the drums even if the brakes do not need servicing, just to make sure they do not become very tight. A good set of A/F size spanners/sockets, screwdrivers will enable one to complete most work.
There are improvements and modifications one can make to the vehicles. One of the most popular and useful is to fit an overdrive, it gives a better fuel consumption and lowers the revs (one can also hear the radio at 70lllph). Another is changing a single carte into a twin. When doing this it is also advisable to fit a twin exhaust down pipe if a single was fitted, this will help the engine to breathe. For the more ambitious a camshaft replacement will give more 'go'. One modification I firmly believe in is the fitting of a stainless steel exhaust system. Their robustness and long life make them an excellent buy.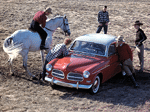 In the early sixties a small Sussex company, Ruddspeed, modified production cars. They offered three stages of tuning, brake servos were fitted, springs lowered, different tyres fitted. In its stage three form a Ruddspeed 122's could top 127mph. Even an estate given the 'treatment' could reach 100mph. For those of you having been privileged to own a 120 will not need anyone to try to convince you of their virtues: strength and reliability, practicality and simplicity to maintain. The name Amazon could not have been more appropriate. These qualities have been borne out by their performance in recent rallies, from the Paris to Marrakesh, London to Sydney and the latest Monte Challenge. My own experience with the car goes back over twenty years and until a year ago I used one as daily transport. I never had a problem which prevented me from getting home.
---
Description of model and body types and production statistics:
| Model | Description |
| --- | --- |
| Amazon | Amazon was the first name given to the 120 model. Unfortunately Volvo had to drop this name because the rights had been already given to Kreidler, a German motor-cycle factory. |
| 121 | The 121 was fitted with a single carburettor engine types B16A, B18A or B20A; body types P130 (2-doors), P120 (4-doors) and P220 (the Combi). The 121 was not available in the USA. |
| 122S | The 122S model had an engine with twin carburettor with engine types B16B, B18B, B18D or B20B; body types P130, P120 and P220. In America the Amazon was only fitted with a twin carburettor. |
| 123GT | This is a special 2-doors model (P130) with the high compression B18B engine, M41 4-speed gearbox and overdrive, fog lamps, mirrors on the wings, special GT wheel, and an exclusive dashboard. In total approximately 5000 were made between 1967 and 1968. |
Production overview:
| Model | Body | From | To | Total |
| --- | --- | --- | --- | --- |
| 120 | 4-door Sedan | 1956 | 1967 | 234210 |
| 130 | 2-door Sedan | 1962 | 1970 | 359918 |
| 220 | 4-door Combi | 1962 | 1969 | 73197 |
| Total | All | 1956 | 1970 | 667325 |
P120 (4-doors) Production numbers.
| Chassis Name | Model Year | Model Name | Production ID | Ch Nr from | Nr Built | Engine | Gearbox |
| --- | --- | --- | --- | --- | --- | --- | --- |
| Volvo 120 | 1956 | 121 | A | 1 | 5000 | B16A | H6 |
| Volvo 120 | 1957 | 121 | A | | | B16A | H6 |
| Volvo 120 | 1958 | 121 | B | 5000 | 7083 | B16A | M4 |
| Volvo 120 | 1959 | 121, 122S | B | 12083 | 42317 | B16A, B16B | M4 |
| Volvo 120 | 1960 | 121, 122S | B | | | B16A, B16B | M4 |
| Volvo 120 | 1961 | 121, 122S | D | 54400 | 29900 | B16A, B16B | M30, M31, M40, M41 |
| Volvo 120 | 1962 | 121, 122S | E | 84300 | 28500 | B18A, B18D | M30, M40, M41 |
| Volvo 120 | 1963 | 121, 122S | F | 112800 | 27200 | B18A, B18D | M40, M41 |
| Volvo 120 | 1964 | 121, 122S | G | 140000 | 26400 | B18A, B18D | M40, M41, BW35 |
| Volvo 120 | 1965 | 121, 122S | K | 166400 | 27400 | B18A, B18D | M40, M41, BW35 |
| Volvo 120 | 1966 | 121, 122S | L | 193800 | 31250 | B18A, B18D | M40, M41, BW35 |
| Volvo 120 | 1967 | 121, 122S | M | 225050 | 9160 | B18A, B18D | M40, M41, BW35 |
Total P 120 produced: 234210
---
P 130 (2-doors) Production numbers
| Chassis Name | Model Year | Model Name | Production ID | Ch Nr from | Nr Built | Engine | Gearbox |
| --- | --- | --- | --- | --- | --- | --- | --- |
| Volvo 130 | 1962 | 121 | A | 1 | 10500 | B18A | M40 |
| Volvo 130 | 1963 | 121,122S | B | 10500 | 29500 | B18A,B18D | M30,M40 |
| Volvo 130 | 1964 | 121,122S | D | 40000 | 44600 | B18A,B18D | M40,M41 |
| Volvo 130 | 1965 | 121,122S | E | 84600 | 59800 | B18A,B18D | M40,M41 |
| Volvo 130 | 1966 | 121,122S | F | 144400 | 72550 | B18A,B18D | M40,M41,BW35 |
| Volvo 130 | 1967 | 121,122S,123GT | M | 216950 | 62950 | B18A,B18D,B18B | M40,M41,BW35 |
| Volvo 130 | 1968 | 121,122S,123GT | P | 279900 | 32600 | B18A,B18B | M40,M41,BW35 |
| Volvo 130 | 1969 | 121,122S | S | 312500 | 27500 | B20A,B20B | M40 |
| Volvo 130 | 1970 | 121,122S | T | 340000 | 19918 | B20A,B20B | M40 |
Total P 130 produced: 359918
---
P 220 (Estate / Wagon) Production numbers
| Chassis Name | Model Year | Model Name | Production ID | Ch Nr from | Nr Built | Engine | Gearbox |
| --- | --- | --- | --- | --- | --- | --- | --- |
| Volvo 220 | 1962 | 121 | A | 1 | 1400 | B18A | M40 |
| Volvo 220 | 1963 | 121 | B | 1400 | 6875 | B18A | M40 |
| Volvo 220 | 1964 | 121 | D | 8275 | 9675 | B18A | M40 |
| Volvo 220 | 1965 | 121,122S | E | 17950 | 11450 | B18A,B18D | M40 |
| Volvo 220 | 1966 | 121,122S | F | 29400 | 15200 | B18A,B18D | M40 |
| Volvo 220 | 1967 | 121,122S | M | 44600 | 17200 | B18A,B18D | M40 |
| Volvo 220 | 1968 | 121,122S | P | 61800 | 8500 | B18A,B18B | M40,BW35 |
| Volvo 220 | 1969 | 121 | S | 70300 | 2897 | B20A | M40 |
Total P 220 produced: 73197
---
Forget any Volvo prejudices and take a look at the Amazon. This Volvo is so strong that it can last almost indefinitely – and it has a touch of class. Mark Hughes is your guide to the ultimate usable classic
In prehistory Amazons were female warriors feared for their strength and courage. Beauties with brawn perhaps? The eponymous Volvo is aptly named: there is beauty in its restrained elegance and tough ness at the very core of its character. The Volvo Amazons of 1956–70 are among the most rugged mass–produced cars ever made.
This makes them brilliantly practical classics today. As well as being cheap to buy, maintain and insure, they have such bulletproof engineering that they simply last and last. Thousands of people in Britain use them as everyday cars, and it's estimated that nearly half of the Amazons sold in Sweden are still on the road. These cars are in a another league compared with contemporary Morns Oxfords and Vauxhall Victors.
But is the Volvo badge a problem? It needn't be. If you have prejudices, as millions do, brought on by the mind–boggling ineptness and arrogance of so many modern Volvo drivers, cast them aside. Amazons have style and individuality to go with their common–sense virtues, and are owned by people whose appreciation isn't based on a sanctimonious attitude to safety.
There's a range of models to choose from, but these days condition matters more than the number of carburettors, doors or gears. Basically there are three saloons – single–carb 121, twincarb 1225 and 123GT – and two estate versions, plus various specification improvements and two engine capacity increases over the years. The 123GT is undoubtedly the most desirable and valuable Amazon, but for us the `Best Buy' would be a four–door 1225 with overdrive. Balancing price, performance, practicality and cruising ability, this version nudges ahead as the best for modern use.
In search of wisdom about the many strengths – and the few weaknesses – of these Volvos, we consulted long–time Amazon specialist Tony Barrett of South Service, which has premises in London and Somerset. We didn't have to stray far to find a good 122S to photograph: our own John Blundell, art editor, owns the lovely one you see here.
Body Style and Interior
This car was built to withstand Swedish winters. It's not immune to rust, but the vulnerable areas are relatively few and generally simple to repair. Localised attention usually solves the problems, since only the worst cars – genuine basket–cases that have been derelict for years – need to be completely stripped. Unlike many classic car buyers, the Amazon owner rarely finds any nasty surprises because most of the problems are so visible.
All this is music to the ears of anyone who has faced unexpected expense ridding a classic car of structural rust nibbling away out of sight. With so many steel–bodied cars professional body and chassis refurbishment can cost as much as the car is worth, but the typical mid–priced Amazon really is different.
The most crucial areas to examine are the front and rear screens. These can leak, and when water gets inside all sorts of havoc occurs, to the point that within a few years a sound car can degenerate into a poor one beyond economic repair. Any of the structure below the glass can suffer if a car is damp, although the rubber footwell mats give the floorpan a measure of protection.
Typical corrosion areas triggered by leaks, which generally do more damage at the front, are the corners of the bulkhead (visible in the engine bay) and the footwell walls (checked inside the car by removing the cardboard trim panels). Only a good Amazon specialist can cure a leaking screen, and it really is wise to spend money on the couple of hours of labour needed for a lasting solution. The problem arises because a screen will not seal with rubber alone and modem silicone sealants don't do the job – so a screen fitted by a general windscreen replacement outfit will definitely leak. The screen needs to be removed and the surrounding edges cleaned up before resealing with the most old–fashioned, stickiest mastic available.
Front wings are often the rustiest area on an Amazon, and tend to go around the headlamps as a result of mud becoming trapped behind. Don't dismiss a car because of this: a new Volvo–made wing costs a reasonable £123 and is easy to bolt on after being painted and undersealed separately. The original headlamp bowls are steel and corrode in tandem with the wings, so it's a good idea to fit modern plastic replacements – and using quartz–halogen headlamps is a sensible modification.
The structure beneath the front wings is also vulnerable, so check the vertical flitch panels that form the bonnet sides and the slender box sections that run next to them. Only a couple of inches across and sitting beneath the bonnet shut–line on each side, these box sections form one of the few `invisible' weaknesses on an Amazon and are attacked by mud. You can see them by turning the wheels to full lock and looking into the top of the wheelarches; probing with a screwdriver or just your thumb will reveal any crumbling metal. Replacement isn't expensive (the panels cost £35 each), but is best left to a specialist because it involves welding and experience is needed to achieve good alignment.
The rest of the engine bay survives very well, the front crossmember, chassis legs and engine subframe rarely rusting. It's odd that these features, shared with the P1800 coupe, are vulnerable on that car but not on the Amazon. The self–supporting bonnet can decay along its bottom edge and occasionally at the rear corners, but again problems are unusual. Below the grille, the front panel can suffer where it joins the wings and along the slender bar dividing the grille halves.
Sills don't cause major worries. The outer sills may be rusty but are simple to replace and new ones cost only £21 a side. Much of the strength lies in an inner stiffening structure which rarely corrodes, although the inner sill face – a flat wall that can be seen beneath the car – isn't so resilient. While underneath it's worth checking the two outriggers on each side: they can rust, but they're inexpensive and easy to replace in situ.
Doors are becoming a problem because new ones aren't available, so extensive rust at the base has to be repaired at a cost of about £200 per door, including painting. Alternative skin sections are available (from the trim strip downwards or just the bottom 4in) and a panel is made for the base of the main structure. Second–hand doors can be a cheaper option, but supplies of good front doors are scarce.
Before you travel to look at a car, it's worth asking if there's any rust around the rear wheelarches – this is often the first place to go. The wheelarch lips are double–skinned and vulnerable to condensation within, but inner and outer repair sections provide a cure. This area can be a good clue to workmanship if repairs have been made (the absence of the original body seam next to the knee–high corner of a rear door is a tell–tale) because not everyone achieves a neat join.
Otherwise the rear wings survive brilliantly well and never need to be replaced. In this area, though, are two small vulnerable points. The reflector housings rust very readily, seemingly because they were never painted underneath (an odd lapse in Volvo quality), but new ones cost only £21. Below the back of the rear wing is a separate fluted section which gets sprayed with road din and corrodes quite quickly, especially at the top where it folds over to join the boot floor.
This folded–over panel is best checked within the boot, where a couple of other areas need to be examined, especially on a car with a leaking rear screen. Rust at the back corners, next to the wheel housings, indicates corrosion in the chassis legs underneath. The spare wheel well, which holds the tyre upright, corrodes if water gets into the boot and the drain hole becomes blocked, sometimes simply by a bald tyre sitting over it. The boot lid is vulnerable along its double–skinned bottom edge, and check that the counter–balancing rods – advanced design for the time – work properly.
If there's a smell of petrol when you open the boot, the cause is almost certainly a fracture at the base of the filler neck. This has a soldered join to the fuel tank, which doubles as the boot floor, and a parking knock on the external filler cap can break the solder. Vapour can also reach the cabin because the boot isn't totally sealed.
An Amazon's brightwork generally looks good because most of it is made from anodised aluminium or stainless steel. But there's an important exception: the huge bumpers, each made of five pieces (two quarter sections, two overriders and a central blade), are chromed and the cost of replacing the lot approaches £1000. Fortunately the chrome is of good quality, but the quarter sections often rust through at their ends and new ones cost £124 each. The central blade lasts better, so much so that only now is it about to be remanufactured. A good chroming specialist might be able to rescue existing bumpers more cheaply, but many owners have had poor results. It's very difficult to straighten a bent bumper because the steel is so thick.
Discussing bumpers triggers a useful observation from Tony Barrett: "Amazons are so accommodating that you needn't do everything at once. You can think about buying a piece of bumper every other pay cheque. It's the same with the front wings: you can replace one wing one year, the other the next. These cars are bovine!"
Other brightwork points are less significant. Superficial rust can occur behind the waistline trim strips because of corrosion in the wire clips that secure them. The boot lid handle is made of chromed Mazak and can become pitted, but it's `high–class' Mazak that survives better than most. The short aluminium strips at the base of each C–pillar are tricky to replace because they're fastened by nuts hidden behind the headlining.
Estate cars are great workhorses but neglected ones rust almost anywhere on the split tailgate, which should be checked thoroughly on the inside. The rear wheel arches inside the car can decay at the pivot points for the folding back seat, but this is easy to repair. More troublesome is a tendency for condensation inside a damp car to seep under the rubber seal beneath the long side windows at the back, causing rust to nibble down into the bodywork. The spare wheel well is quite different on the estate (the wheel lies flat) and gives no trouble.
With its vinyl seats, rubber floor mats and expanses of painted metal, the spartan interior is always a disappointment to potential Amazon converts, but mostly it is hard–wearing and very practical. It's important to find a car with a decent, dry interior because the only significant piece of trim available is the front floor mat, a massive piece which lines both footwells and the transmission tunnel – but it's also an expensive one at £270.
Front seats are the biggest headache. Some seats are now looking well–used, so search for a car with the minimum of broken stitching and torn vinyl. There's scope for cannibalising a good rear seat to repair a front one, but fording a trimmer willing to do affordable work with vinyl is difficult. Most people settle for a second–hand set they can live with. Despite the vinyl, the seats – `normal' or GT – are of advanced design for their time, very comfortable and with plenty of adjustment. Seat runners never seize and the Pirelli webbing beneath the cushions is easily replaced if it has perished.
Rubber mats survive incredibly well, but check the front one for splits in the heel areas and around the gearlever. Door trims can look tatty at the bottom if rust has made the hardboard backing damp, and the elasticated pockets in the front doors can go floppy with age. If the `airtex' plastic headlining is poor, a new one can be remade and fitted for about £120.
The only problem.with the dashboard is that exposure to sunlight cracks the pleated black plastic along the top. In the UK you'll have to settle for the best you can find because new ones are only available in left–hand drive form. On later cars this plastic is glued to the metal backing and tends to split more extensively, possibly because the metal expands in sunlight and stretches the covering. All switches, instruments and controls seem to keep working well as the years pass.
Lack of stowage space – just a floppy passenger–side parcel shelf and tiny door pockets – is a surprising design weakness, but among the good touches is the use of separate heater ducts for rear passengers. Best of all for someone with a family is the fact that Volvo fitted captive nuts for rear seat belts – remarkable for a mid '50s design. Another practicality bonus is that inertia reel belts are easy to fit.
Technical and Mechanical
Engine

Good news continues because the Amazon's sturdy four–cylinder engine is exceptionally long–lived and easy to maintain. Indifferent performance in standard form seems a small penalty to pay for these advantages, but simple tuning tweaks can increase power without sacrificing reliability (see owner's view, p77). Some engines cover 150,000 miles before having to be opened up, and even then overhaul needn't be comprehensive
"It's a straightforward engine – ideal for the home mechanic," says Tony Barrett. "I fix a lot of cars over the telephone! It's so bulletproof that it'll always get you home, and it gives plenty of warning of trouble."
Of the three engine capacities used, the B18 (1780cc) is much the most common. The early B16 (1580cc) is tare in the UK, while the late B20 (1990cc) arrived when production was tailing off in 1968. Since the three basic models – 121, 1225 and 123GT – essentially differ only in carburation, camshaft and compression ratio, your checklist as a buyer is the same for any Amazon. Follow a simple rule of thumb: there isn't much wrong if the engine isn't burning oil, making odd noises or misfiring
The first signs of exhaust smokiness usually result from worn valve guides, which allow oil to seep into the cylinders and create puffs of smoke when starting up or changing gear. More continuous smoke indicates a generally tired engine with worn bores and maybe a broken ring. Either way a rebuild is imminent.
An unpleasant knocking might sound like the death knell of worn big end bearings, but these don't give up on Amazons and the reason is far less serious. Timing is by gears, and in the interests of quietness Volvo used a fibre gear for the camshaft. The teeth gradually become worn, but often the fast clue to trouble is the noise that develops when the fibre outer starts breaking away from the steel hub. Bosch–made fibre gears are no longer available, but Volvo has plugged the gap by making steel gears with more teeth, so that they run reasonably quietly – it's a bonus if a car has these modern gears.
The camshaft is a slightly weak point because the lobes tend to wear. Sluggish performance, something you can really only judge after driving a range of cars, is a consequence, but misfiring at idle – caused because one of the valves isn't lifting enough – is the best clue. Come rebuild time, upgrading the camshaft usefully improves performance.
None of these factors is a major weakness and the overall picture is of exceptional strength. This engine was designed for reliable use in a harsh climate and many of the components – things like crankshaft, oil pump, carburettors and distributor – never give trouble. The starter motor is a big 1hp affair to get the engine turning in sub–zero temperatures. Overheating is rare because the three–row radiator is bigger than it needs to be (but beware of two–row recon cads). And the oil filter, a neat design still in use on current Volvos, contains a valve to keep it full and allow oil to circulate quickly on start–up (so an engine run with non–Volvo filters definitely won't last as long).
A few minor points are worth covering. Oil can leak through the main rear oil seal, an old–fashioned felt ring, so it's prudent to use a neoprene alternative in a modified housing. Dynamo electrics on pre–1966 cars aren't totally reliable, and the dynamo itself is difficult to adjust because the bolts beneath it aren't easily reached; a dynamo that isn't running true will eventually wreck itself. The water pump isn't known for long life, but it's cheap to replace at £26.
Tony Barrett quotes around £1000 for a fully reconditioned engine, but offers a £550 `economy' version which uses good second–hand pistons instead of new ones (the only high–priced engine components at £65 each). Besides the pistons, a typical rebuild involves replacing camshaft, cam followers, valve guides, valve springs, oil pump and timing gears. What doesn't have to be changed is significant: valves, conrods and crank always remain serviceable, and even crank bearing shells can often be re–used. Most B18 and B20 parts are shared, but the rare B16 does present some parts problems
Transmission

Amazon gearboxes are famed for their long life and it's unusual to have to replace one. In practice you'll be looking at a four–speed with or without overdrive. Some cars had three–speed manuals or automatics, but they're rare. Simply make sure the 'box works smoothly and quietly: synchromesh seems indestructible, even on first gear, and bearings only start to rumble at very advanced mileages. In the unlikely event of problems a reconditioned 'box costs only £120.
Laycock overdrive drops top gear by 25 per cent and is desirable for anyone who expects to travel on motorways; without it the engine revs uncomfortably hard at 80mph. Any model can be found with overdrive, but LIK–market 123GTs always have it. Any model can also be converted to overdrive – this involves fitting a longer output shaft to the 'box – for about £600, which is roughly the amount it adds to a car's value. Overdrives can slip at very high mileages when the friction surfaces become worn, but generally they aren't troublesome.
The dutch easily copes with the Amazon's power and lasts very well, although the master and slave cylinders – made from aluminium and susceptible to wear – tend not to equal its durability. The two–piece propshaft and back axle rarely give problems, but listen for whines and dunks from the back of the drivetrain. Estate car diffs are more likely to become noisy, but a second–hand replacement won't cost more than £100.
The Borg Warner Type 35 auto 'box offered on the Amazon was standard issue at the time and has a fine reputation. Go for it if it suits you, but bear in mind that auto Amazons tend to be more difficult to sell.
Suspension, steering and brakes

Volvos aren't renowned for being driver's cars, but the Amazon uses a classical race–bred front suspension layout of double wishbones, the design having an appealing purity in the way all the mountings attach to a stout crossmember beneath the engine. Brilliantly simple and very accessible, this system is easy to set up – adjustment of castor, camber and kingpin inclination is all by shims – and largely maintenance–free. The only points of wear are the bushes, which are very cheap to replace, and the top and bottom balljoints.
Apart from normal wear and tear on bushes, the rear suspension is long–lived on post–1966 cars with twin trailing arms, but earlier cars use a more troublesome single radius arm on each side. Crudely (and untypically) made from two halves of pressed steel, these radius arms rust so badly that most cars have received replacements by now. Estate cars can suffer a unique rear suspension problem: they use beefier radius arms containing massive bushes made of rubber and aluminium, and the additional loadings that occur when these bushes become worn can actually crack the arm.
The Amazon's weight gives springs and dampers a hard life. Stiffer springs and superior dampers – such as Spax, Koni or Bilstein – are good modifications both for durability and adding useful sharpness to the handling.
If you don't mind moving towards a non–standard look, grip and handling can also be improved by upgrading from 43in to 55fn wheels and fitting 195/70 tyres.
Steering boxes, by ZF or Gemmer, are fairly reliable, but feel for the sloppiness or inconsistency of movement indicative of advanced wear. A second–hand replacement is again the best solution; enough Amazons have been dismantled for used spares to be plentiful. A great Amazon advantage for town use is that the turning circle is very small, and the big steering wheel – so unsporting but very practical! – minimises steering effort.
Only pre–1964 cars use drum brakes all round, so the chances are you'll be looking at a car with front discs. These massive brakes are so good that even cars used in historic rallying don't need any modification, but their excellence actually gives rise to a small problem. If a car is driven gently or sparingly, it simply doesn't wear its pads and the caliper pistons barely move, leading to partial seizure.
The only special tool needed for servicing an Amazon is a suitable five–fixing puller for removing the rear drums. Using the wrong puller can distort a drum, giving rise to vibration under braking. Dual–circuit brakes are a safety benefit on B20–engined cars, but the extra complexity adds to overhaul costs. A servo, standard from 1966, is obviously a useful feature, but if brake fluid mysteriously ebbs away it's likely that the servo is drinking it through tired seals. This can be confirmed by unbolting the servo and shaking it while you listen for fluid sloshing around inside; a new servo is preferable to a reconditioned one because it's difficult to make the seals effective again.
Restoration
Rear axles on estate cars lead a hard life, but a second–hand diff is only £100
Rear wheelarches rust near the rear doors; repair panels £180 fitted/painted
Gearboxes are very robust; overdrive best; conversion is ,about E600
Front inner wings rust – not an MoT failure; replacement costs £150 per side
Bumpers rust if not properly treated inside. Replacements soon available
Radius arms on pro '66 cars are pressed steel and rust badly; most replaced by now
Make sure drain holes to doors are clear; door rebuilds cost £200 each
Front and rear screens leak at corners; best to have a specialist fix it
Check that a genuine Volvo oil filter is fitted; pattern parts shorten engine life
Fibre timing gear rattles when worn – sounds just like a big end problem
---