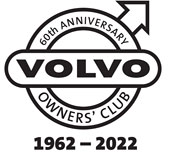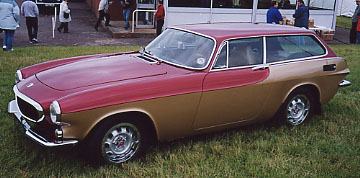 Profile on a Volvo 1800
By Nigel Keen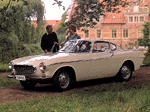 THIS ARTICLE is intended to provide an introduction to the Volvo 1800 Series. This model has the distinction of being the company's only seriously produced sports car, or rather *qu grand touring" car until the introduction of the 480ES in 1987. After the unsuccessful attempt to produce a fibreglass bodied sports car, namely the Volvo Sport or P1900 as it was designated, the company was keen to produce a feasible GT model to utilise the Volvo engine's high performance potential, which was now being realised in the 120 Series saloon cars. Much thought and effort went into the design of what has now become the Volvo 1800. A combination of ideas between Jan Wilsgaard, the then chief stylist, Helmer Petterson, a consultant to the company, Helmer Petterson's son Pelle more famous as a boat designer, together with Italian designers Frua and their associates Ghia, was presented to the chief executive, Gunner Engellau for his consideration. Eventually two Frua built prototypes were completed, one of which was displayed at the 1960 Brussels show, the other at New York. The task of arranging production of the new model fell to Raymond Eknor (previously in charge of the ill-fated P1900). He made arrangements in Britain, who were by this time suppliers of components to Volvo, with two companies to manu-facture the cars. The Pressed Steel Company of Linwood, near Paisley was entrusted with the bodies, which would subsequently be transported south to the Jensen works at West Bromwich near Birmingham. The cars were assembled, trimmed and finished at Jensen's, with only the final preparation and selling taking place in Sweden.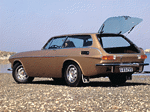 Mechanically the 1800 was based on a shortened 120 understructure and shared its essential mechanical components. The engine was a modified 120 unit being enlarged to 1.8 litres, with five main bearings and was used for the 1800 in twin SU carburettor (B 18B) form. Production arrangements in Britain did not proceed as well as planned. Bare steel bodies were becoming damaged and deteriorated during storage and transit between Linwood and West Bromwich. Also Volvo's high standard of quality was not being maintained during production. Only the first 6,000 cars were produced at Jensen's, thereafter production was transferred to Sweden. At the same time Volvo's Torslanda plant was about to come into operation. However, the Pressed Steel Company continued to supply bodies direct to Sweden until 1969, when body shell production was transferred to Volvo's own pressed steel works at Olofstrom. Production of the 1800 models ran from 1961 to 1973 during which time various modifications were introduced. Two principal changes were the introduction of fuel injected engines, and the introduction towards the end of the run of the 1800ES, a true sporting estate car derivative with 2+2 seating and substantial luggage space, along with automatic transmission as an option.
A summary of the developments to the 1800 models are detailed herewith:
1958 P1800 leaked to Swedish press as Frua built prototype.
1959 Official announcement.
1960 Frua built prototype shown at Brussels in January. First UK built pre-production cars tested in Sweden. (October).
1961 Specification for production: 2 door steel GT fixed-head 2+2 coupe, pushrod ohv 1778cc (B18B variant) twin carburettor engine, 1oobhp at 5500rpm. Integral body-cum-chassis using mainly P120 mechanical components on 8ft 0 1/2 inch wheelbase. Unusually styled "cow horn" bumpers, 6000 cars assembled in UK by Jensen Motors. Cars available in UK in October.
1963 P1800 renamed 1800S at start of Swedish assembly from UK pressings. After 2000 units 1964 model introduced with detail improvement including 108bhp engine, improved braking system and modified seats.
1964 Straight bumpers with rubber inserts, slotted wheels with stain-less steel hubcaps. Revised interior.
1965 Diaphragm clutch, power increase to 11 5bhp, sealed greasing, improved brakes with pressure limiting valve in rear brake line.
1966 Modified front grille with bars in pairs, chrome side trim straight rather than curving up door handles. Harold Radford offers convertible with reinforced floor panvery limited production. Modified cars come to UK in November 1966.
1967 Three spoke steering wheel, minor interior changes including ash-try handle and gear position diagram.
1968 B20 (1986cc) engine fitted developing 118bhp at 5800rpm. Twin SU or Stromberg carburettors fitted and emission equipment. Dual circuit braking system introduced.
1969 Body panel manufacture transferred from UK to Olofstrom works in Sweden. 1800E introduced with Bosch electronic fuel injection developing 130bhp at 6000rpm. (B20E), ZF gearbox, all round disc brakes, alloy wheels, new dashboard, matt black grille and improved ventilation with matt black extractors in rear wings.
1970 1800E fitted with stronger Volvo built manual gearbox or optional Borg-Warner 3 speed automatic.
1971 1800ES sporting estate car intro-duced.
1972 Automatic ES available in UK. Collision bars in doors, interior appointments fire resistant. 112bhp B20F 'emission' engine for USA.
1973 Production ceases. During the total production run 47,600 units were produced.
From the point of view of owning and driving the car, the 1800 can be described as sleek and stylish. It is better suited as a long distance motorway or 'A' road cruiser than a high revving fast performer on give and take roads. There is an element of understeer and with the steering being heavy, can at times be hard work at town speeds. The car is comfortable, but it should be noted that the seating position is very low and the steering wheel very upright which can cause a problem for short drivers. For serious motoring the fitting of door mirrors, or wing mirrors even to retain the period touch is essential as the interior mirror certainly on earlier models, is less than ideal.
Engines are generally reliable provided the oil and filters have been changed regularly. The same applies to the gearbox, and the Laycock overdrive should be checked for ease of engagement and disengagement. As with many other cars, brakes suffer from lack of use. A special hub-puller is needed for access to the rear brakes. As far as bodywork is con-cerned, the points that need watching are rust around the headlights, corrosion from top to bottom behind the wheels, especially if the splash panel has started to rot. More importantly the sills can cause serious problems. The sills tend to fill up with water and rot causing damage to the outer sills, but it is also necessary to check the inner sill sections by lifting the carpets and inspecting the join to the floor-pan. The floor-pan and outriggers which carry the jacking points also need thorough inspection. Rear wheelarches can rot badly where inner and outer panels meet as water can collect around the boot lid aperture. Look out for drain tubes, or more importantly lack of them, which can cause problems. In addition the petrol filler flap can rot round the hinge due to a blocked drain tube.
The 1800 has not been a major con-tender in the competition world, although an 1800S did finish 2nd in its class at the 24 hour sportscar race in Daytona in 1967. Earlier Ewy Rosquist had taken part in the 1961 RAC rally finishing in Brighton, despite problems with a damaged petrol tank in Scotland. Finally with regard to the model's publicity, Volvo must thank Roger Moore in his TV role as "The Saint" for bringing the car to the notice of the sixties television viewing public. The cars inclusion in the series happened almost by accident, as originally a Jaguar 'E' type was to be used. However no Jaguar was available at the time, so Volvo were keen to oblige at short notice. Hence the question that is now asked from time to time by those not in the know on being told that one owns a Volvo 1800S, "Is that a Saint type Car?"
---