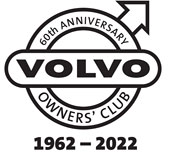 Living with the Volvo 480
By Chris Wickers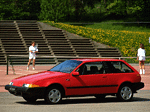 The first time I saw the 480 coupe was at the 1986 Motor Show and I can remember thinking how unlike a typical Volvo it was. (I was not aware of the P1800 at that time!) In 1987 my local Dealer held a launch day for the model, and as my father had just purchased a new vehicle he received an invite. Much to my annoyance I was refused a test drive due to my age, as at 20 I was deemed to be too young! The following summer after I had purchased a 360 GLT I was permitted to take the 480 for a test drive and immediately became impressed with its roadholding ability, novel features, and in my view stylish good looks. The 440 and 460 launch soon followed offering a more conventional car with considerably easier access to the rear passenger compartment. (The 480 is very deceptive regarding the rear seats, both of which will comfortably seat 2 normal size adults, admittedly with very little luggage - performance does however suffer quite badly if the car is fully laden) The 440 had the added benefit of being available in many trim and engine variants ranging from the GL to the Turbo, making its purchase price more flexible. The 440 Turbo enjoys a remarkably low insurance group considering its brisk performance, undoubtedly assisted by its failure to appeal to the 'boy racers' who delight in cruising along seafronts (and other places) late at night, and is in my opinion a very underrated car. Regrettably in 1990 money did not permit me to consider a 440 Turbo, leaving me with the choice of a 'pre-owned' 480 ES or by paying an extra £1200 for a brand new 440 GL. The lack of fuel injection, power steering, and sporty image, quickly persuaded me to purchase the 480. Besides I have to be honest and admit I preferred the shape, performance, all the electronic gizmos and gadgets, not forgetting the pop up headlights which in my eyes were the sign of a true sports car!
Work colleagues were puzzled as to why I didn't opt for the XR3i this being the typical mode of transport for Essex Man in the '80's. A short demonstration of the 480 however left them with very few doubts. Having traded in a 360 GLT, the two immediate noticeable differences were in power and roadholding. The 360 GLT was undoubtedly quicker in a straight line, whereas the infinitely better grip of the 480 enabled corners to be taken more tightly at higher speed. The 480 is a more fun car to drive with its sure footed roadholding, power steering and improved suspension. Visibility at night is also enhanced with the vast array of front lamps including long range driving lights. Being front wheel drive the car is less affected by adverse weather conditions that England seems to be plagued with at present. Dependability has not been a major issue, I have in the past seven years only been left stranded the once, (early hours of the morning - 30 miles from home) with the cause being a faulty connector block behind the glove compartment - This was my one and only major success in obtaining an acceptable contribution from Lifetime Care, with even this requiring a detailed letter to Volvo. Having described the car as reliable, does not mean that it hasn't had more than its fair share of non 'Vehicle Off-Road problems. The main non typical 480 problem I originally had seems to have arisen with the main front light pop up mechanism. Namely a horrendous squeal every time they 'popped up and down'. Although this did not affect their operation as headlights, it did rather detract from their 'pose' value! After much lubrication, the garage admitted defeat and replaced the linkage under warranty thankfully, as the cost was in excess of £200. Nearly seven years later they still function correctly. Common known faults include inoperative headlight flasher, heater control, leaking into the boot via the rear lights, and erratic constant idle valve. All these can be rectified very easily without too much cost, as highlighted in my register reports. (Please contact me for details). Two more potentially costly common occurrences are the alternator, (the latest ones include a modification which should make them more reliable) and the clutch cable, which is noted for its ability to stretch or become very heavy and stiff -replacement here is the only option. I am probably tempting fate, but my present cable has been by far the longest surviving - hopefully they have got it right at last. (The 440/460 never appears to have suffered in the same way with the clutch cables!)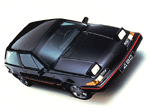 Routine maintenance is not my speciality. The car is still covered by Volvo's Lifetime Care, and although from a warranty point of view it has little if any value, it does provide me with free RAC cover which saves me some £80 per year. With the two yearly services costing less than £200 it seems pointless to save a few extra pounds, and lose the full Main Dealer history. I have found repairs to be not too unreasonable for a Volvo, with the noteable exceptions being the exhaust and clutch. At approaching £500 each they come as a nasty shock. Servicing for pre '90 models has been drastically reduced making it a lot more affordable to keep a Main Dealer history. Brakes are an easy DIY job with the discs appearing to have a long life span, even with my brisk driving technique. I have generally been very happy with the car, and consider it overall to be worth its cost. A 480 will never provide cheap motoring, but despite mine being 10 years old I still find it an enjoyable car to drive, and would happily recommend it to anyone who is prepared to accept a few teething troubles. Fuel economy varies from around 25 mpg to 44 mpg with the latter having been obtained driving gently at a steady 60 mph to Scotland. Insurance group varies from 12 to 14 depending whether it has the magical word Turbo on the tailgate!
---