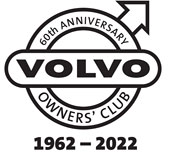 VOC Car Insurance
Whether it's for your modern car or your classic VOC Insurance loves Volvo owners. You look after your vehicles and we believe you deserve the best deal.
Through the club's dedicated scheme you and your fellow members can benefit from significant car insurance savings, first-class personal service and a high level of support.
Average saving of £110
VOC members currently save over £110 on average against their existing renewal quote by switching to VOC Car Insurance*.
What are you waiting for? Give us a call today on 0800 023 4374 and find out how much you could save on your classic, modern or modified Volvo.
First-class personal service
Savings are very important but so is the level of service you receive. With VOC Car Insurance you can be sure that you'll speak to a car club insurance specialist in the UK - you can even ask to speak to the same person each time you call.
You'll benefit from truly impartial advice and we'll look out for your interests, working on your behalf throughout the process.
Unrivalled support
You can count on us to be there for you. We're just at the end of the phone to provide all the assistance you need throughout the life of your policy.
Working hand-in-hand with the club we can call on model-specific expert opinion to fight your corner if we need to. You won't find that anywhere else!
Free KeyLocator cover
Losing your keys brings its own set of problems, not least of which is the cost of replacement. With sophisticated immobilisers, keyless entry, shielded locks and alarms to contend with these multi-function keys have become gadgets in their own right. It can cost upwards of £250.00 to replace them.
It's for exactly this reason that VOC Car Insurance now includes a FREE Key Recovery Service, named KeyLocator, with all its policies.
Each policy pack comes with a flexible KeyLocator tag. Simply add the tag to your key ring, register your unique tag code online and you'll receive your keys back securely if they're lost and found. As an added bonus, the tag carries a reminder of the VOC Insurance Claims Line number so you have the number handy if you need to report a claim.
Money off extra policies
Once you become a VOC Car Insurance client you'll automatically be entitled to £20 OFF the best deal we can find for the other cars in your household (whether they are Volvos or not).
You'll also be able to claim £20 OFF VOC Home Insurance or £50 OFF if you have 2+ cars with us.
We'll also make a donation to the club for every policy sold.
Contact VOC Insurance for a car quote and benefit from the savings, service & support available to Volvo Owners Club members.
Simply call FREE now on 0800 023 4374 for your free, no-obligation quotation.
* Mean average new business saving £110.54 against VOC members' renewal premiums where disclosed (Source: OpenGI MI for period 01/01/2018 to 31/08/2018).

---