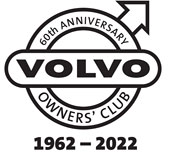 460 Turbo Modifications
By Richard Menesse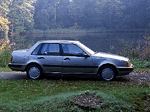 After having our 1990 Volvo 460 Turbo (1721 cc) for just over 12 months we decided to do some improvements on the look of the car and the performance. A set of 15 inch wheels were fitted with 195/50 R15 tyres, which made the car look the business. To help the car stop the standard solid brake discs and callipers were removed, and grooved, cross-drilled and vented discs with larger callipers were fitted. We then decided that due to the car having done 110,000 miles that the engine could do with a bit of an overhaul. A second hand M reg engine and gearbox was bought and work was then carried out to it. Larger inlet valves were reworked and standard exhaust valves were reworked and fitted to the gas flowed head. The valve faces were ceramic coated for heat protection and stems were dry film lubricated.
The manifold and throttle body was also reworked to match the free flowing head. At this time the cam was also replaced with a high lift one. Once all the work was finished on the head and we were happy we then started on the block. The block was completely stripped and rebuilt, using new rings, shells and all seals. To help keep the heat down the piston crowns were ceramic coated and dry film lubricant was applied to the pistons skirts. Oil dispersant was applied on the under side of the pistons. The pistons and rods were balanced, as too was the front pulley, timing pulley, crank, flywheel and clutch cover and crank journals were polished. The flywheel was also worked on and lightened dramatically.
A brand new Turbo Technics Hybrid Turbo was designed to spec using large compressor housing, 3600 thrust bearing, cut back shaft and wheel assembly also the actuator was uprated and fitted to the ceramic thermal barrier coated exhaust manifold. New clutch, new design starter motor, new power steering pump, new engine mounts, new battery and 110Amp alternator we fitted. New ECU's and air flow meter have been fitted. A K & N free flowing air box modification was done to let more air in. NGK racing plugs fitted and off we went.
RESULT
A very pleasing result a great improvement in power and petrol, running on unleaded the fuel consumption is 30mpg round town, and power output is around 200Bhp at 5500 rpm (at fly wheel) with no ram air affect, and without having the ECU reprogrammed. A bit lumpy when cold but once warmed up it's fine. Standard engine would do 130mph this one should do more.
ENGINE SPECIFICATION
Reworked larger inlet valves, Reworked std exhaust valves.
Head, manifold, Throttle Body Reworked to 30% increase over std.
Head flowed 138 BHP before & 187 BHP after.
Trick one off Po-Fo cam.
Balanced front pulley, Timing pulley, Crank, Flywheel & Clutch cover.
Dramatically lightened Flywheel.
Balanced pistons & rods.
Polished crank journals,
Renew all bearings and seals.
Ceramic coated Piston crowns & valve face.
Dry film lubricant on piston skirts & valve stems.
Oil dispersant under side of pistons.
Ceramic Thermal Barrier coated exhaust manifold.
K & N air box modification.
NGK racing plugs.
Brand new Hybrid Turbo.+ Uprated actuator
ECU's were replaced some time ago with new ones.
Air flow meter was also replaced with new one.
Power output is about 200Bhp at 5500 rpm at the fly wheel without ram air affect.
BRAKES
Vented, Grooved and Crossdrilled discs with larger callipers to suit on front.
Standard discs with new callipers on rear.
WHEELS
15 inch wheels fitted with 195/50 15 tyres.
ALARMS
Too many to mention.
THINKING ABOUT
Chipping, Changing injectors, Lowering, Bigger Intercooler.
TOTAL COST
Around £2500.00+
THANKS
To Steve at Port Formance contact him on 01925 724278.
---