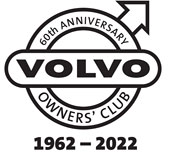 Volvo S40 V40 Information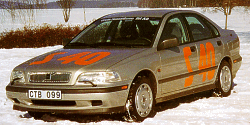 A selection of reports taken from back-issues of the Club's magazine, 'Volvo Driver'.
To keep up to date with these reports join the Club and receive the magazine. Joining will also allow access to the back-catalogue of magazines on this web site.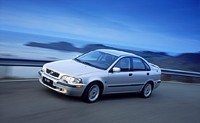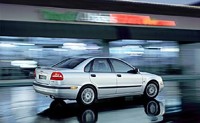 Since the introduction in May 1996 the Series has proved popular, with members registering 90 cars on file. The S40/V40 are medium saloons and estates with more fluid lines than the boxy Volvos of yesteryear. The comfortable interior has plenty of space and a quality feel. Safety features are reassuring and handling is fine, but ride quality and engines could use additional refinement. Poor interior finish was reported on some early cars but quality control has improved. It is too early for major faults to emerge, but you can expect high reliability! So welcome please the Phase 11 S40/V40, launched at the tail end of last year (2000). You would have to be a serious Volvo-phile like me to spot the visual differences between old and new: the lights have been altered, there are new seats, and the dashboard has been mildly rethought. But a look underneath the structure of the car reveals a whole lot more. For the second attempt at getting it right, Volvo has comprehensively reworked the chassis in a bid to sharpen things up. The front track - the width between the two front wheels, has been widened to increase the cars footprint, while the wheelbase has been lengthened. There are major revisions to suspension settings, while the tyres and wheels have gone up a size. Dampers are stiffened up in an attempt to make the car more responsive. The improvements to the ride and handling are impressive. The car now feels much more willing to change direction. While the ride is less fidgety than before. Another problem which afflicted the original car and which is still present in Phase 11 versions is the way the front wheels fight the steering when the car is accelerated away from T junctions and the like. Only the top of the range 200bhp turbocharged T4 has traction control to keep things in check: it's a £360 option that you would be wise to budget for if considering a lesser engined model.
---

Where were you all, I was very disappointed that there was not a single S40/V40 attending the Western Area Rally, despite me having 36 cars on the register. A lot of spare time and work goes into running a register and arranging events, not to mention the Club funds wasted on the purchase of uncontested trophies. I can only arrange the event, but I need you to BE THERE! We did not enter our S40 this year, so Meril, as last year's winner, remains the holder of the W A Lewis 600 Series Cup. Changing the subject, with an S40 in the family it is always good to hear opinions on the V40. Women seem to be initially nervous about the size of the V40, although soon realise that the power steering and easy clutch would soon diminish the problem. They like the luggage cover - an essential security asset - while husbands reckon the high rear sill looked awkward when set against the majority of estates. Everyone likes the stainless steel 'kick plate' designed to protect the front d6or sill. (Reminds me of my Princess 2.0 HLS, many moons ago). The 600 Series are very quiet, and it is all to easy to speed on the sweeping bends of B-roads, and the A-pillar does obstruct vision with the flatter windscreen being an inevitable consequence. Passengers are very comfortable in the back, and also on the plus side there is a lack of noise, which on long journeys would improve the prospects for the Walkman with teenagers. However, the low seat, and consequent reduced view out of the side windows is a distinct minus. The 2.0 litre petrol engine lacks low down torque, which occurs at 4500 rpm. The drivers seat is warmly complemented, which with lumbar adjustment set at maximum seems remarkably comfortable and supportive. On twisty roads the cars power steering is somewhat light. With this, and the awkwardly positioned window switches on the driver's armrest, a few hours of use are needed before they become the norm! Volvo comfort, and the safety systems are second to none, although the three point belt in the middle rear seat is a touch close to a child's neck. Finally, Congratulations to Rickard Rydell, Volvo's flying Swede on winning the 1998 Auto Trader RAC British Touring Car Drivers Champion-ship with the TWR run Volvo S40 Racing team! Well done also to Italian ace, Gianni Morbidelli in his first season as joint number one in the team. I know a little secret that Gianiii had been learning the tracks on the Sony Playstation with TOCA Touring Car Championship. I can only manage 28 points in Round 4 with the S40! It really is a great game, with all the 1997 cars, drivers, teams and Championship tracks. You can drive all the official cars of the 1997 season, all accurately modelled on the real vehicles, and each track is produced using actual 3D landscape data obtained by Ordnance Survey Solution Centre. Tiff Needell even does the pre and post race commentary.
---
This years 40 Series Rally will be incorporated in the Western Area Rally at Weston Park on Saturday 12 September. Caravan and Camping members have permission to camp on site over the weekend. it is only a few days away now, so if you will be attending either as a day visitor or a camper, please send details and SAE for a Rally programme and Weston Park information leaflet and admission charges. BE THERE! There are now 28 cars on the Register, so it should prove to be a good competition for the W A LEWIS cup. This beautiful silver cup was very kindly donated by VOLVO dealership W A LEWIS (Shrewsbury) Ltd, to be awarded annually at Register meetings. It was won last year by my wife Meril with our S40, with Mike Cardwell and his V40 TD being an extremely close Runner-up. Will yours be the next name on the Cup? Cool summer news from Volvo! As part of an upgrading of standard equipment, Volvo S40 and V40 models, with the exception of the entry level 1.6 versions, now come with air conditioning at no extra cost. It is always interesting to hear your comments when I receive a registration form. Chris Lumb from Berkhamsted wrote telling me about his V40 2.0 SE, Chris finds the car really good to drive with a superb gearbox. He finds the cruise control extremely useful, making driving easier and speed limits easier to comply with. All the family like the car and find it comfortable to ride in. Chris has had a few minor problems with the car, mainly concerning plastic parts that were not fixed properly. The centre vents in the facia were not working properly, the sill guard on the rear passenger door was loose, the plastic cover on the high level stop lamp did not stay on properly, e tailgate sill guard loose, and the trim on the inside of the tailgate loose. Chris also says that the radio has a serious problem with intermittent but ever present crackling, every 2½ -3 seconds, even when stationary. Hopefully by now all these problems have been rectified by Chris's dealership Recently I heard of a case of a used S40 1.8 that was purchased with a mileage of 11,000 miles. The owner subsequently experienced difficulty engaging reverse gear without grating. There was also a stiffness when selecting first gear. He was told by the dealership that Volvo were aware of the problem and were working on it. Volvo Customer Relations were contacted and the owner was assured that a modification would resolve the problem. The work was duly undertaken by the dealership, which involved a very small adjustment to the gear selector gate. The owner was also advised that selection of first gear immediately prior to selecting reverse gear normally results in smoother gear changes ! In many cases, but not all, this achieves the desired result, but because of the random nature of the defect, the procedure must be followed every time reverse gear is required, if the box is not to be progressively ruined. In some instances recently the owner had to resort to pre-selection of reverse gear before starting the engine.
---
This year's annual 40 Series Rally will be held on Saturday 12 September at Weston Park, Shropshire. This will also be a Western Area event, with caravan and camping members having permission to camp on site over the weekend. (Full details are printed in this Issue.) If you will be attending, either as a day visitor or camper, please send details and SAE for a Rally programme and information leaflet, The S40 has scooped the new Safety category in the What Car? Car of the year awards. When it was launched in 1995 the S40 set new standards of safety in the Upper Medium segment, with safety systems designed as an integral part of the chassis right from the drawing board. Neville Stockton from Crewe can testify this as his V40 was hit in the rear by a Range Rover complete with "Cow-Catcher" - which did most of the damage' A case of "Tail-gating" with a vengeance! However the actual damage fortunately appears to be confined to having a new hatch door with the rest of the body work being unscathed! The side-marker lights, currently fitted to Volvo S40 and V40 models have been independently proven to have a positive effect on accident avoidance. Research carried out by The Dutch Human Factors Research Institute found that when driver reaction times were measured, cars fitted with side marker lights were seen much earlier and more clearly than cars without. The result showed that between viewing angles of zero and ten degrees a car without side-marker lights is three times more likely not to be seen than one fitted with them. At 20 degrees, a car is twice as likely to be missed. Interestingly the same results were noted in both clear and foggy conditions. All the tests involved complex driving patterns and night time driving. Red side-marker lights have been compulsory in the United States since 1969. From January 1993, yellow side-markers have been permitted in Europe but are not compulsory. Volvo is the only car manufacturer to offer side-marker lights as standard in Europe and now plans to introduce side-markers to its complete range of vehicles.
---
The 40 series register was introduced Spring 1997, and after a slow start I now have 16 cars on the register. I do know however that there are a further 3 cars within the Club that are not registered. If you would like a registration form please send me a SAE.. Last Autumn also saw the introduction of a beautiful silver cup, which was most generously donated by William A Lewis Cars Ltd. This is to be awarded annually at 40 Series BKV Rallies. It was won last year by my wife Meril and our S40 at Weston Park. With more cars joining the register, I know there will be a lot of interest in this year's Rally watch this space for further details. Well somebody had to be the first! Chris Iwancz from Sandbach, has registered an S40 T4. Chris previously owned a 480, and did consider buying an S40 2.0, but found it underpowered? Chris has promised to send me a photograph of his T4 and a written article which I shall publish in the next issue. The S40 and V40 are now leading the way with Volvo Car UK sales. The former sold 2,237 units in August 1997 -that's 51196 up on 1996. The V40 meanwhile, sold 2,152 units stonking 1,622% up on 1996. Last years British Touring Car Championship drew to a close at Silverstone at the end of September, with Volvo drivers Rickard Rydell and Kelvin Burt battling back from disappointing qualifying positions to secure fourth place overall in the 1997 Manufacturers table in the S40's debut season. Rickard Rydell, on the eve of his thirtieth birthday, also took fourth place in the drivers standings. This was the driver's first year with the S40, against much more developed cars, and both expect to be much stronger this year.
---
The first ever S40/V40 BKV was held at the 300 Series Rally at Weston Park on Saturday 13 September. I would like to thank William A Lewis Car Ltd for most generously donating a beauti-ful silver cup to be awarded annually at 600 Series meetings. (600 Series is the official Volvo nomenclature of the S40/V40). Although there were only two cars in the line up we were very pleased to be awarded the winner. Congratulations to Mike Cardwell on being awarded a very worthy runner up. Both cars created a lot of interest at the 300 Series Rally, giving members the opportunity for a close inspection of these new models. A full Rally report is printed in this issue. Last summer the stylish S40 and V40 T4 were launched as stablemates to 'The Terminator' S70 and V70 T5. Underneath the bonnet of the T4 is a 1.9 litre, turbo-charged engine which packs a 200 bhp punch and a massive 300 Nm of torque. This enables the T4 to reach a speed of 0-62mph in just 7.3 seconds, with a top speed of 148mph. Upgraded brakes, suspension and steering ensure enhanced driving experience still further from standard models. Twin headlights, wider wheels and subtle spoilers also distinguish the T4 from other models without detracting from already stylish original lines. Prices for the T4 start at below £20,000 with the first cars having reached the UK in the Autumn. I was very interested to hear at the 300 Series Rally from Paul Clifton, who is a Volvo technician in Cambridgeshire that his dealership had sold two T4's in September. I am still waiting to see my first!
---
The first 40 Series meeting is definitely on! It will take place at the 300 Series Rally at Weston Park, Shropshire on Saturday 13 September. The BKV will include a class for 40 Series, so do please try and bring your car along. In response to Mr D Gilberts' worry as to where to leave the petrol cap on his S40 when refuelling, both Mr S T Pearce from St Austell, and Mike Thomas from Redditch rightly pointed out that there is a hook on the inside of the outer flap when open. Mike also praises the handling of his V40 2.0 Auto following a front tyre blowout at 920 miles as a result of shrapnel in the road. Handling to a halt from 75mph? was impeccable. Mrs J Edmonds from Warwick had the misfortune of having her V40 bumped whilst parked on Warwick University car park. The impact created a hole in the bumper, necessitating a replacement bumper and respray, Mrs Edmonds was surprised as to the extent of the damage caused, but was assured by Volvo Car UK Limited that the design of the bumper for Volvo vehicles has changed over the last few years. Volvo vehicles are constantly being improved, both in build quality, drivability and most importantly safety. The bumper on the 40 Series has been designed to take a low speed impact without the necessity for a replacement bumper. Volvo Customer Relations were unable to comment on the impact that was inflicted on the vehicle. The safety features built into the 40 Series are designed to work in unison to insure that they remain one of the safest vehicles on the road today. Mrs Edmonds also finds that there is a facie reflection on the windscreen, which she says is like driving through a fog curtain. Volvo Customer Relations do not consider this situation to be a fault in manufacture, and regret that there is unlikely to be a solution. However should there be any development in this area, the dealer network will be advised, who in turn will contact their customers.
---
Registration forms are now slowly starting to come through our letterbox. I was most pleased to receive a letter from Mr D Gilbert from Epping telling me about his S40. Last October Mr Gilbert part exchanged his 740SE for an S40 2 litre. Overall he is very pleased with the car. So far no problems. Delivery in his case was 4 months from placing the order. Mr Gilbert was informed by his dealer that the UK has been limited to 3,000 cars in the first year. He says there is one other S40 in Epping and he has seen two V40's on the road, but that's it. Mr Gilbert ordered a 2 litre engine as he test drove a 1.8 and was disappointed with the response-the extra £500 for the larger engine was well worth paying. The S40 article by Chris Wickers in the last issue of Driver mentioned that it was not obvious what model one was driving. The 2 litre car is badged and also has twin exhausts whereas the 1.8 model has a single exhaust. As regards the dashboard, Mr Gilbert did not object to the design, but only wished the glove box was more spacious. It does not hold as much as one imagines. He also found the petrol cap easy to remove and wishes that there was a holder for the cap as on his old 740. He says he is sure to leave the cap behind one day as there is no obvious place to park it. Once production problems were overcome by the end of last year, sales of the S40 and V40 started to come through strongly. Combined sales totalled 5,662 for the year, with the plan being to increase that figure to 20,000 in 1997. The BTCC and TV advertising, plus new models like the turbodiesel and a high performance S40 should help make that big leap! Some of you may know, I am also the Club 300 Series register keeper. With this in mind I am holding a joint 300/40 Series rally at Weston Park, Shropshire on Saturday 13 September. The BKV will include the introduction of a 40 Series perpetual trophy. If you would like further information please send me a SAE as I would like to obtain provisional numbers of those attending.
---
As some of you may know I am also the Club 300 Series Register Keeper. We now have a new addition to our Volvo family, an olive green metallic S40 1.8 with Scandic cloth upholstery. As this is the first car on the register, I am not aware of any teething problems experienced by other Members. Our new addition did not come without faults, an intermittent sensor on the horn and a damaged radiator matrix. The sensor has been replaced and a replacement radiator is on order. The Series were launched 22 May last year and were originally to be known as the S4 and F4 (Saloon and Flexibility). Volvo later decided on S40 and V40 (Saloon and Versatility). The V40 being the five door estate, with the skillfully designed rear that loses the heaviness that has been a hallmark of traditional Volvo estates. Two aluminium 16 valve engines are available, 1.8 (l73lcc, ll5hp) and 2.0 (1548cc,140hp) with a choice of five speed manual or four speed automatic transmissions. A turbo diesel engine is planned for early 1997. The 1.8 has a higher gearing to optimise fuel economy returning 27.4 mpg on the urban cycle, while the 2.0 returns one mpg less. Progressively balanced power assisted steering is standard and provides informative feedback at speed and effortless maneuverability for parking.
The 2.0 engine is more composed on hills, but with sensible gear changes the smaller 1.8 engine, which boasts 90% of the torque of the larger engine, never feels strained. Inside every detail and refinement carries the hallmark of intelligent Swedish functionality and carefully considered design. Drivers airbag and Volvo Side Impact Protection System (SIPS) are standard. Concealed within the outer side backrest of each front seat is an airbag. In the event of a severe side impact, the bag inflates at your side to provide extra body protection, whatever the position of the seat. SIPS, with side impact airbags reduces on average the risk of severe injury in a side impact by 35%. There are three point belts for all rear seats, and even LED lighting for the high level brake light. This lights up 250 times faster than conventional bulbs, which at 56mph means following motorists have 4.5 metres extra warning. Although very well equipped at Standard Equipment level, six different equipment pack options are available. Volvo have decided to take the 'just in time' production principle to its logical conclusion. No car is built until an order is made. Your chosen body, colour, engine, trim and specification is produced from scratch. Delivery is four to six weeks from ordering, although I have heard of a case of 18 weeks for a V40 in Hampshire! Perhaps this is why I have only seen two on the road.
---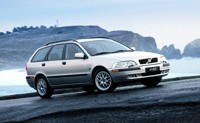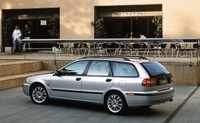 ---