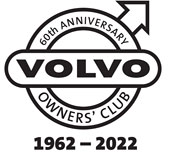 Volvo 1800S restoration.
By Lawrence Wilkinson
THE STORY STARTS in Auckland in 1986, I think. When I saw an advertisement for a Volvo P1800 I didn't know anything about them. The phone number was quite nearby, but when I rang I was told that they didn't have the car there yet, but were awaiting its arrival from down country. I left my number and waited, and waited. In the mean time I was finding everything I could about the P1800, and couldn't seem to find a bad word about it, except perhaps that it was a little heavy or underpowered. I was quite keen on the idea of owning one, but as the days dragged on I was losing hope of ever seeing the car.
A few weeks later I was driving home and spotted a P1800 parked in a side road of a commercial area, looking a bit abandoned. Since I had never seen one around Auckland at all, I figured I was safe in assuming this was the same one, and I left a business card under the wiper with a little note written on it. That evening I got a call from the car's owners, Phil and Dawn, saying that it was indeed the car, and that something minor had broken on it on its way home. They must have been impressed with my enthusiasm, and invited me around to have a better look at it.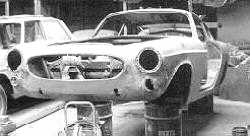 It was actually a 1965 1800S, grey with red interior, and was in tatty condition. The asking price, though high by British standards, was about the same as one might expect to pay for an MGB GT in similar condition, and I decided that it had to be a better buy. The owners had a long list of interested purchasers, but after a talk with them it was decided that they would like me to buy it and restore it. Coincidentally, the panelbeater that I had in mind to do the restoration (he was currently working on my business partner's Triumph Vitesse) turned out to be a friend of Phil's, and this seemed to clinch the deal.
The car had been imported into New Zealand from Britain about 1968 and had had a few owners since. It had been well used and there was quite a bit of rust in it, so a full restoration was in order. The interior was also shabby, carpets faded and the seat leather split. Fortunately the embossed vinyl panels were in good order, and there were no major mechanical problems.
Once I got the car home I did a bit of basic maintenance on it which kept it running reliably for a year or so. I did quite a few miles in it, both around town and long distance. It had a few problems like binding rear brakes (cables seized up) and drivetrain vibration (broken gearbox mount) but was otherwise pretty good. The only scare I had with it was having a front calmer bolt drop out while driving down a Wellington motorway with fellow P1800 owner Graham White whoever worked on it last had not refitted the locking tabs and the other bolt was ready to drop out also. I moved the bolt to the leading position and drove carefully back to Auckland, stopping every half hour or so to check it hadn't come loose.
The first other 1800 I saw (doesn't that always happen - you buy an unusual car and the first thing you see is another!) had just been brought in from England by Peter Winter.
During the year or so I drove it around, I was accumulating parts for the restoration. Most of the parts I needed I was able to get through the local Volvo dealer. I was lucky to have been given an 1800 parts manual which was about to be discarded in favour of microfiche, and the dealer's staff were very helpful. I don't know how much I spent on parts, but virtually every rubber part was replaced along with most other wearing parts.
I was lucky to get a spare overdrive gearbox from another 1800 owner in Auckland, and a pair of original silencers turned up in the Volvo dealer's junk shed when they were having a clear out.
While the official channels supplied most parts. the best thing I did was to join the Volvo Owners Club. I can't thank the VOC and especially to Tony and Gillian Whitton enough for the work they did in procuring, packing and sending parts which were otherwise unobtainable or ridiculously expensive. This article is something of a belated thank you to them.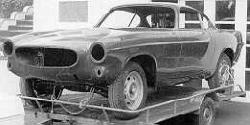 With all the parts piling up I decided it was time to embark on the project. I decided that I did not want a concours car, but rather one that would stay looking reasonably good with a minimum of effort. Over a few months the car was stripped down to a shell and promptly took up about three times as much space. Once the old undersea! was stripped off the extent of the rust was evident - the bottom 9" or so all the way around needed replacing. With the bare minimum of running gear the car was wheeled onto a trailer and taken to the panelbeater, where it was jacked up onto drums and the remaining mechanicals removed. Alongside it was an 1800ES which was having some panel work done, and having the two side-by-side was a useful guide, even though there are a few differences.
I intended doing all of the mechanical restoration, apart from the engine itself, but panel and paint work is beyond me. While I worked on the suspension and other bits, the car sat at the panelbeaters, and sat, and sat. Admittedly the deal was that they would work on it when they didn't have anything else to do, so I can't complain. I would call in every few weeks for a cup of tea and to see what progress had been made.
Slowly the rusty parts were cut out and replaced. I never purchased any new panels - all of the new parts were handmade. These included the sills, footwells and floor outriggers (including new jacking points) as well as bottoms for the doors and the rear wings. I think at one point they remade the door skins because they decided their originals were not made of thick enough metal. The most impressive part was the rear valance, from the tail-lights down to the fuel tank, made on a wheeling machine. The front end was fairly good, with just a few parts such as the headlight and indicator mounting rings replaced. I think the car was there about 3 years, slowly being completed. At least I was luckier than the owner of the 1800ES, as when I took mine away his was still largely as it was originally.
Having stripped it down, I took the engine to a professional rebuilder. At some stage it had been bored oversize and odd (perhaps Holden) pistons fitted. Since I was going to fit new pistons anyway, and further boring would have been risky, I decided to have it sleeved back down to the original bore. This all went well, and in a month or two I had a shiny new engine back. I believe that Volvo engines are meant to be red, but after stripping off a layer of green metallic paint, the block was quite definitely black with no sign of any red paint, so this is how it was restored. Not that I'm fussy or anything!
There were a few problems with the running gear. At some point I think a rear wheel had come off, as the bottom of the brake backing disk was ground down by an inch or so, into the shoe adjuster. I also found a bearing roller in the cliff! I also had a crack on one of the lower front wishbones emanating from the damper mounting hole, this is one of the few flaws in the design and it was good to see that it was changed in later models. All the parts were stripped and crack-tested, then shotblasted, zinc plated and finally painted (for the front end) or powdercoated (the rear end.) You need to take care if plating load-bearing items or things for powdercoating - in both cases they need to be baked after plating to drive off trapped gases.
A lot of other little parts, from the door locks to the brake booster, were also stripped down, cleaned and replated. I had a great time making up long strings of parts on copper wire, ready for plating. I didn't lose anything much in the process either, which was lucky. The gearbox/overdrive and differential were stripped down and cleaned, no real problems there, and I tidied up the wiring loom and had it rebraided so it looked just like new.
I managed to acquire a 1968 122S in very rusty condition, but this yielded a pair of front discs, a good engine and various other bits and pieces before I managed to get rid of it to someone who had a use for it.
The painting of the car was to be done by another shop, and so when the body was finally ready it was transferred to their workshop. They spotted a few minor problems, like small flares on the wheelarches on one side and not on the ether. Unfortunately the car also sat there for ages - the best part of a year - before they got around to finishing it. I had decided that the car was to be repainted in its original colour, despite many suggestions that it would look nice in white/blue/red/whatever. It was finally done using Glasurit over an epoxy primer, one of the few concessions to modernity in the restoration.
When I finally got the car back it was time for the big reassembly. This didn't take long as most of the restored assemblies had been waiting ready. Rather than risk damaging the new paintjob by lowering the engine and overdrive in from above, I dropped down the front crossmember, put the engine on it, and lowered the whole body down using a two-post hoist with the help of Volcar, my friendly Volvo service agency.
It only took a few weeks to get the whole car back together, less the interior. The only snag was that the new clutch plate was fouling the pressure plate and preventing the clutch from disengaging this meant taking the gearbox out and replacing the clutch the day before I was due to drive down to Wellington to watch the annual street race.
The trip went well until on the way back there was a big bang and the car filled with steam. I was sure that something major had happened, but it turned out that the frost plug on the back of the head had fallen out, spraying hot water everywhere. This was in the middle of the North Island, some way from civilization, never mind a Volvo garage, and it would have to be the one plug that is inaccessible. The car was eventually trailered back to Auckland and I got the train.
Rather than remove the head and lose my custom-made head gasket, I took the whole engine out (downwards again) and banged in a new plug.
I think the original was slightly the wrong size and have had no further problems.
The trimmers who did the interior made a lovely job of it recolouring the vinyl and replacing the leather and carpets. It all looks quite original now, and a long way from the worn-out appearance it had when I got it.
I managed to pick up a few of the parts I was still missing during a quick trip to the USA - I drove from Phoenix down to RevolvStore in Tucson, where I was able to get a new grille, exhaust manifold and various other odds and ends that had eluded me. There are still a few bits I need to get, and it would be nice to have an original toolkit and jack.
Since then the car has run well and I have done quite a few miles in it, including a trip to the South Island for the motor racing series. On one such trip my father and I were driving into Wellington when a Jaguar XJ6 pulled alongside at traffic lights - it turned out to be the original importer of the car; I'm not sure how long he had been chasing us.
There are only about 15 1800 models in New Zealand, about 12 coupes and 3 estates, and over the years I have been in contact with most of their owners. It is from working on the injected Volvos that I became involved with engine management systems, which has led more or less directly to my current job working on instruments for racing cars.
A year or so ago I moved to England and left the car behind, so it has not had much use since then. I have stuck with Volvos though, my current car here is a 940GL. I offered the 1800S to Kevin and Margaret Greenaway, members of the Australian 1800 club, to use during their holiday in NZ over Easter, and Kevin has kindly sent me some lovely photographs of my car, together with Graham White's. I look forward to getting back at Christmas to drive it again.
---