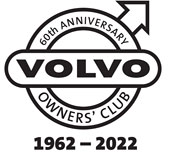 Volvo 1800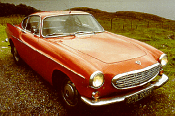 A selection of reports taken from back-issues of the Club's magazine, 'Volvo Driver'.
To keep up to date with these reports join the Club and receive the magazine. Joining will also allow access to the back-catalogue of magazines on this web site.
---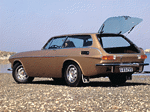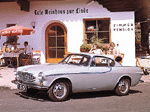 ---
Following on from the article in Technical Topics I have since experienced another aspect of 1800 ownership which needs to be watched. Having left my car outside for quite a long time, some of it in heavy rain, I was rather concerned one day to find that the petrol tank had more 'liquid' than I had envisaged. This was because a lot of the rain water had found its way down the petrol filler into the tank. Such is the positioning of the filler flap on P1800 and S models (not applicable to the E and ES models) that rain cascades from the roof down between the tail fin and the boot lid and finds its way into the petrol filler neck surround. Moral - keep the drain pipe clear and fit the rubber insert in good condition (ie fitted properly) There is a drain plug but under the fuel tank which can be accessed quite easily, but of course, in iny case, the whole system had to cleaned out and fresh petrol put in. I am grateful to Barbara Morris who recommended a suitably sized tyre for ES models. This is Pirelli P4000 195/65x15 as compared with 185/70x15 being specified originally. I am assured the P4000's ideally suited, Has anyone else used these?
---
FOLLOWING ON FROM my report in the last edition, I understand from Donald Howes, that Roderick Gingell and his team are to be congratulated for arriving 10th in class on the Lands End to John O'Groats Rally, and thereby receive a Blue Riband Award. I understand that a PV and a 120S also took part successfully so this has got to be good news. A recent weekend visit to Holland and Germany proved interesting from the Volvo point of view. In the Auto Museum at Berbeyk in Holland there are two 1800's. Both in mediocre condition, but along with many other pre and post war classics there, well worth a visit if one is in the area. On the same week- end the Essen Classic Car Show was visited, where, on the Volvo stand was a rotting body shell of an 1800 (P or S). Propped on its side thereby enabling visitors to view for themselves the underside which can be so prone to rot. Quite a useful exhibit! Finally lets hope Stratford racecourse has dried out sufficiently for a good display at the National Rally
---
FOR THOSE OF us with older cars a good knowledge of the chassis number is particularly useful when looking through parts catalogues, especially at dealers. Since my 1800S has recently encountered an electrical fault which burnt out two relays, careful inspection of the relevant wiring diagram has enabled me to check which functions are served by the relays fitted to my particular model. My local dealer was able to identify the overdrive and headlamp relays and issue part numbers to make sure I was replacing the correct items. I had a visit from a member recently who asked me to validate the authenticity of his splendid 1800S prior to taking part in the Le Jog (Lands End to John O'Groats) Rally in early December. It is encouraging for the Club to be represented in this event and congratulations to the team for taking on what I consider to be quite a gruelling event. Let us know how you got on! Finally I hope everyone has had a chance to read the article in January !998 edition of Practical Classics. There was a good spread featuring Norman and Gloria Holme's 1800ES, including a front cover picture. This has got to be good publicity!
---
ONCE AGAIN THE 1800 section of the Club was invited to attend the Sport-ing Bears Charity Classic at Kimbolton Castle in July. Special thanks to Roger and Linda Fisher who, with Barbara Morris, organised the Club's presence at this event. Seventeen cars made a healthy gathering and size-able contribution to the success of this event * How good to have fine weather at Blenheim Palace for the September event. Grateful thanks to Peter Almond who arranged our meeting at this superb location. However one thing was surprising, there seemed to be a large proportion of 1800E's and ES's over the earlier models, coincidence! A big thank you to John Criffiths who organised the Classic at Castle Combe Racing Circuit. It was particularly enjoyable to take the 1800S around the track at high (or rather fairly high) speed, this time with a bit of help from John. One thing was for sure, the engine certainly got very warmed up. As a result the car drove home particularly well. I'm pleased to report plenty of enquiries for information about cars generally, are still coming in. I'm always pleased to have a chat to those who phone me.
---
IT IS VERY gratifying to know that members do read the 1800 report as featured in Driver It was good to hear from Derek Burrows again asking for copies of my newspaper articles, just as well I don't throw anything away! If anyone else wants a copy do contact me, or indeed any road tests as featured in the Brooklands Gold Portfolio. Very good to see a splendid turn-out at Old Warden in June. Congratulations to Mr & Mrs Holmes on their awards, a true team effort. Phone calls are still coming in from non-members wanting information and advice about proposed purchases of 1800 models which have been advertised in the motoring press. Such callers are encouraged to join the Club so it is quite possible that Memb"rs come and go from the Club, but the cars themselves stay as "members." Let's hope the drier weather will encourage us to derive plenty of enjoyment from the cars by giving them plenty of use.
---
IT HAS BEEN encouraging to see the 1800 receiving publicity in several widely read newspapers and magazines. There has been a profile written in The Sunday Times Motoring Section on March 9th, also a most interesting article entitled "The Halo Effect" featured in The Daily Telegraph Motoring Supplement on March 29th. The latter article is mainly about the C70. but briefly traces the origins of the Volvo Company as well as showing a picture of Roger Moore with a late model 1800S. There is also a story by Gavin Hodge who decided he'd just got to have a "saintmobile." The most recent article that I have seen has been published in the May issue of "Classic and Sportscar" where Giles Chapman has done an interesting feature showing Club Member Martin Curtis' superb, appropriately coloured 1800S acting the part of The Saints car. Who's posing with the cigarette case on p88 I wonder. Finally I hope to see many of you 1800 owners at the National Rally at Old Warden Aerodrome in rune, also as mentioned in the last edition of Driver, at the Classic and Sportscar Action Day on August 6th.
---
FIRST OF ALL I would like to express my gratitude to Martin Curtis for his excellent article "The Saint's Volvos" that appeared in the last Driver. I too brought a Corgi model but not in the "Saint" livery, just a plain brown one which I think cost 3s 7p - I'll have to check my Contemporary Catalogue! On looking at a book I received for Christmas "British DieCasts" by G M K Thompson I see "Spot On" made a P1800 m pale blue, rather expensive at 6s 6p in 1963 - does anyone have one of these? Again looking at the last Driver I am sure you will have read John Griffiths article about the Classic and Sports Car Action Day last August. John has since been in touch to ten me that this years event will be on August 16th, and I would thoroughly recommend to those who wish to put their cars through their paces - watch that blue line on the temperature gauge. Do contact him in plenty of time for this years event the last two were most enjoyable. By the way has anyone tried "Add-ITT" octane booster in their cars? I think it has made a marginal improvement in mine.
---
BY AND LARGE it has been a good season for 1800 activity this year. I was particularly pleased to see a good turnout at the National Rally not only those of you who exhibited cars in the arena, but also those who came in 1800's, these did not go unnoticed. Congratulations to Norman Holmes for winning the class. The weather was particularly kind to us for the 21st Sporting Bears Charity Classic at Kimbolton Castle. Special thanks to Barbara Morris who again liaised with the organisers thereby enabling us to have a large well sighted stand for the 20+ cars that attended. Full marks to Hans Van Diepen who travelled from Bossum, Holland for the event. Vic Barnes came in his 164 to support the Club, and Terry Holbrook who was not only on hand to give members the benefit of his expertise in the parts location area but also busy with his camera. As well as the good weather exhibitors were able to avail themselves to numerous stalls, watch morris dancers, enjoy the grounds and of course look at the other clubs cars. Our final external event took place again at Blenheim Palace in September. Thanks are due to Peter Almond, who despite not having his 1800 did a superb job organising this event.
---
I AM ALWAYS pleased to hear from members and prospective members contacting me about 1800 cars that have arrived on the market. There appears to be a reasonably good turnover insofar as this is possible with cars between 20 and 25 years old. However should anyone be thinking of buying one at any time, I would strongly recommend a little homework being done first. For example have a financial spending limit in mind. Try to decide which model to go for, there seems to be quite marked preferences between coupes and estates, also 1800S and 1800E's as well as the rarer early models. All have advantages and disadvantages, and I am happy to discuss these attributes with anyone who needs a little more information. Thanks to John Alderslade for supplying the new "Robeddie" model 1800ES. I think it is really very well built and nicely detailed, I can thoroughly recommend it. I hope to see plenty of 1800's and their owners at the National Rally in June. Don't forget Barbara Morris's 1800 Day out at Kimbolton Castle, Bedfordshire, on Sunday 21st July. Contact her on 01784 435281.
---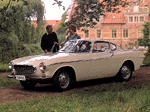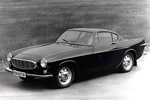 ---