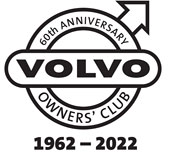 Volvo 164 Information
A selection of reports taken from back-issues of the Club's magazine, 'Volvo Driver'.
To keep up to date with these reports join the Club and receive the magazine. Joining will also allow access to the back-catalogue of magazines on this web site.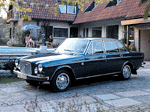 As I pack away the garden furniture and lawn mower I reflect on the pleasant times of the last summer, in particular the Loseley Park Classic Car and Country Show in August. Thanks to Vic Barnes and Paul Till the VOC presence was the best ever and if you like cars then there were certainly plenty to view. It was here a Marcos owner was looking for a new clutch slave cylinder and I had two further requests for a clutch master cylinder. I've only second hand used parts, has anyone got any of the above new? Jack Valero contacted me with the bad news that his car had been shunted by a lorry and the rear end was in such a sorry state that he thinks it will be deemed a write off. Like many enthusiasts with a one family car, its history, costs and maintenance are all fully documented, and the car is in fact first class condition. Brook-house costed rear wings, rear panel about £550, but with damage to the rear windscreen and crumpled nature of the rear end bodywork, costs will be quite high for repair work, especially with full respray on top to bring the car back to its former glory. Cars like that are certainly worth £3000 or thereabouts in terms of insurance value. The worst scenario is when, like in this case, the car is under insured. So far jack has negotiated a valuation of £2400 with the insurers, but this will not balance the books as far as the insurers are concerned who are likely to therefore write it off. I wrote in an earlier article about valuations and this highlights the obvious difficulty if your car receives such a potentially lethal blow.
Comparatively speaking, front end shunts are more easy to deal with as the front valence, wings. etc are all bolted on. I've supplied these parts on a couple of occasions and hence helped to keep those cars on the road which insurers would have otherwise written off. I am now contemplating retaining the complete rear ends of cars I am dismantling! On a less optimistic note I read in the press that leaded petrol is set to disappear earlier than 2000 as fuel companies and petrol stations prepare to utilise their storage tanks for leaded stocks. The implication is that they will not restock to allow leaded petrol to be left unsold in the pumps on January 2000. Thus a decline in the availability of four star is likely to start at the end of next summer. The Federation of British Historic Vehicle Clubs are conducting additive tests so that they can recommend individual products and force those that are unsuitable to be removed from the market. I recently sold a B30A engine to a boat enthusiast to replace his Volvo Penta AQ165/250 model, he was mighty relieved not to have to purchase an engine from Volvo marine! There are several 164's for sale in this edition, two superb cars are being sold by Neville Barr and Steve Kettlewell. I trust you have all prepared for winter, please continue to call and keep "rolling" Happy Christmas, see you next year.
---
I very much enjoyed my day at the National Rally and many thanks to all those section members who brought their cars along, especially those who ventured into the competition area. I guess our Belgium friend Robbert Veraa had his journey rewarded as he took home the major honours this year. Thankfully Colin Hartley remained in the main car park on this occasion. (OK so I only got second place- sic). I chanced recently to acquire yet another early 164 and decided to get a duplicate ignition key from a non-Volvo franchise. My local security shop owner was most helpful showing me a seemingly endless list of ignition key blanks out the back! Such customer service is to be applauded. So down to your local shop. My other recent purchase was a 1977 164E bought for the princely sum of £12. What a bargain. Well in truth you've probably spotted the oddity here, it was in fact a Polistil model made in Italy. The most intriguing puzzle of late concerns steering boxes, the standard PAS ZF box is shown in the following; auto book, Inter Europe and Volvo's own service manual clearly shows a '4 bolt on' version, yet in the Haynes manual and the Volvo parts catalogue a '3 bolt on' one is pictured. I've yet to see this version and I am zooming up to my used car lot to cheek out my spares. What is the significance of the two types? The only major problem with my new car is that the windows do not stay up and the sunroof leaks, and you get kinda wet on braking or accelerating hard. I quote from John Gillies that taking a sunroof off is simple, he's done it, and it takes two and a half hours. If you want a copy of his article from Volvo newsletter 64 please let me know. Further to my remarks about Colin Hartley's 164 convertible, well in the summer 1993 magazine a black convertible features, a two door coupe, owned by Volvo Klassiker IG; it looks very nice. Next years BKV perhaps Colin. Well it's been business as usual; lots of cars for sale (see Club ads) and continued registration of new section members. Perhaps if your mood takes you, you might wish to send your stories, problems, tips etc to me for inclusion in this column. Until next time "keep rolling."
---
I write fresh from the AGM in March boosted by the very positive remarks made by all members present for the last years activities, with a view to enjoying another flourishing year in the development of the VOC. It is about this time of the year that those weekly and monthly motoring journals suddenly become extra good value, with bumper editions carrying lots of classic cars for sale, including our much beloved 164's. These classics now return to the road for the summer season, taxed, cleaned and ready to run. Of course those members with a 1973 Volvo 16 will be feeling hard done by now that the Chancellor has done his dirty deed and used 1973 as the cut all year for Excise exemption. However diligence and ingenuity paid off for one such vehicle's owners, who in spite of research by himself and VOC members to verify the date of manufacture of his 1972 which proved inconclusive, he achieved success by writing to Volvo HQ in Sweden in Swedish via a third party and effected an immediate response. On a similar note SORN has come into effect which requires by law that any car not licensed i.e. not being used on the road, must be registered as "off the road." In theory a short drive to the petrol station for fuel and tyre pressure check on a sunny day in January with the car theoretically "off the road" could prove expensive if you have not declared SORN (Ed. Any vehicle being used on the road must have an excise license to cover its use, as it always has been). I have recently received several inquiries about valuations. I can give valuations, as is my remit as the registered keeper for 164's: I try to be realistic and objective in offering advice, bearing in mind I probably won't have seen the car in question. It is perhaps not surprising that insurers are looking more closely at what value they are prepared to insure a car for, significantly I am aware of some downgrading by a considerable margin of "agreed value" offered upon renewal premiums falling due. Shop around seems to be the answer or ensure your insurer has all the relevant facts surrounding your car's history and any expensive renovations are fully documented. I am not insured with the Club's insurers so I cannot comment on their policies. I would welcome member's experiences The impending leaded petrol ban looms nearer, the only real solution to prevent valve seat recession (VSR) is to fit hardened valve seats. Jack Cluer has been following this up with an engineering company in the Midlands. The alternative, namely adding lead substitutes to unleaded fuel has been in operation in Germany since 1995. A point worth considering for the future refers to the removal of the radiator, and in particular the pipes joining it from the automatic gearbox. These pipes are tricky to remove, so don't be tempted to hack saw through them as new ones are proving difficult to obtain. Colin Hartley tells me he is going to produce a 164 convertible soon, so that should be a worthwhile project, we await the results with interest. It has been done before, a photograph of such a vehicle was shown in Driver a few years ago. There are numerous 164's listed in the 'For sale' section, I am offering some of mine for sale as I no longer have my storage facility. Enjoy your summer motoring.
---
There has certainly been much of interest happening in the 164 domain, I hope your vehicles are performing well and living up to expectations. We should all now be thinking about preparing our cars for the winter (as I write this in late September) and hope-fully by the time you read this you will have followed your regular routines and all will be well. No doubt Jack Cluer and John Smith will have enlightened us with what to do for Winter in their reports (thank you gentlemen). The most pleasing event to report which emphasises the good services the Club offers was the bringing together of Messrs Moxon and Burns, who within two hours or so of me linking them had both been satisfied, a sale completed, a new owner delighted. Perhaps the fact that unbeknown to them they lived only a few miles apart in Leeds helped, but as they say a quick glance at a car is not perhaps the best way to buy a car, but then the car and the purchaser were first class in every respect. Glad to have been able to help, and furthermore the car was a manual with overdrive. The Volvo 164 made a big splash in the Practical Classics September issue, where the Star restoration was won by Mark Palmer who restored a 1972 twin carb to its former glory. Vic Barnes phoned me to say he had seen it and was very impressed by the amount of work undertaken in the project. I think Vic prefers dark blue to gold though. The paintwork on these 1972173 metallic cars has always been a problem, fading first and then peeling off, no amount of T-Cut helps and only serves to diminish the thinning layers of paint remaining. Least I should forget I have to John Skipper details of several cars for sale, so please phone him or me if you nced a car. I purchased yet another car in July, having been put in touch by the owner thanks to his interest in the Broquet fuel unit for the Saab and yes, you've guessed, it was Terry Holbrook who suggested he phone me.
The car is a 1971 twin carb automatic, 64,000 miles, one lady owner most of its life and in superb condition. Two-tone paintwork, white with Caribbean blue, quite unique perhaps, it certainly is the only, one of its specification on my register list. Anyone out there got a two tone 164? During my summer respite from teaching Ian Hodge visited and helped dismantle some of the cars I have acquired over the years, a non-bonded windscreen proved invaluable, as al-though 1 have never been tempted to change a front windscreen the bonded variety seem best tackled by the experts. The non-bonded one came out in a matter of minutes, with the assistance of a couple of screwdrivers and two big feet! Ian Hodge it appears solved his back axle, gearbox noise or was it the brakes when some bright spark suggested it was the engine moving under the bonnet that was causing the prob-lems. So do check your engine mountings occasion-ally! It seems that one is always wary of a journey that first is the first one in a new car, especially when it's only been on very short journeys for the last decade. Again as in the last report I travelled tool less! I appeared to be losing transmission fluid from the gearbox during the trip home in the two-tone 164. An overnight stop in Liverpool and a quick visit revealed on the ramps of the local gearbox specialist no fault. As auto boxes some-times spill out some over-flow, which spills onto the exhaust system and bums off quite alarmingly if you've never seen it happen, the previous owner had routed a piece of rubber tubing onto the overflow pipe and across the back of the engine to disgorge any excess fluid out of harms way! If only I had a torch with me I'd have seen it the night before. The pipes in place with a bottle to catch any excess, to date it is still empty, beware, don't lose your transmission fluid, it's so very expensive apart from any damage to the gearbox.
Thank you for your numerous enquiries and calls ' Dennis Le Worthy called on behalf of Tom Foster, who was trying to trace the date of manufacture of his 164, so that he can claim a tax free tax disc for his January 1973 car. To date Volvo have not shed any light on this, but with luck from lists of chassis numbers for cars given on a yearly basis and from my register records we should be able to convince the DVLA that the car was built in 1972. I await an update on this one.
---
My apologies the non-appearance of a report in the summer edition of the Driver, hectic work schedule and family illness prevailed. On a more positive note, 6 more people joined the 164 register in the last three months, increasing the size of the membership to 76. Like myself there are several members with more than one 164. I recently acquired a 164E assembled in South Africa ostensibly to the specification as cars built in Sweden for delivery in the UK. She has air conditioning, rear seat headrests, and the B30F engine. This has a lower compression head (8.7:1 as opposed to 10:1) on the standard B30E. It had been kept in a garage for a few years with infrequent runs. Having used a trailer to get it home, unstuck the rear brakes, fitted new pads, a new brake master cylinder, a ball joint, the MOT loomed. The engine needed tuning, plugs distributor checks etc so I didn't bother with this for the MOT, neither did I carry my tools and emergency kit. Big mistake! If it's a bad morning the day gets worse. The car was not ready on time post MOT and I was rushed. I forgot to check the transmission fluid on the auto box but did this after refuelling at a Shell station, not much was on the stick, so I bought all available and expensive stock, not enough and it rained too! The nearest stockist, by phone, had plenty of lovely fluid. Off I set but in rush hour traffic a mile or so later on the return trip the car wouldn't pick up at the busiest dual-carriageway traffic light snarl up. Having called the RAC resolved nothing, other than it was obvious too much fuel was being fed into the engine. Moral: stick to regular routines, always take your tools etc with you. Anyhow it was a simply a faulty engine temperature sensor, easy to replace.
So with all electrics functioning she drives very well. Apart from timing gear rendering my cars impotent on two occasions and the fuel pump fuse packing up, the 164 is very reliable as we know. The automatic gearbox shift lever sometimes goes marginally out of adjustment, though minor pressure and a slight move from P towards R mode with the lever held like this enables the starting circuit to be completed. The remedy is quite simple as specified in the Haynes manual. The other good thing that came with lhe South African car was a copy of the June 1994 Classic Car Weekly featuring a double page spread on Mont Townsend's 164. If you would like a copy of tllc road test/brochures that I have please send a SAE. I receive numerous calls from people outside the Club who have cars for sale or who want to purchase a particular model. Not surprisingly the manual with overdrive versions are very rare and are "hot" property, although the "hot" vehicle of recent weeks was bought in Hampshire from a titled owner. It was a very good vehicle, perhaps the new owner will call me to let us know the car's future! The 164 Rally at Stamford Hall in May fell rather flat, although Roger Lanes car looked just as good as last year, and lan Hodges South African 164 created the most attention for a variety of reasons!
I am sorry to say that my new acquisition was not available for this rally, neither was my battle scarred 165 really suitable for public viewing. So I went in my 1980 Toyota Cressida! Sorry! It was 4th best car award at the National Rally for Japanese Clubs much to my surprise, I only went along to see how they ran their National event. We have the edge, largely because the VOC has a greater range of marques, and significantly because Volvos have a much longer life expectancy than the early rust prone cars from Japan. Our National Rally venue at Biggleswade was excellent, regulars such as Roger Fisher, Colin Hartley and Vic Barnes came, but admittedly the weather was poor at times and 164s were not around in significant numbers. The Spitfire (mark IX?) was magnificent though. Dave Ovenden has written to me as your representative to look at ways of improving the national event so that we can attract more members to it, and to have a greater impact on the general public. He asks for your ideas so that the various sections can co-ordinate the ideas and try to implement them in the future. Safe driving, happy motoring, keep phoning and writing.
---
Well a happy New Year to all Members, at last those of you with a 1971 model will be able to drive your car without having to pay any road tax. The original statement for cars that were 25 years old was somewhat misleading to say the least, as I found out last year. My February 1971 car was 25 years old but, had to be that age in 1970 to qualify, confusing eh! Whilst my battle weary 164 continues to draw gasps of disbelief from my students it is in better shape than I have been. Flu, a virus and then a cold meant that my confinement to bed enabled me to read a book recently purchased, The Volvo 140 & 160 Gold Portfolio published by Brooklands Books. The book draws together numerous reports and test drives from car magazines throughout the world and it is certainly worth a read if only to view Jack Cluer's selection of club cars on the back cover. Those of you who are interested in boats with sails as I am may already be aware of Volvos investment in marine engines. The Volvo Penta Aquamatic 165/250 produces 165bhp and was a straight six cylinder, overhead valve four stroke with a capacity of just under three litres. Sounds familiar? It became available in 1969, and I have had a few enquiries from people wanting engines for their boats. Further to my earlier mention of the 164 estate, it appears that there is one of these currently being completed in the Devon area so I await viewing this sometime in the future. Would the member who contacted me please do so again as I have lost your number. I was slightly surprised but none the less pleased to help a member who had had the misfortune to have someone drive across his bows, and so the front end was quite severely damaged even to the point of snapping the front bumper during impact. Having sympathised with the gentleman I suffered a collision of my own making, So I am now one bootlid and bumper down, apart from the rear panel damage. Bearing in mind that the rest of the car is not concours it begs the question as to what repairs are viable. If you have not already done so please make a note in your diaries, 11th May, the 164 rally at Stamford Hall, Leicestershire. Be there . Until next time. keep calling or writing. Best of luck in 1997
---
Hello, good day and thanks to all those Members who have either phoned me, written or ignored me! I'm sorry if I have not always got precisely the part you want. It seems that the most difficult part to locate and the most expensive just now if you have to resort to a Volvo dealer is an electrical fuel pump for the l64E models, they can get very noisy before finally burning out. At over £200; well you could buy another "runner" for that amount. I supplied one to a fellow Member, he was more than satisfied so I'm down to my last one now! I'm delighted to tell you that four new Members joined recently, and I've distributed through a friend membership forms to the Bahrain Driving Club; other interesting news is that of a chap in Holland who is intent on producing a 164 estate, well he really means a 165 in keeping with the best Volvo traditions viz 245, 265. The recipe I believe is, take a 145 estate, fit a new front end and a six cylinder lump and ??? I'll keep you informed of this one, The classic car movement forges ahead and it is interesting to note the listings given to 164's by the classic car magazine movement. Practical Classics and Classic Cars both list the Volvo 164 with a top price for condition one cars at £2500, whilst Classic and Sports Car does not ever list our dependable and loved 164!
Ironically, comparable BMW 3,0Si saloons and Rover P6 3500's are listed in Classic and Sports Car yet the BMW is omitted in Classic Cars! You can't win, I recently had an enquiry via a lady from the Isle of Wight, who had seen a "pretty" yellow 164 which she rather liked the look of and sound of, (it sounded quite sporty with a hole in the rear box) however it has the luxury but not the mpg for her, "have you got a diesel one" she asked, can anyone help? I invited her to the Hampshire Show at Netley, where three 164's assembled a fine trio, representing 164's across the range. 1970 twin carbs, manual with overdrive, 1973 164E and a well nigh immaculate 164TE owned by Steve Kettlewell. He tells me the previous owner was something of a precision engineer, and gave Steve quite a grilling before satisfying himself Steve was suitable for purchasing his car. Its now almost perfect (well its got original wheel trims now), not as RUF as I imagined! A similar meeting was destined for the Braemore House Rally at Fordingbridge last Bank holiday, only two 164's made it from a list of six, but thanks to the support of Hants and Dorset Members nine cars took to the road and were duly marshalled by John Skipper, Jeff Lovegrove's evergreen 122 and Tim Rose's 144, proved as enduring comparison in engineering, whilst Steve Kettlewell's wife proved to be more knowledgeable than the chap with the "mike" who talked to her about her pretty 164TE as it paraded. My 164TE looks set for Essex, I decided the cost of a respray would be prohibitive.
It is now 28 years since the VOC in December 1968 went into detail about the impending arrival in January 1969 of the new Volvo 164. I quote "The Volvo 164 is a technically advanced car with a large, luxurious interior, many safety features and a six-cylinder life long engine. Its clean, square cut styling features a vertical grill bearing the Volvo emblem of pre war years where this Swedish marque produced many successful six cylinder designs." There were three models available, in manual or automatic, power steering and sunroof' although some were optional extras. Prices ranged from £1831 to £2066. By April 1971 a twin carb 164 automatic with sunroof, radio cost £2507 on the road. I hope we will all be on the road on May 11th 1997 when in keeping with recent tradition the 164 Rally is due to take place at Stanford Hall Leicestershire, please note the date. Well my 164 pride and joy is washed, polished and garaged for the winter it's back to the "old runner" for those darker moments in the winter. Please keep phoning or writing.
---
"Roger, over and in" You will have no doubt have been watching this space with interest over the last few months. Now that the section register keeper has changed, I would like to thank Malcolm Frith on behalf of all members of the Club for his tireless work on behalf of this section. I had never met Malcolm until the 164 rally at Stanford Hall on the 12th May although I had spoken with him by telephone on numerous occasions. The rally was not well supported, but none the less proved to be a very interesting day. Ian Hodge sported his valiant blue 164 and had much to tell about 164's under or awaiting loving care that he knew about. His 164TE is well ahead in its refurbishment and no doubt we'll all see it next year. The highlight of the rally proved to be the sight of a very early 164 ambling through the MGOC meeting oblivious to my indications to join our rally! The owner Roger Lane had only come to see the Suzuki motorbikes! He joined us and we spent much time inspecting his vehicle. A white automatic, it was a 1968 import via Maddocks the local dealer and first registered in early 1969, January I believe, a fine vehicle in every respect. He now has a VOC membership form! Currently there are 3 164's first registered in March 1969 owned by Club members.
You may remember in earlier editions I advertised for a 1968 model 164 somewhat tongue in cheek, so maybe this is the one I was looking for. Is this perhaps the earliest registered example of the 164 in the UK. I must thank Ken Fox for his splendid article. It is not untypical to find that upon learning about and driving a 164 it becomes clear that it is a very underrated vehicle. I bought my first 164 in April 1983 purely as a stop gap a cheap run around until my BMW 3.0CS was put back on the road. Subsequently I bought a 1973 164E in 1984 and joined the Club. Recently I received a call from a gentleman whose vehicle I first saw in July 1992. It was a 164TE with a difference resprayed green it now needs a complete respray I've rescued it and now it awaits being restored to its former blue/green metallic colour along with my early 1969 model. I have been told that 164TE's were also painted in a medium blue as the one on the cover of the Spring 1995 Driver, can anyone confirm this? Jack Cluer recently reminded me in his 140 report of an advertisement to which I received no response. There was only 16 145 Expresses built in right hand drive, are there any in the UK? Well gentlemen and ladies this section has been rather dormant of late. I shall be writing to you to canvass your opinions and ideas about future rallies and to find out precisely what the 164 membership wishes for the future. Please contact me at any time. I have numerous road test articles about the 164 taken from the UK press in the seventies, all you need for a copy is to send me a SAE.
---