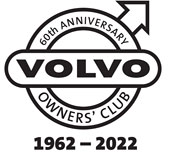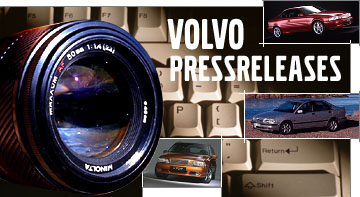 Photographs can be seen in our Volvo Gallery
---
Hybrid Engines
3 March 2004
Volvo Cars backs hybrid engines
Several Volvo car models have gas/petrol bi-fuel engines. This brings advantages for the consumer and the environment. The bi-fuel concept offers better environmental characteristics and lower running costs, without sacrificing any of the pleasure, comfort, safety and versatility typical of a Volvo. Since production of the latest generation of bi-fuel engines began in 2001, sales have been successful and more than 6000 cars have been sold in Europe. The largest markets are Sweden, the United Kingdom, the Netherlands and Germany.

There are two variants of the five-cylinder 2.4-litre bi-fuel engine for the Volvo S80, Volvo V70 and Volvo S60: one powered by methane (natural gas or biogas) and one powered by LPG (liquefied petroleum gas, butane and propane). The maximum power output is 140 hp on both gas and petrol.
Clean technology and reduced greenhouse gases
Volvo's bi-fuel models make it possible to achieve reductions in emissions of greenhouse gases and other harmful emissions. The five-cylinder 2.4 litre bi-fuel engine is used in Volvo Car Corporation's latest generation of engines, where low friction combined with electronic engine management and variable valve timing give both good performance and low fuel consumption. A basically fuel-efficient engine has become even less of a load on the environment. If the car is driven on petrol, the bi-fuel engine can already meet the strict European emission requirements for 2005.
For gas operation, the exhaust gases are naturally even cleaner and a bi-fuel car driven on biogas hardly adds to the greenhouse gases at all. If you choose to drive on natural gas, the emissions of the greenhouse gas carbon dioxide are more than 20% lower compared with petrol and about 10% lower with LPG.
Two kinds of methane
Methane is a combustible gas which is obtained in two ways. It can be extracted from the earth's crust in the form of natural gas, or from waste sludge and biological waste as biogas. As well as being a highly economical fuel, natural gas gives significantly lower emissions of substances harmful to the environment and health compared with petrol and diesel. In addition, carbon dioxide emissions, which contribute to the greenhouse effect, are about 20% lower than when you drive on petrol. On the other hand, biogas forms part of the natural ecocycle and therefore makes a zero net contribution to the greenhouse effect.
Methane gas is available in most European countries, with a total of about 1000 public filling stations – and the number is increasing rapidly, especially in Sweden, Germany, Switzerland, Austria and Italy.
Up to now, biogas has been produced on a small scale but interest in this clean fuel is growing. Volvo Car Corporation's home country Sweden provides an excellent example of how biogas is produced from waste and systematically added to the existing distribution of natural gas.
LPG is a mixture of two gases: propane and butane. It can be extracted directly when oil and gas are pumped out of the ground – or indirectly as a by-product from oil refineries. Like natural gas, LPG is cleaner than petrol or diesel. Carbon dioxide emissions are 10 percent than with petrol.
LPG is available at 10 000 filling stations in Europe, with the largest concentration in the Netherlands, the United Kingdom, Italy, Belgium and France. The number of LPG stations is growing year by year.
An economical choice for the environment and the wallet
The cost of a gas-fuelled engine makes the price of a new car slightly higher. On the other hand, the increasing focus on the need to limit greenhouse gas emissions has led to initiatives which support the establishment of alternative fuel systems in many countries. In some regions, owners of gas-fuelled vehicles are offered exclusive advantages such as free city-centre parking, access to bus lanes and parts of towns normally closed to traffic, or permission to use their cars when restrictions apply to conventional cars. In several countries, the tax system favours ownership of cars that can run on alternative fuels.
Driving on gas generally means significantly lower operating costs – and the higher purchase price is quickly repaid in lower fuel costs. Depending on the market, the cost of driving on natural gas is 20–60 percent lower than for petrol and between 20 and 40 percent than the cost of diesel.
Long range – with no effect on load space
The gas tanks are located under the floor. This gives the owner access to the same generous load space as in petrol- and diesel-powered models. The ability to create an individualised car is of course the same. You will travel about 250–300 km* on a tank of methane or about 450 km on a tank of LPG. The reserve tank of petrol gives you about 300–350 km more. The ability to switch from gas to petrol gives you the flexibility to fill up everywhere.
Bi-fuel engines are factory-assembled and the cars are collision-tested to satisfy Volvo's strict safety requirements.
* Depending on the specification and quality of the gas
Alternative fuels – more than just technology. Alternative fuels with significantly lower emissions are important in reducing the greenhouse effect. There is ample scope for further development of engine technology and exhaust gas cleaning for petrol- and diesel-powered cars. These will probably also be dominant for a long time to come. As far as alternative fuels are concerned, Volvo Car Corporation's position is to prioritise the most realistic solution – technically and commercially, as well as the possibilities for good infrastructure. Volvo Car Corporation's view is that bi-fuel technology with gas (methane, biogas/natural gas or propan, LPG) has the greatest potential in Europe, and has therefore chosen to back these fuels. The environmental advantages are obvious in terms of emissions and carbon dioxide release – with biogas the net contribution to the greenhouse effect is in principle zero. Both methane gas and LPG are cheap and are already available at filling stations in most European countries. In addition, biogas has the advantage that it can be produced locally.
Volvo Car Corporation has been offering gas-powered bi-fuel engines in Europe since 1995 and sold close to 10 000 cars with such engines up to 2004. The proportion of bi-fuel cars sold has remained relatively constant, with a slight increase in recent years. There are several reasons why the rate of increase has not been faster, above all the fact, for a long time, there have been few filling stations or they have been restricted to certain areas. With its commitment to bi-fuel cars, Volvo is determined to further develop the market for gas-powered cars and to contribute to bringing about a denser filling station infrastructure in the years ahead.
---